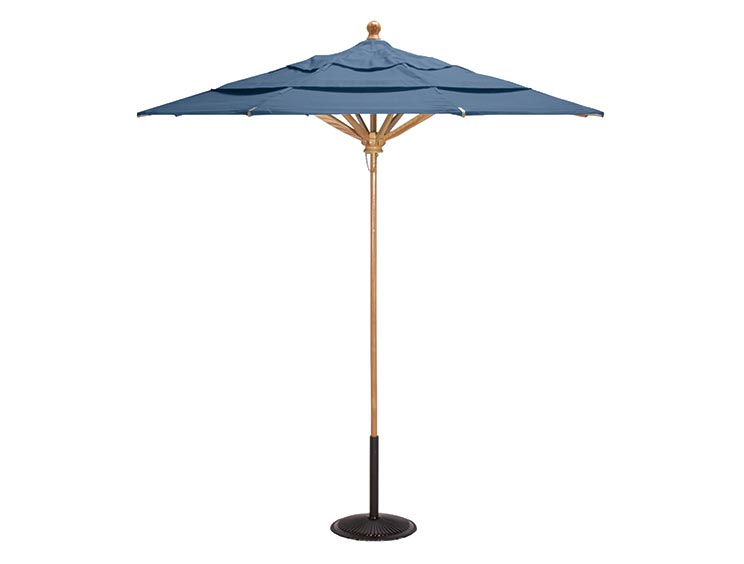 Northern Ash Umbrella
Renowned craftsmanship highlights the exclusivity of the Northern Ash frame and presents a showpiece contract umbrella.

Click on the box(es) below to collapse product details, documentation and pricing.
UMBNA10 - Northern Ash umbrella 10 ft
Length: 120 in.
Width: 120 in.
Height: 120 in.
Weight: 40
Price: $1,250.00
Downloads: Product Data (.pdf) |
UMBNA8 - Northern Ash umbrella 8 ft
Length: 96 in.
Width: 96 in.
Height: 120 in.
Weight: 42
Price: $950.00
Downloads: Product Data (.pdf) | Studio Photo (.jpg) |
Product Details
Materials
Commercial quality wood frame crafted from the hardest wood grown in America, Northern Ash
Finish
Lamination and sun-screening finish protect frame in all weather conditions View our Color Chart here.
Options
Color: custom Sunbrella fabric color; Umbrella base sold separately
Customization
With our made-to-order manufacturing, customization capabilities are endless. Consider custom lengths, heights, colors and curves. Personalize with plaques, laser cuts, nameplates or decals. Add additional arms to benches or customized lids to litter receptacles. Incorporate alternative materials such as wood or recycled plastic. And if all else fails, talk to us about completely original concepts.
Coordinating Site Furnishings