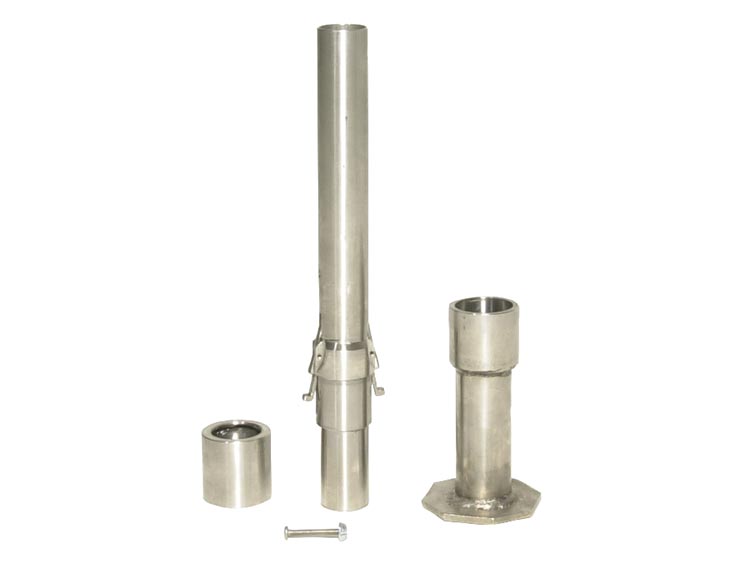 Quick-Coupling Umbrella Lock
Base is set permanently into concrete. Sleeve provides vertical stability for the umbrella pole. Two pivot arms automatically lock the sleeve to the base upon insertion of the umbrella pole. The assembly is tamper-free. The sleeve will not separate from the base until the pole is removed. Thru holes are provided for a restraint bolt. Fastened with a nut and lock washer, the bolt secures the pole to the assembly while preventing the collar from sliding upward, exposing the pivot arms. Sleeve may be removed from the base when not in use by removing the bolt, sliding the collar up, and disengaging the pivot arms. A plug fits into the base when the sleeve is removed.

Click on the box(es) below to collapse product details, documentation and pricing.
UMLOCK - Bury style quick-coupling umbrella lock system
Length: 4 in.
Width:
4 in.
Height:
19 1/2 in.
Weight:
10
Price:

$885.00
Downloads:
Product Data
(.pdf) |
Studio Photo
(.jpg) |
Product Details
Materials
Stainless steel construction
Options
Customization
With our made-to-order manufacturing, customization capabilities are endless. Consider custom lengths, heights, colors and curves. Personalize with plaques, laser cuts, nameplates or decals. Add additional arms to benches or customized lids to litter receptacles. Incorporate alternative materials such as wood or recycled plastic. And if all else fails, talk to us about completely original concepts.
Coordinating Site Furnishings