Word On The Streetscape is Keystone Ridge Designs' corporate blog about everything going on in the world of commercial outdoor site furnishings. Follow our blog to stay up-to-date on industry trends, company news, product information, educational content, and more.
Customized Site Furniture Solutions: How To Tailor Site Furnishings To Fit Your Space
As a manufacturer that specializes in crafting customized site furnishings, Keystone Ridge Designs understands the pivotal role that customization plays in creating outdoor spaces that stand out.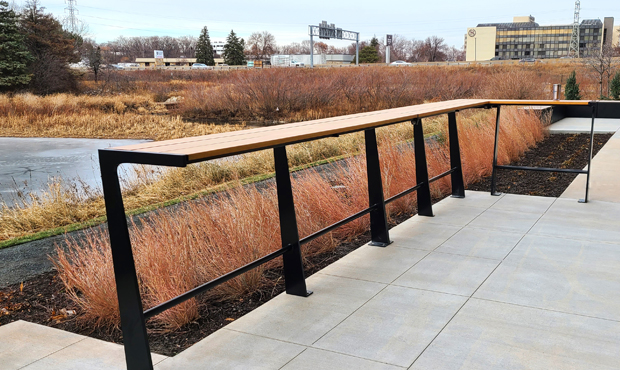 While our diverse collection of standard designs certainly meets the furnishing requirements of many projects, the magic lies in tailored designs that seamlessly integrate with specific environments, amplifying their functionality, aesthetics, and overall appeal...
The Making of a Streetscape
What does it take to make a streetscape? Depends on who you ask, but if you ask us, we'll say a design vision, a lot of planning, and the perfect collection of site furnishings.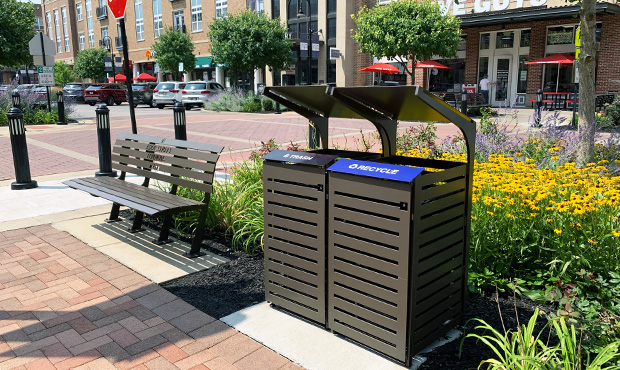 A recent site visit to South Bend, IN proved how well all of these things can come together to make a vibrant streetscape and an inviting, walkable community...
Powder Coating Perfection
When it comes to outdoor site furnishings, quality and durability are paramount. Powder coating is one of the primary ways to protect steel furnishings and ensure outdoor durability.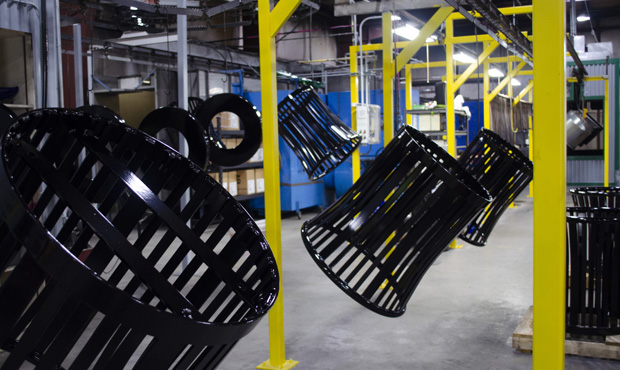 For this reason, we made a decision back in 2001 to bring our powder coating line in-house to have complete control over our final product quality. Owning and operating our own powder coating line has been a manufacturing advantage...
PROJECT HIGHLIGHT - UPMC MERCY PAVILION
The story behind this project highlight can be summed up in one word: Customization. And when we visited the final installation site this summer, the modern architecture and stunning landscape design proved to be worthy of sharing.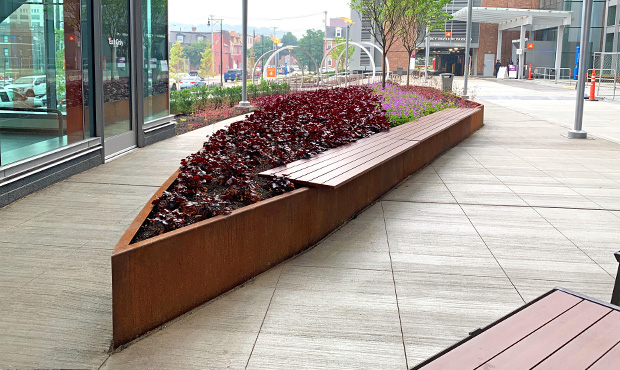 Today, we feature our site furnishings used in new construction for the UPMC Healthcare system in Pittsburgh, PA, specifically the site of the UPMC Mercy Pavilion...
Sing A Song Of Site Furnishings
At Keystone Ridge Designs, human connections and client relationships are at the forefront of our business philosophy. When choosing Keystone Ridge Designs for your site furniture needs, you can always trust that your phone call will be answered by a friendly employee with first-hand experience and knowledge of our company and products. .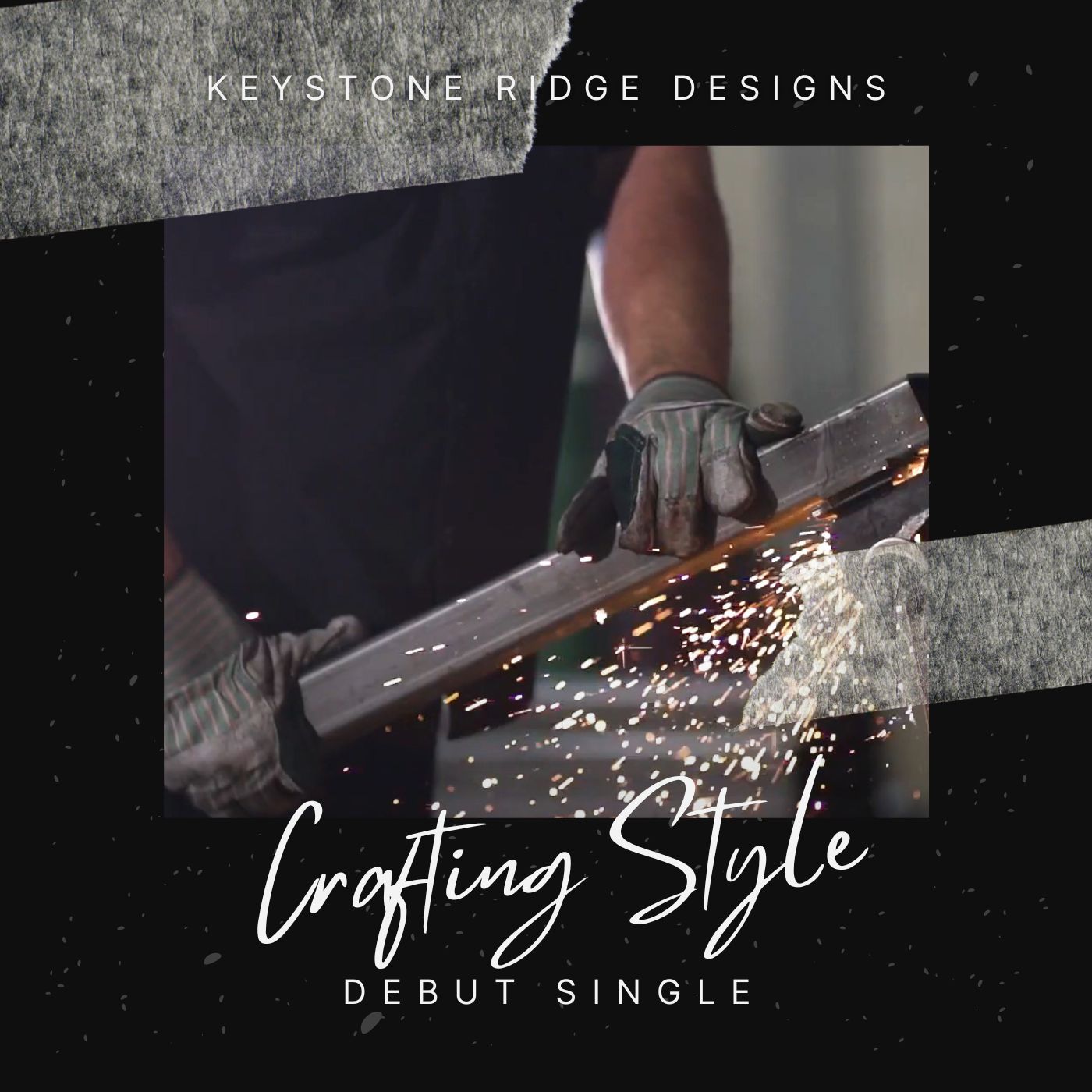 You can expect that every email is responded to and written by our team with intent and attention to detail to appropriately serve our clients' requests. Even our online chats are quickly handled by a responsive staff member at our main office, providing real-time answers and information at your fingertips. No robots, just real people...
Transit & Bus Stop Furnishings
Whether you are waiting at a bus stop or just walking by, bus stop furniture plays an important role in the pedestrian experience and in the public's perception of the service.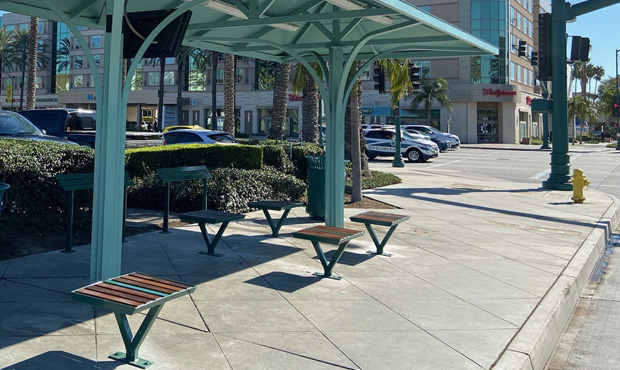 Street furniture at bus stops and transit centers provides clear visual markers for riders while offering a place for people to comfortably wait....
Project Highlight - Latrobe, PA
Whenever we highlight a project in our blog, we typically focus on a high-profile project, a unique location, a memorable story, or a custom collaboration.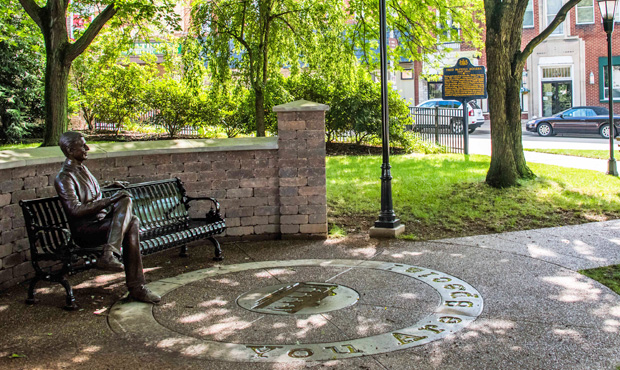 In this case, it's not just one job we want to feature, but a series of installations throughout a whole town. It is a small town with a big sense of community and a rich history...
Litter Receptacle Lid Options
The use and function of a litter receptacle can vary based on the type of lid and instructional graphics that are on top.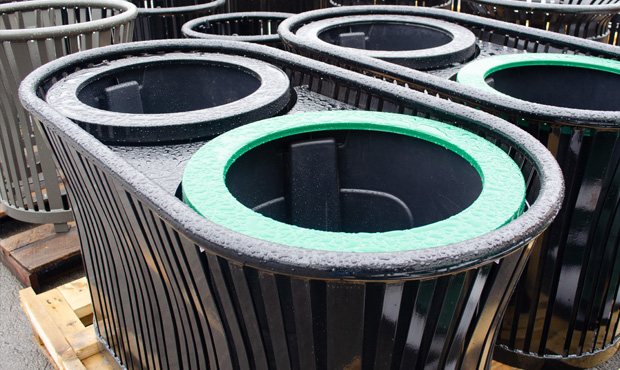 To break down the options and uses for trash can lids, this article is to instruct and inform you on how to choose the right covering for your outdoor trash disposal needs...
Site Furniture Design Details
A lot goes into making high-quality, durable site furniture. At Keystone Ridge Designs, we consistently prove that the design is in the details and it is those details that separate our outdoor furnishings from the competition.
So, in no uncertain terms, this is a blog to toot our own horn and explain the design differences that form the Keystone Ridge Designs advantage...
Park Furniture
Essential to strong, healthy communities are the park systems and parks and recreation departments that provide diverse opportunities for physical and mental fitness. Whether in rural settings or urban communities, access to shared outdoor spaces can help to improve the quality of life for those that live there.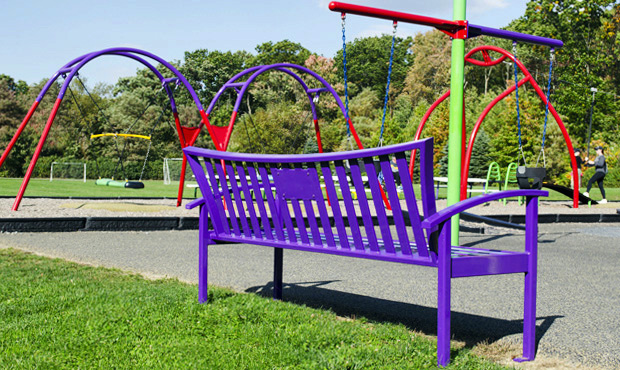 At Keystone Ridge Designs, we support the belief that everyone deserves a great park and we are proud to know that in their own way, our site furnishings help to enhance these parks and provide additional opportunities for outdoor recreation..
Whats New For 2023
January in our region of western Pennsylvania typically presents cold weather, cloudy skies and what seems like a constant mix of rain, sleet or snow. With such a dreary forecast, we are lucky to always have new things happening at the beginning of the year to keep our outlook bright.
For us, January is a time of fresh starts, refocused energy, new ideas and excitement for what is in store for the year. Here is just a quick snapshot of what is new at Keystone Ridge Designs for 2023...
Tradeshow Trips & Trends
The holiday season may be upon us and we may be well into planning for 2023, but before we get too far ahead of ourselves, we wanted to look back and recap our recent tradeshow season, highlighting a few of our favorite events we traveled to, the products we showcased, and the trends we discussed.
Last month, we headed to San Francisco, CA for the annual ASLA Conference on Landscape Architecture. We have been supporting the ASLA (American Society of Landscape Architects) organization and participating in their national tradeshow for many years, so it has been exciting to watch this event grow and evolve...
Giving Thanks and Giving Back
We love site furniture, but in this time of thanksgiving, we are reminded of how much we love our community even more. From our community of hard-working employees who are the heartbeat of our company to our small town of Butler, PA and the surrounding Pittsburgh region, we are thankful to be right where we are, doing exactly what we are doing, with the amazing people we get to do it with.
That is why throughout the year, but especially during the holidays, we focus on ways to celebrate our successes, give thanks and give back...
What Are Site Furnishings?
When it comes to architecture, construction or landscape design projects, the term site furnishings has a very specific meaning and function. It often refers to an exact section of specification documents that defines the furnishings to be used on a given project. Based on the CSI MasterFormat® standard for organizing specifications, Division 12 is where most furnishings are listed.
Site furnishings specifically can be found under 12 93 00 with subdivisions for Bicycle Racks, Trash and Litter Receptors, Manufactured Planters, Site Seating, Benches and Tables, Drinking Fountains and Bollards...
#FridayFabrication
Recently in our blog, we highlighted our top-selling site furniture products. While that list consists of our tried-and-true standard benches, litter receptacles, table sets and more, we still like to showcase the latest and greatest in custom site furniture creations.
Our expertise in made-to-order manufacturing gives us the flexibility to customize products exactly to specification from small alterations to straight-from-the-drawing-board designs...
Outdoor Furniture For Schools
As the new school year gets under way, educational facilities welcome back students, faculty, families and visitors. While these school buildings have seen many changes in the needs, requirements and recommendations for health, safety and security in recent years, some important elements remain the same.
Specifically, the site furnishings that add to the outdoor function and campus aesthetics continue to be necessary and even have grown in importance. Below are considerations in furnishing educational properties with commercial-grade outdoor amenities...
Keystone Ridge Designs Top Sellers
As people continue to opt outside and find new ways to enjoy outdoor spaces, business has been booming for the site furniture industry. Making sure your exterior spaces are equipped with the right amenities to facilitate leisure, recreation, dining or any other activity in the outdoors remains important in facility management.
Product selections from designers and property managers are often based on existing architectural themes or project design goals. It's always interesting however to pause and take a look at our sales data to see which products are trending at Keystone Ridge Designs and coming out on top for popularity...
Site Furniture & Urban Design
Designing shared spaces involves a number of considerations including aesthetics, intended use and public safety. A hot button topic for many that design and manage urban public spaces is how to appropriately handle vagrancy in those spaces.
Many environmental design discussions can be found around the concept of defensive architecture, sometimes even called hostile architecture, that uses design concepts to discourage unintended uses of public spaces and furnishings...
Production With Purpose
When is a bench more than just a bench? With us, pretty much always.
From memorial benches whose stories touch our hearts, to downtown revitalization projects that transform a community, to inclusive park designs that foster accessible outdoor recreation, there is always a reason to connect with the purpose of our products and understand the impact site furniture can have, whether big or small...
Outdoor Chairs for Public Spaces
"Pull up a seat" is not a phrase used often when dealing with 300-pound steel benches. Our commercial benches are built for stability and safety to stay in place, be bolted down and become a lasting multi-seat installation.
However, outdoor chairs and single-person seats offer a more versatile approach to public space design and function. Whether movable or secured in place, commercial-grade chairs provide a unique alternative to traditional bench seating...
Project Highlight: Cape May County Open Spaces
We often use the tagline "Create Space With Us" to define what exactly it is that we do here. It is a nod to how we not only sell site furniture but we collaborate with our clients to create unique and purposeful public spaces.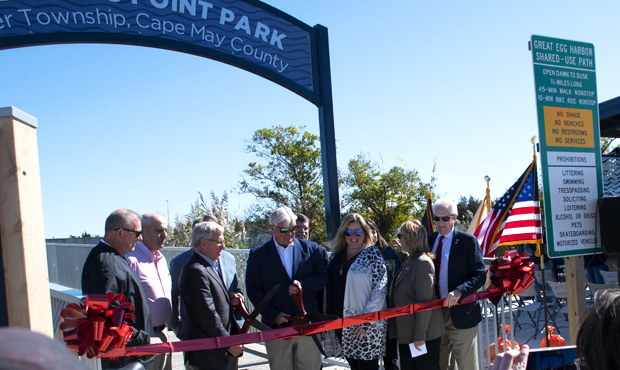 We enhance open spaces with products that invite pedestrians to connect with their community in new ways and we contribute to the design of beautiful landscapes that give a property a distinct identity...
Site Furniture Sets
2-22-22: A day to celebrate all things two. On this special Twosday, we thought it would be appropriate to recognize our very own famous pairs and duos - those site furniture pieces that perfectly complement each other in a harmonious set to prove that sometimes two is in fact better than one.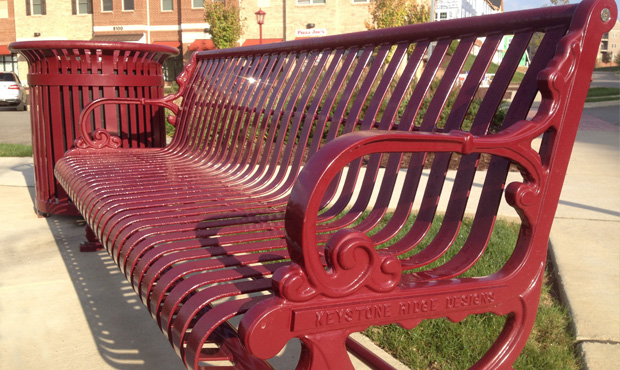 So, move over Batman and Robin, peanut butter and jelly and all of the other iconic duos, because these product pairings are love at first site furnishings....
Residential Development Outdoor Trends
When we talk about the applications of site furnishings, we typically refer to commercial settings and high-traffic public venues. However, as the lines of where we live, work and play become more blurred, it is important to recognize emerging trends in residential development and take note of how site furniture plays a role in our own neighborhoods and housing communities.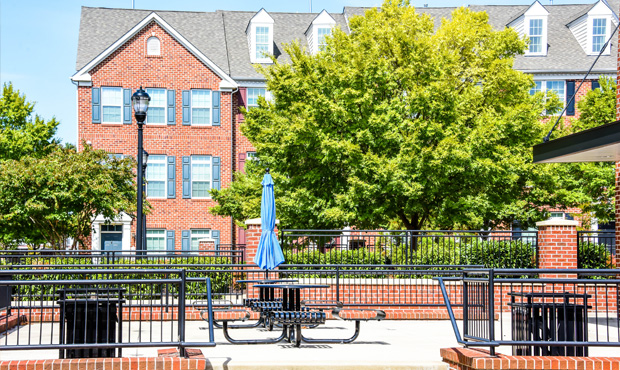 The key takeaway is that single-family neighborhood associations, multi-family residences and master-planned communities are increasingly starting to consider how they can create outdoor spaces that encourage residents to exercise, socialize, build a sense of community and lead a better quality of life...
ASLA Expo Recap
We had an all-star team of sales and support personnel at the event. For many of our booth staff, it was their first ASLA tradeshow so it became a crucial learning experience to connect with members of the landscape architecture community and immerse themselves in the hot topics and concerns of public spaces today.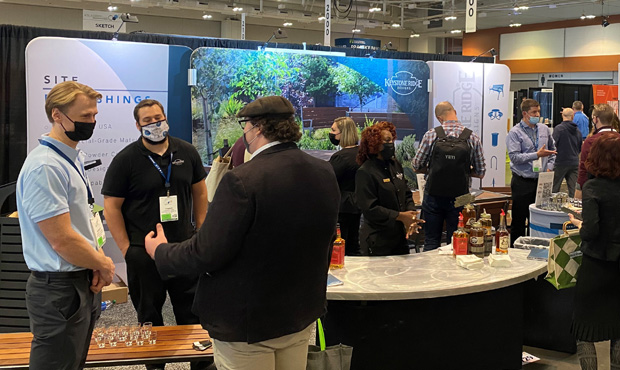 We were grateful for the opportunity to meet with clients and exhibit new products to help inspire the design of those spaces. Read on for a recap of this highly-anticipated event...
25 Years of Outdoor Furniture (Part II)
In September of 2020, Keystone Ridge Designs achieved an important milestone - 25 years of business in the site furniture industry. We acknowledged the significance throughout the past year with a blog about our history, social posts, and other notable communications. But, let's be honest, what we really wanted to do was have a party. A party to gather together and celebrate success, recognize accomplishments, pay homage to the past, and inspire the future. Of course, as we all know, the unforeseen circumstances of 2020 derailed our best laid plans.
Alas, earlier this month, a belated 25th Anniversary was combined with an early holiday event for a long-overdue, company-wide celebration. With amazing event planners and partners and a spirit of fellowship, the evening quickly became a new memorable milestone in the history of Keystone Ridge Designs...
Healthcare Site Furniture Trends
Like many industries, healthcare facilities and hospital properties have seen vast changes in the needs and requirements to maintain a safe, healthy, and inclusive building. The immediate tendency is to think of indoor accommodations, but growing in importance is the need for inviting outdoor spaces for patients, employees, and visitors alike."
Recent trends in landscape design and healthcare architecture highlight using site furnishings to create beautiful outdoor spaces to further promote health and wellness. In this blog post, Keystone Ridge Designs addresses the latest trends in site furniture types, materials, and installations for healthcare facilities...
Project Highlight - The Highline Pittsburgh
Sometimes a product installation just looks too good not to share. We recently had the opportunity to take on-site photos of our products at The Highline in Pittsburgh, PA. Not only is this property local to our Butler, PA headquarters, but the urban location also boasts a vibrant and chic exterior that is a welcomed backdrop for Keystone Ridge Designs' modern site furnishings."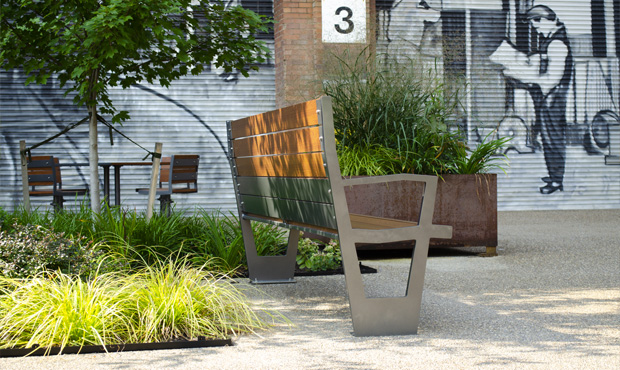 Here we highlight the historic property and its transformation into an iconic multi-use facility...
Tips For Buying A Memorial Bench
It is never an easy process to determine how to best memorialize or pay tribute to a loved one. With many custom memorial and remembrance products available, it can be a daunting and emotional journey. When a client comes to us looking to create a personalized memorial bench, we do our best to remain sensitive to the many questions that come up along the way and we strive to make sure the final product meets the needs of a lasting and meaningful installation."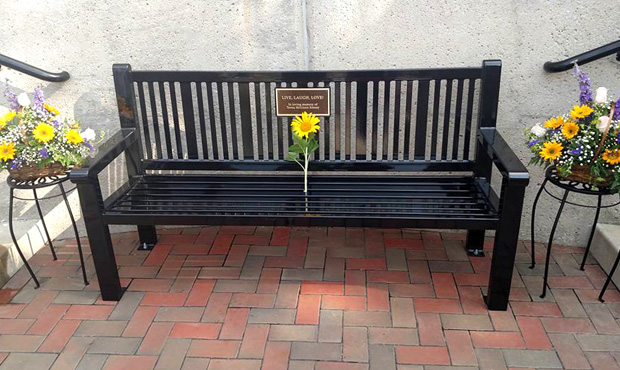 In this blog, we would like to provide additional education by addressing common questions and options that are often considered when buying a custom memorial bench...
Zoo Furnishings
At the halfway point of the summer season, we love seeing busy public spaces and the increased usage of the outdoors during the warm-weather months. We also recognize that summertime is when site furnishings really get put to the test. Our products provide seating, dining areas, bike parking and waste disposal solutions all year long, but summer is the ideal time for site furniture products to serve their purpose at popular outdoor venues and summer destinations.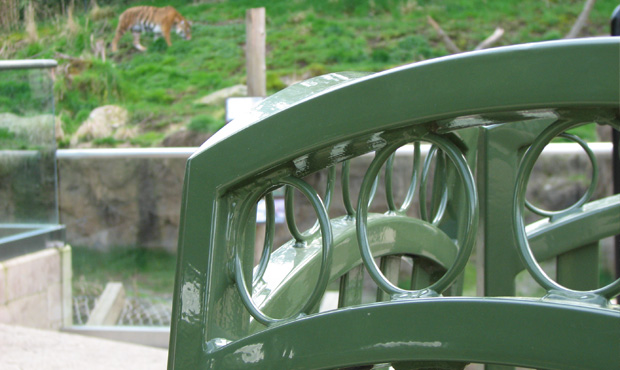 We've showcased examples of this in the past with our Sites of Summer blog post, but this time we'd like to focus on a favorite summer bucket list setting for adults and children alike – Zoos! ...
Guide to Custom Signage and Graphics
An essential component to both property management and landscape design, outdoor signage and graphics help to instruct pedestrians, provide wayfinding, recognize local history or reinforce a brand name. At Keystone Ridge Designs, we specialize in making public spaces more functional and interactive with commercial-grade steel site furnishings and other outdoor accessories.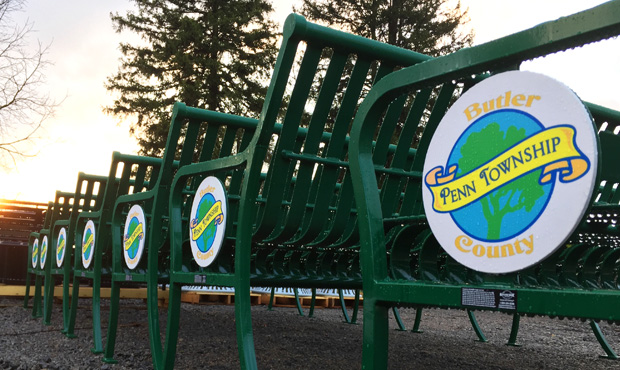 With that manufacturing and industry expertise, our capabilities extend to help personalize properties with custom graphics that can be incorporated into furnishings or stand alone as made-to-order signage solutions...
Outdoor Church Furniture
As a manufacturer of commercial outdoor furniture, we have been seeing many different types of properties across the country make shifts to increase the usage of outdoor spaces. Religious facilities and church properties are no exception. These facilities have been providing new ways for members and visitors to connect with their faith and interact with their church family in outdoor settings.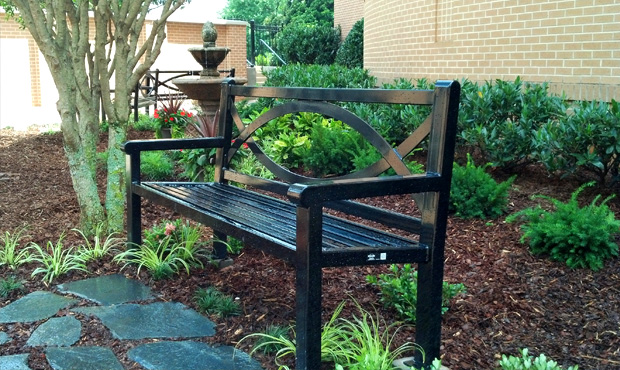 Whether it is for outdoor services, prayer gardens, meeting spaces, social events, play areas for children or other creative installations, outdoor furniture is an important element in maintaining a welcoming church atmosphere...
Site Furniture Standards
We pride ourselves on our patented designs, modern innovations and on-trend custom outdoor furniture solutions. That being said, our site furniture standards, our timeless classics, continue to be a popular choice for their ability to seamlessly complement a variety of landscapes while upholding an unmatched reputation for quality.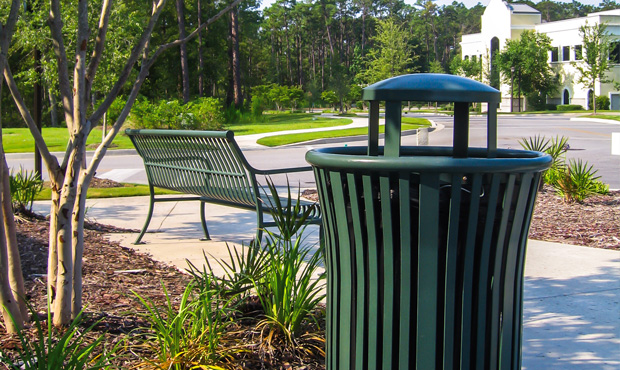 The following site furniture favorites may seem familiar for their extensive applications in public spaces nationwide. Often imitated but never quite duplicated, these items from Keystone Ridge Designs are the stalwarts of the industry and what we like to call Exclusive By Design.™ ...
What is a bollard?
To those of us who eat, sleep and breathe public furnishings and site amenities, the answer to the simple question "What is a bollard?" may seem obvious, but for anyone who may be a novice in site planning and urban design, this blog is for you.
Bollard ('bälərd): A bollard is a short, sturdy post used to establish boundaries on a property, offer perimeter security and help guide traffic...
Outdoor Furniture for Ski Resorts
While in the middle of our Frozen February Free Freight promotion, we thought it would be appropriate to highlight one of our favorite frigid facilities for site furnishings – ski resorts! From custom ski racks, to bus stop benches and year-round table solutions, our commercial-grade outdoor furnishings have excelled through some of the harshest winter conditions and public usage as they make their homes in popular ski resorts across the country.
Whether you are dreaming of your next ski vacation, preparing to hit the slopes this February or you are actually in charge of resort facilities and are planning for the off season, think about the furnishings that are crucial to the outdoor experience during the height of ski season and through year-round outdoor recreation...
Commercial Outdoor Furniture Trends for 2021
We truly believe in the potential of the outdoors. Looking ahead, we feel confident that access to safe outdoor spaces will continue to encourage and nourish people now and well into the future. Reports and studies consistently show that getting outside and connecting with nature provides numerous benefits to our overall health and wellness. So, what does that mean for site furnishings?
Site furniture is an increasingly important element to public space design. It is essential in welcoming outdoor interaction and guiding how an outdoor space is used or perceived...
2020 Greatest Hits In Site Furnishings
For a timely blog to cap off an interesting year, we want to take the opportunity to recognize the positives, celebrate the successes, and showcase some of Keystone Ridge Designs' notable custom manufacturing highlights of 2020.
We have always prided ourselves in being flexible to custom design ideas and made-to-order fabrication. This year has been no different from that respect and amidst everything else, we have maintained our focus on manufacturing safe, durable, creative, and custom site furnishings for the changing needs of today's public spaces...
Design Timeline - Patented Site furniture
As we continue through our anniversary year, we thought we would look back at what 25 years of site furniture design looks like. Currently holding over 45 patents, Keystone Ridge Designs' collection is as diverse as the markets we serve. From traditional to modern product launches, the timeline of our notable site furniture design patents shows a history of embracing creative innovation, following industry trends, and seeking collaborative inspiration.
Follow the product links below to learn more about each of our patented bench designs through the years...
SPOTLIGHT ON GARDEN FURNITURE
As we continue to explore outdoor escapes and the relevance of site furnishings, our minds turn towards a few notable botanical gardens and nature preserves where you will find our products. These beautiful sanctuaries offer lush gardens, acres of land, plant education, thoughtful memorial benches, and a tranquil destination to enjoy nature at its finest.
Nature has its beauty in all seasons and in all weather, so don't let the falling temperatures keep you away from the peaceful outdoor experience found in these protected spaces...
25 Years Of Outdoor Furniture
What does firewood have to do with the history of Keystone Ridge Designs? And what has contributed to the success and steady growth of the company over the years? This month, Keystone Ridge Designs celebrates 25 years since its incorporation in September of 1995. It is both a cause for celebration and a time to reflect on where we started, how far we've come, and what keeps us going. What we have learned is that when it comes down to it, the kindling for our fire is and has always been Perseverance, Passion, and People.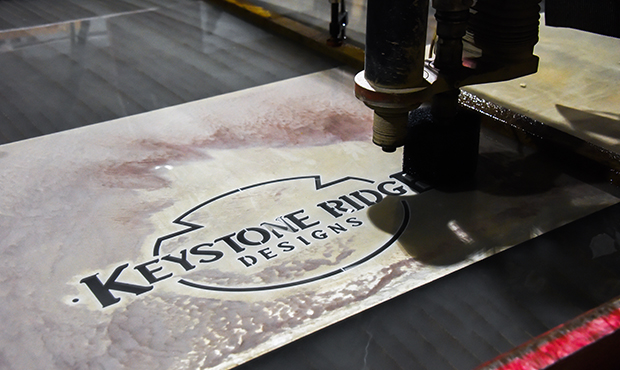 Perserverance
"Success is not final, failure is not fatal: It is the courage to continue that counts."
- Winston Churchill
Unique Outdoor Spaces
Parks, streetscapes and store fronts are the norm when you think of site furniture applications, but one of the things that makes our job so much fun is the variety of unique outdoor environments that involve our products. With outside now becoming everyone's favorite place to be, the creativity in where these outside spaces are developing is a constant source of inspiration. Below are some locations where Keystone Ridge Designs site furnishings are installed using out of the box outside thinking.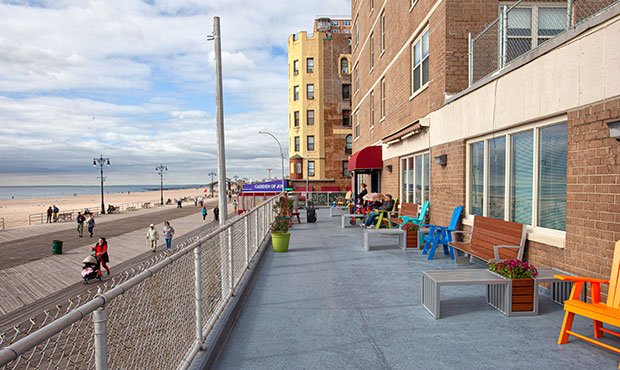 Fire Pits
Fire pit seating can offer year-round comfort as an outdoor escape for pedestrian engagement. Curved benches help to create a functional circle of social interaction while individual durable chairs offer...
Tips For Choosing Commercial Outdoor Table Sets
Whether expanding your business into the outdoors or upgrading existing open-air spaces, finding the right commercial-grade table sets can make all the difference. When it comes to selecting the best outdoor tables for commercial spaces, here are some of the top considerations to keep in mind.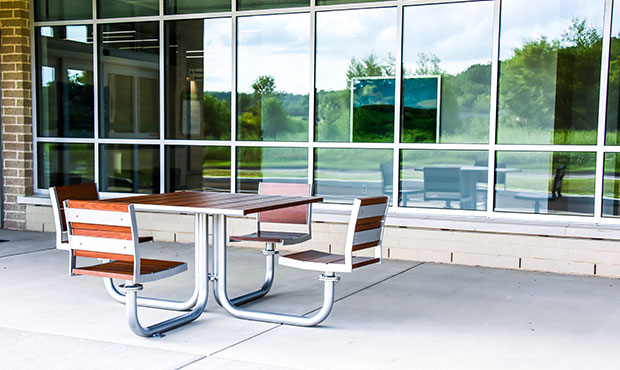 1. Size & Capacity
First, start by evaluating the functionality of your outdoor public space. How many people do you want to accommodate? What is the primary function of the tables – dining, work, leisure, etc.? Once a clear purpose is defined, you can begin working on a layout to meet those needs...
Project Highlight - Longevity Bench Project
Summer is the ideal time to get outdoors and appreciate how something as simple as a walk can improve our health and well-being. Manchester-By-The-Sea, MA is one town where strides are being made to not only recognize that but also to support and encourage it through the Longevity Bench Project, Inc. With the use of our Everett bench and product customizations, this project has been near and dear to our hearts since its inception in 2017.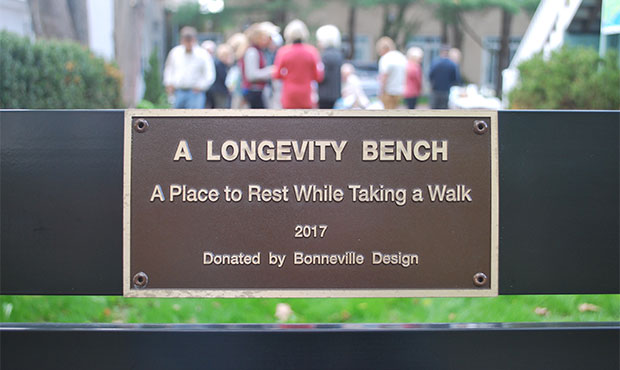 Exactly what is a Longevity Bench? Simply put, it is "A Place to Rest While Taking a Walk." The Longevity Bench Project, Inc. was founded in Manchester-By-The-Sea with a goal to create a more walkable town for people of all ages and abilities by...
Promoting Healthy Outdoor Spaces
Public parks, open spaces and outdoor venues remain essential to our communities now and moving forward. During times of health concerns, there are a lot of questions on how to safely use these spaces. Of course, always default to CDC recommendations for up-to-date information. The NRPA also has some great resources and guidelines on public park usage. To help support public wellness, we can offer some suggestions on how to best clean and disinfect park furniture as well as plan for the future with creative public space alternatives.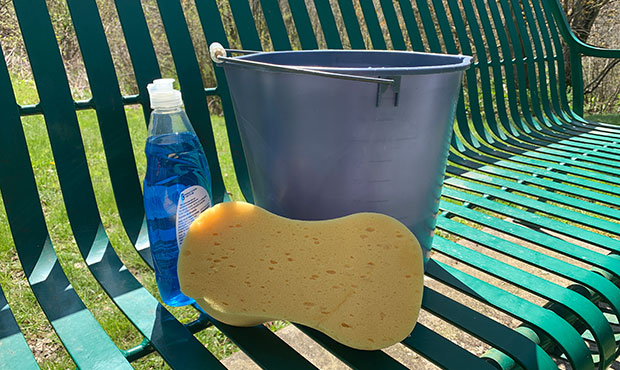 How to Clean & Disinfect Park Benches and Outdoor Furnishings
Wear protective gear such as gloves and goggles.
Use a mild non-abrasive soap and warm water with a soft sponge to clean powder coated products. For tougher dirt or grime, use a pressure washer on its lowest setting. Avoid using any harsh chemicals or solvents. Harsh chemical cleaners can...
Signs Of Spring
Spring is often seen as a sign of new beginnings, fresh starts, rebirth or the simple hope of better times to come. We all could use a little spring in our lives right now and the small moments of beauty that it can provide.
So while we hold on to the hope that April showers bring May flowers, in this blog we will do our best to add some color and inspiration to your day with a series of landscape photos taken amongst the beautiful blooms of spring.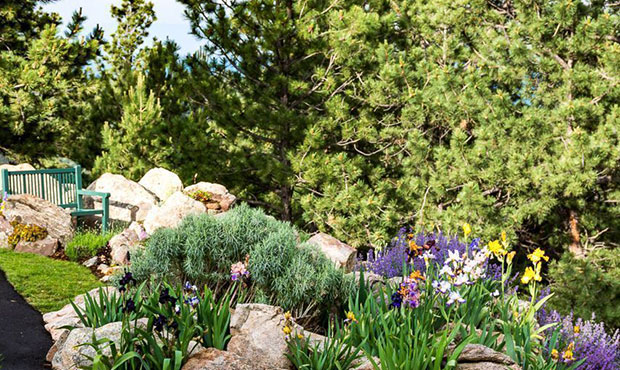 These spring bulbs capture attention near a Reading bench at this Golden, CO park...
Project Highlight - Pianos About Town
When we speak of customization, one particularly noteworthy project comes to mind. It is a project where art, culture, community and a sense of whimsy all come together in an inspiring way. By combining local art and musical spontaneity, the streetscapes of Fort Collins, CO become a memorable place to visit as a result of the Pianos About Town program.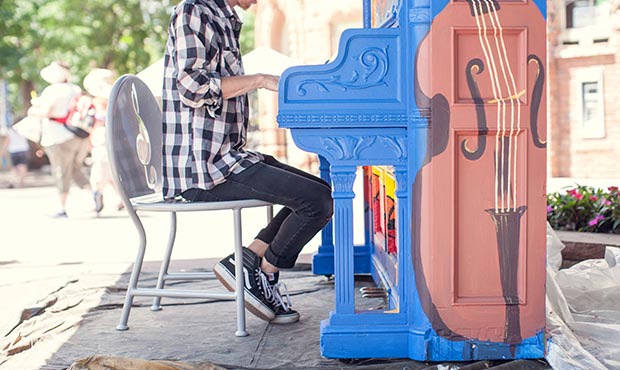 Photo Credit: Bohemian Foundation
Pianos About Town started in 2010 as a collaboration among Bohemian Foundation, the Downtown Development Authority, and the City of Fort Collins Art in Public Places program. Starting with donated pianos, community members are able to watch in real time as local artists paint and transform the pianos...
Powder Coating Color Trends
At a time of the year when lists of 2020 design trends and color of the year announcements are being declared, we find our own opportunity to provide thoughtful color insights to the site furniture and landscape design community. We have blogged before about powder coating being the best type of finish for quality steel site furnishings, but here we specifically present Keystone Ridge Designs' top powder coating color ideas to guide your design decisions.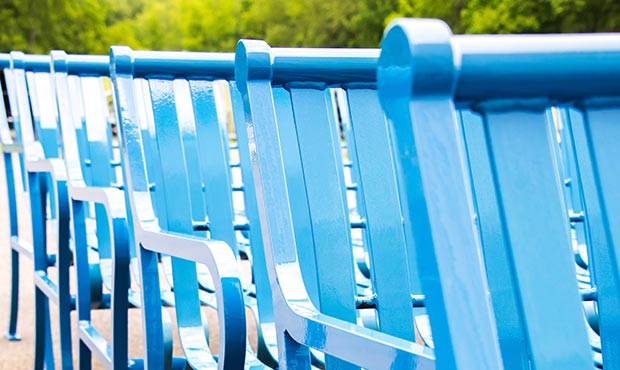 While taking into account leading influencers in color and design, we also use our recent manufacturing data to inform and educate on the following site furniture color trends...
All-Weather Site Furnishings
When the time of year approaches where snow, ice and freezing temperatures envelope a large part of the country, public spaces need to take the necessary precautions to winterize their property. Whether this means closing outdoor venues or storing furnishings that can't handle the extreme conditions, one thing you can count on is keeping Keystone Ridge Designs site furnishings in place through the winter months with confidence.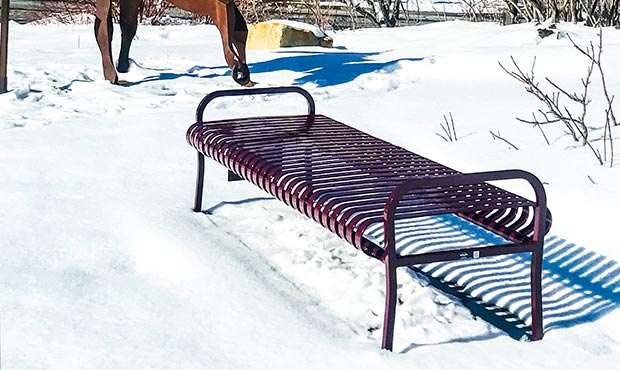 Our durable all-weather furniture is built to last. With fully-welded seams and a powder coat finish that is unmatched in the industry, our products resist rust and offer structural integrity year round through any outdoor conditions. Perhaps you find it too cold to actually sit on the benches, but you can at least rest assured that after the winter thaw...
Top 6 Traditional Commercial Bench Designs
Timeless, simple, durable and functional. While successfully innovating new, modern bench styles, Keystone Ridge Designs still maintains the tried and true traditional bench designs that have earned their reputation of quality. Here we recount the top classic bench styles that continue to gain favor in historic settings, main street revitalizations, parks and other traditional landscapes.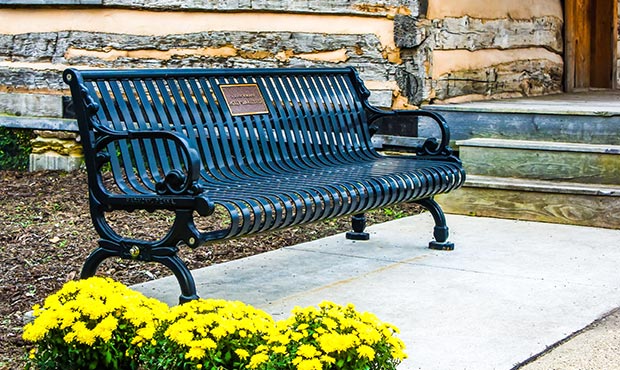 1. Reading
Evoking the classic look of a rustic wooden garden bench, the Reading offers a durable alternative with all-steel construction. Unique in its slat pattern and grounded with sturdy supportive legs, the Reading often...
Top 9 Modern Outdoor Benches For Commercial Settings
Site furniture designs vary from traditional to contemporary to suit a wide range of project plans and aesthetic themes. If modern is your design vision, here is Keystone Ridge Designs' list of popular contemporary commercial-grade benches from our diverse line of site furnishings.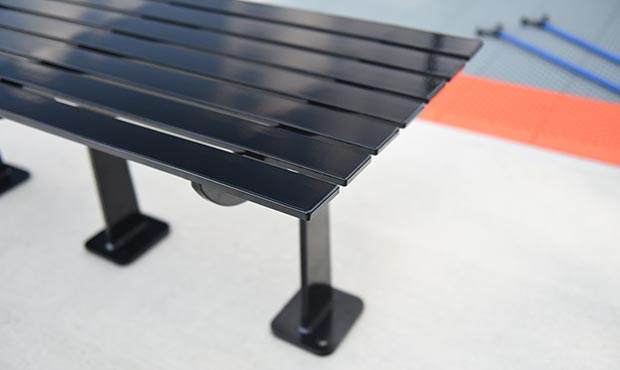 1. Carson
The design of the Carson is all in the details with simple comfort curves, understated construction and smooth, seamless lines. Since its launch in 2018, onsite installations and architect specifications continue to be on the rise with...
Made In The Shade: Choosing The Best Commercial-Grade Umbrella
When looking to add elements of shade and weather protection to outdoor public spaces, one of the first considerations for landscape designers and property managers is umbrellas. With a variety of options and price ranges on the market, it can be hard to determine exactly what qualifies as a high-quality commercial-grade umbrella. In this guide, we will discuss the unique challenges that need to be addressed when selecting outdoor patio umbrellas and other shade solutions – Safety, Durability, Design, and Value.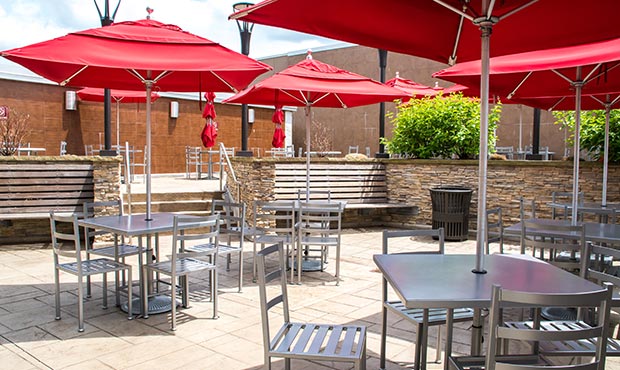 Safety
First and foremost, when purchasing market umbrellas, consider the safety of all pedestrians in the surrounding area of the installation. Without the right umbrella safety features or with improper anchoring...
Outdoor Seating Alternatives: Think Outside The Bench
Public spaces are ever-changing and constantly evolving. In today's fast-paced environment, you need to facilitate the mobile nature of how people live, work, gather and interact. Site furnishings play an important role in guiding how a space is used and creating an inviting destination. Benches and table sets are the default considerations when planning outdoor seating and still continue to be necessary.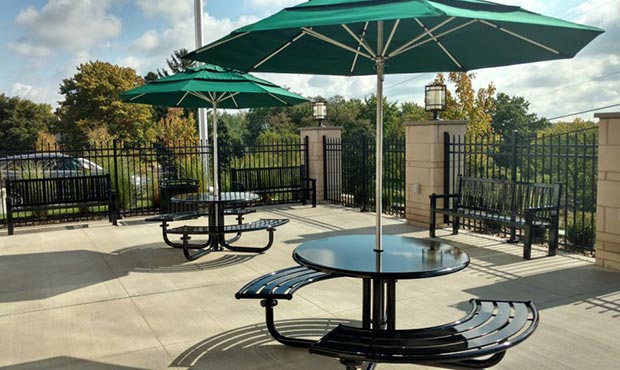 However, when investing in place-making, it can help to think outside the bench to re-invent seating possibilities and positively impact daily usage. This post offers unique alternatives that challenge the norm in commercial site furniture solutions...
Project Highlight - The Tracks At Brea
July is National Park and Recreation Month, so before the month comes to an end, what better time to highlight a recent trail and open space project where Keystone Ridge Designs site furnishings are currently serving in a supporting role.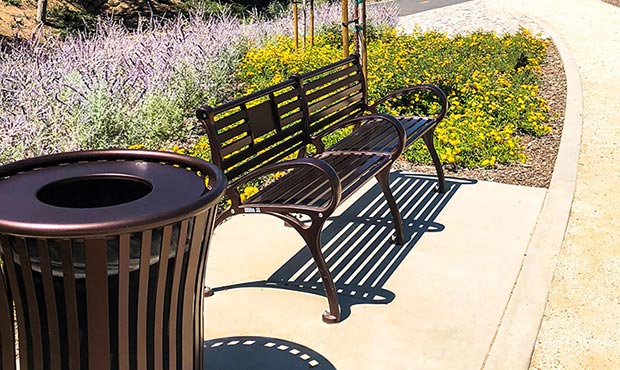 The Tracks at Brea Trail is a beautiful, multiple award-winning project that transformed an abandoned railroad corridor into a 50-acre linear park. Located in Brea, CA, this Rails-to-Trails project offers a four-mile long, multi-use trail that crosses the city from east to west and provides peaceful settings, landscaped trails, fitness opportunities, a glimpse of Brea history, and...
Sites Of Summer
Summer means a lot of things to a lot of people, but for many it is a time to simply enjoy the outdoors. Parks, playgrounds, pools, trails, picnic areas, and bike paths are just a few of the ways to appreciate the summertime sun. For us at Keystone Ridge Designs, our employees enjoy their own vacation time or just sneaking outside the office for a lunch break or an impromptu kickball game. Another joy is seeing some of our site furniture installations come to life in the busy summer months.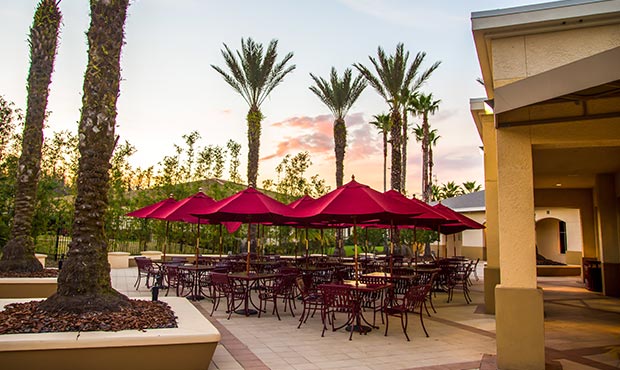 Shown: Courtyard Table Sets with umbrellas in Ruskin, FL
Whether our products are spotted at a vacation destination or in a local park on the weekends, it is evident how site furniture is essential to summer venues and outdoor public spaces...
Fundraising with Furnishings
Limited funds and budget restrictions are common problems that we hear when we are speaking to downtowns or civic organizations about site furnishings and streetscape revitalization. But did you know that you can raise funds for downtown improvements and add new site furnishings all with one initiative? We have helped many clients work through the details of starting a program that can encourage fundraising and community involvement by offering sponsorships, memorials and dedications on site furniture.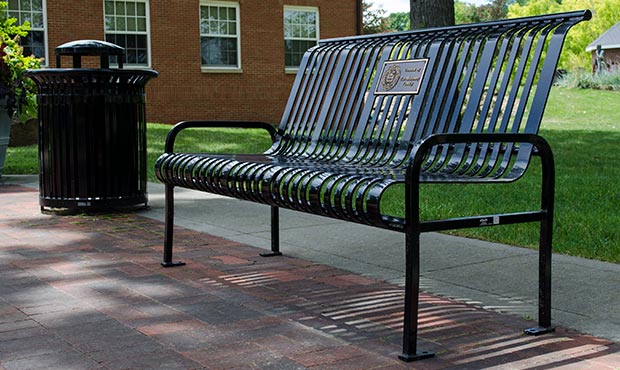 With the addition of personalized cast bronze plaques or other graphic customizations, it becomes easier to solicit donors to help fund improvement projects. Keystone Ridge Designs has...
Durable Site Furniture - What Does That Mean?
We frequently use the terms durable and quality to describe our site furniture products. Quality can be a relative term, so what does it really mean when we say we offer quality, durable site furnishings? We can talk about the thickness of our powder coating or the full-weld seams that bind our product together or even simply the heavy weight of our products. What truly makes a quality story resonate though are case examples of installations that have lasted the test of time. Here are a few stories from our collection.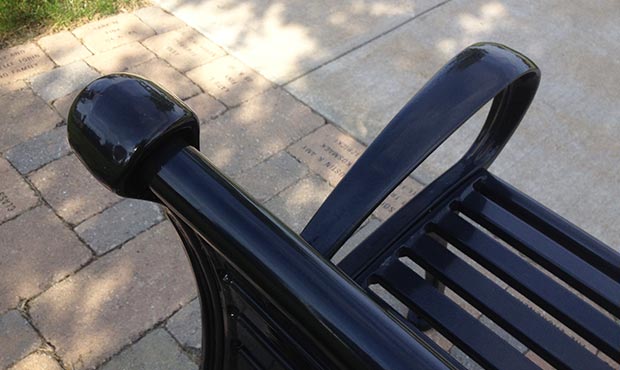 St. John Fisher College
When the 2018-2019 Student Government Association at St. John Fisher College wanted to contribute new benches to campus, we were sent an example of what is currently on site. This recent photo shows...
Customization 102
In our Customization 101 blog, we explained through infographics all the different ways that you can customize benches, litter receptacles, and table sets. We continue to be an industry leader in site furniture customization, so in response to popular requests, our Customization 102 blog showcases more examples of made-to-order manufacturing creativity and educates on various ways that outdoor furnishings can be personalized.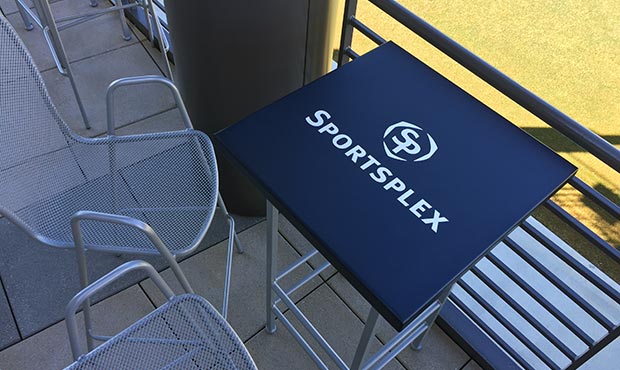 Custom Shapes
When it comes to our standard line of site furniture, what you see does not have to be what you get. Custom curves, cut out logos, blending two different designs, and other modifications are...
New For 2019
The start of a new year brings about reflection, resolutions, new goals, and fresh starts. Advice from business author Tom Peters says to "Celebrate what you want to see more of." At Keystone Ridge Designs, we celebrate innovation, continuous improvement, and new opportunities to provide public spaces with creative site furniture solutions. With that in mind, we would like to share what is new with Keystone Ridge Designs in 2019 to keep your site furnishings knowledge up-to-date.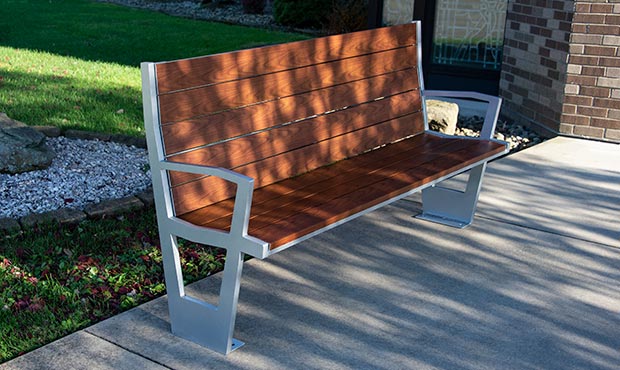 The Creekview Series
Initially launched at the American Society of Landscape Architects show in October, the Creekview Bench with Back delivers comfort contoured seating with subtle angles and design nuances that create...
How It's Made
What is so cool about manufacturing? It's a question worth pondering. We recently had the opportunity to work with a group of talented students from Butler Intermediate High School and educate them on this very question. This is part of a statewide competition created by Manufacturers Resource Center in Allentown, PA called "What's So Cool About Manufacturing". For this program, students are partnered with a local manufacturer and are challenged to create a three-minute video to showcase the benefits of careers in manufacturing.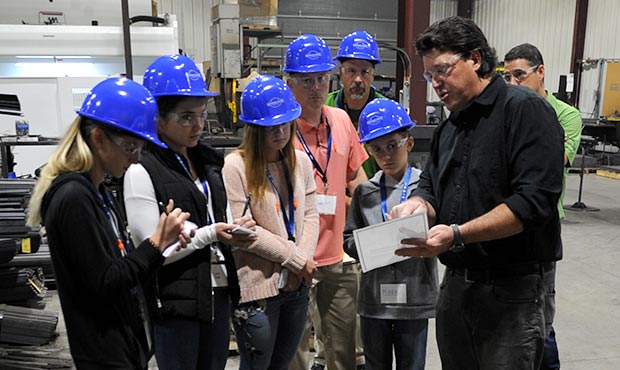 Seeing the interest and excitement of these bright young minds as they toured our plant has helped remind us that manufacturing is in fact really cool and we are proud to be a part of this important industry in America. From small processes that are just fun to watch...
Fall Photos and Furnishings
Located in the rolling hills of Western Pennsylvania, we at Keystone Ridge Designs get to experience a four season climate and all of the changes that come along with it. October is a wonderful time of year when the leaves start falling, the air becomes crisp and there is pumpkin-spiced everything in all of the stores. The autumn season offers great opportunities to appreciate the changing landscapes and the beautiful fall foliage. So while we cannot offer any pumpkin-flavored products, we thought we could at least offer a gallery of our favorite fall site furniture photos.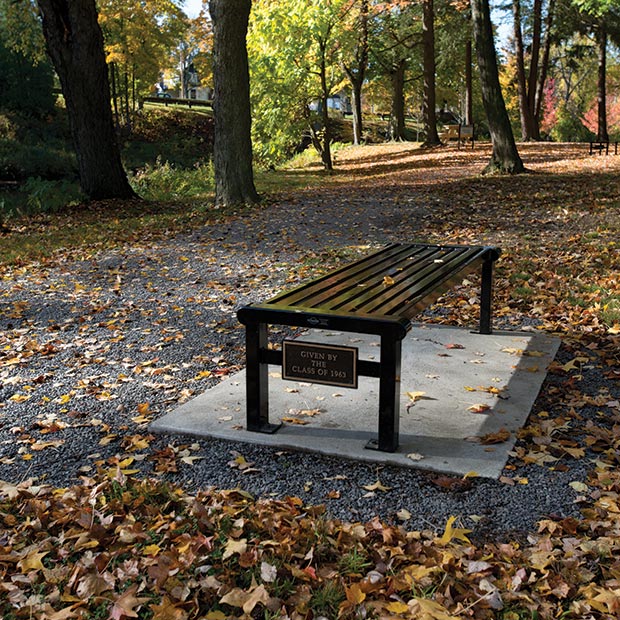 On college campuses, fall is a busy time of student activity, Saturday football games and outdoor recreation. The trail above at Grove City College not only offers a quiet walking path into town but also...
Site Furnishings for Senior Living
In the past we wrote about the different needs and considerations when planning public spaces for children. It brought to light that you cannot take a one-size-fits-all approach to landscape design and site furnishings. That brings us to the opposite side of the spectrum and how to plan for active older adults, senior citizens and long-term care residents. In today's blog, we will consider the unique needs of this growing demographic.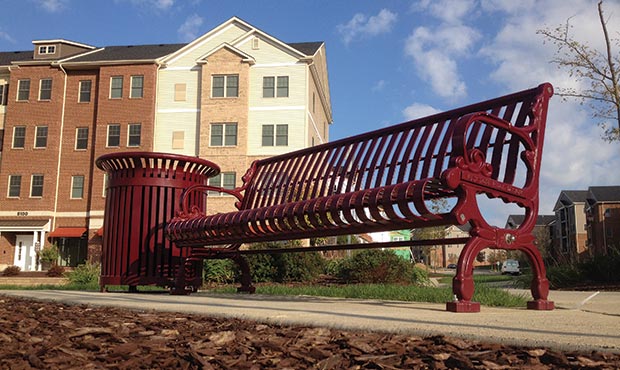 As members of the baby boomer generation continue to reach retirement age, the impacts on senior living are vast. This large generation tends to be more active and more independent than their predecessors. They are wealthier and have more demand for modern comforts and conveniences...
Project Highlight - Echo Park Lake
What do Lotus flowers and Keystone Ridge Designs Schenley benches have in common? They both can be enjoyed throughout the summer at Echo Park Lake in Los Angeles, California. As one of the oldest and most beautiful parks in L.A., today's blog features this historic setting and our involvement in the major rehabilitation that has transformed the park.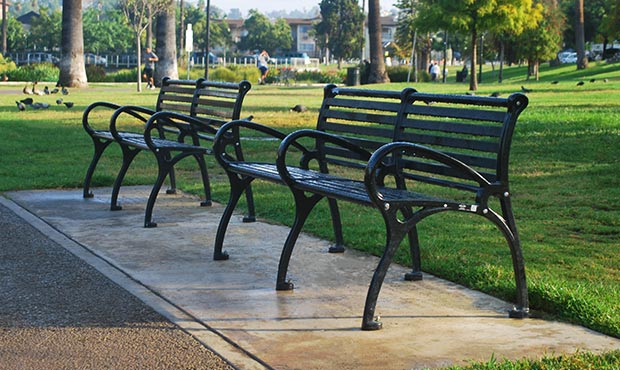 The History
In the late 1860s, the area was originally developed as a reservoir to accommodate rapid population growth in Los Angeles. In response to the city's need for more public parks...
Park Bench Workout
You do not need fancy, expensive, new machines to get in a fast workout. Actually, all you need is a durable bench. Park bench workouts are a great way to incorporate variety into your exercise routine, and Keystone Ridge Designs is here to help. Our benches can be found in parks, hiking trails, biking trails, and public areas nationwide. These park benches give you a place not only to relax, but to support your healthy, active lifestyle. Park bench workouts allow you to add strength training to your cardio workouts. So, next time you are on a walk in the park, look for a sturdy Keystone Ridge Designs bench on which to practice these exercises.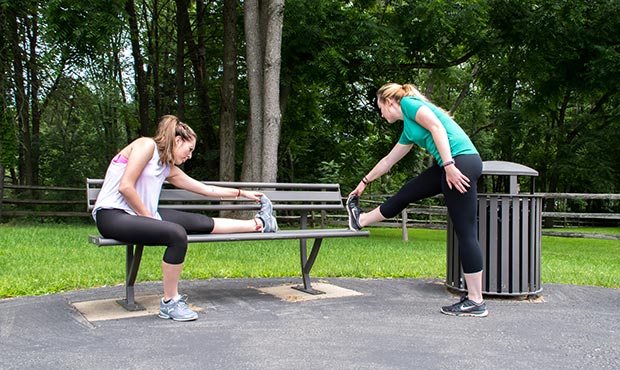 Pictured: Penn Bench with Back and Penn Litter Receptacle
1: Step Up With Knee Drive
For this exercise, start with one leg bent on the bench in front of you and one planted on the ground, forming a running position. Next, drive the planted leg up...
Site Furniture and Planning for Public Safety
It's a nice thought to picture all of the installations of site furniture as picture-perfect utopian public spaces where the sun always shines, crime doesn't exist and public safety is not a concern on anyone's mind. Beautiful spaces do indeed exist all across the country, but public safety always needs to be a priority and site furniture can be used as a tool to help maintain the beauty and enhance the public's sense of security.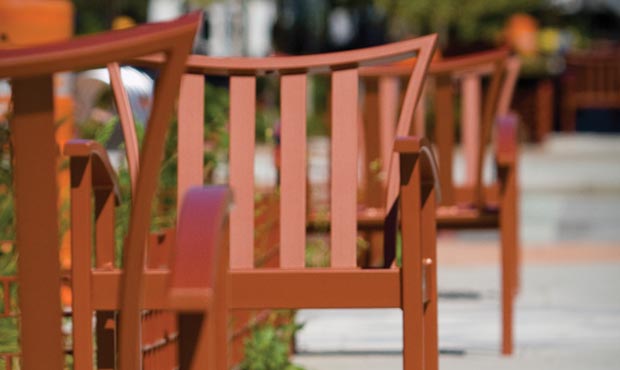 Research has shown that "the proper design and effective use of the built environment can lead to a reduction in the fear and incidence of crime and an improvement in the quality of life." That's the theory behind Crime Prevention through Environmental Design (CPTED), an urban planning practice that studies how the built environment impacts social behavior...
The Art of Bike Racks
When does a bike rack become more than just a place to park a bike? When it becomes a piece of art. Better yet, when it becomes a way to promote the arts. We've worked on projects across the country where unique customized bike racks were used to showcase a brand or represent familiar symbols. Downtown Bel Air, Maryland took this a step further by utilizing bike racks to visually represent the many facets of their Arts & Entertainment district.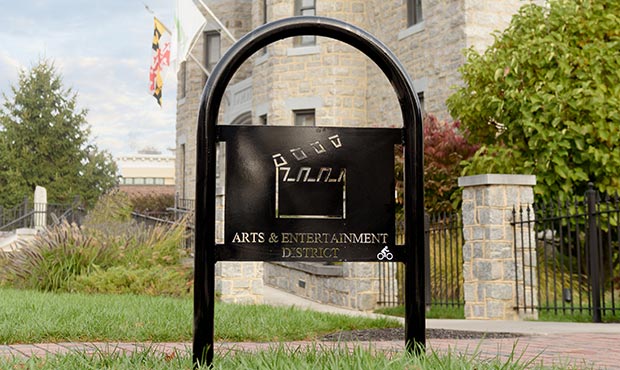 Photo Credit: Jen Snyder
Upon receiving grant funding, Bel Air Downtown Alliance took on the initiative to bring bicycle parking solutions to their public spaces throughout the Arts & Entertainment...
Site Furniture Materials 101
If variety is the spice of life, then consider how alternative materials can spice up your site furnishings. While we always tout the many benefits of steel site furnishings, we also recognize the importance of different material options to achieve certain visual and functional requirements. What are the types of site furniture materials and special considerations for each? Today's blog will break it down for you.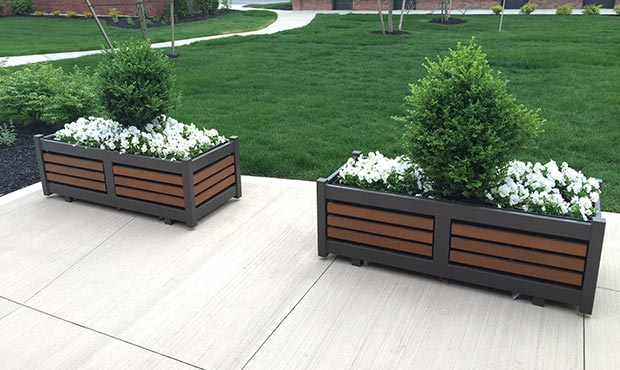 What's New?
What's new? A simple question, a common icebreaker often exchanged between old friends. We actually hear it frequently from clients wanting to be informed of new concepts coming off the production line. We typically blog about industry news and educational content because we enjoy sharing our years of site furniture expertise with the general internet. Sometimes however, we just want to toot our own horn and share exciting news about what is happening right here at Keystone Ridge Designs. This blog is all about what's new!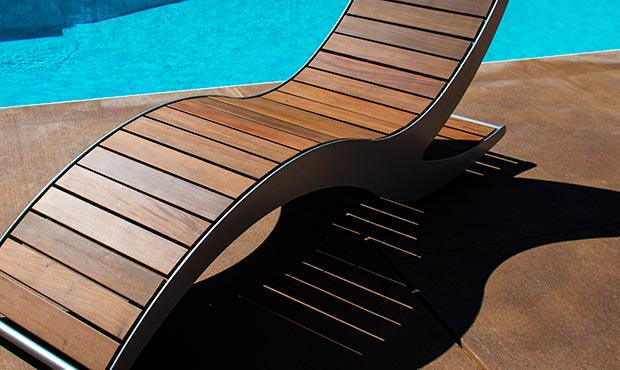 We recently exhibited at the ASLA Expo in Los Angeles where we showcased our latest innovations to the Landscape Architecture community...
Project Highlight - Carson City Downtown Revitalization
"Historical Elegance." That was the term coined to describe the theme of the impressive revitalization project that Carson City, NV brought to fruition. It was no easy feat for the city to condense a five-lane traffic corridor into a three-lane pedestrian environment, but we were glad to be just a small part of the undertaking by providing site furnishings. In today's blog, we will highlight this project further, giving recognition to Carson City and their design partners for a great revitalization success story.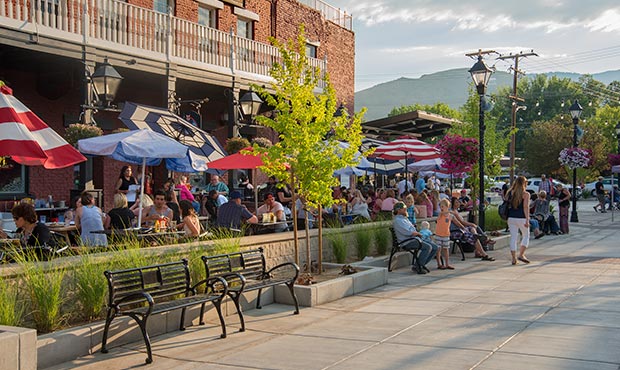 Taking Back Main Street
Carson City's Mayor, Bob Crowell, had a vision that "downtown needs to be a place to drive to, not drive through." What was historically a road for horse-drawn carriages evolved into...
Reducing Waste - It Takes All Sorts
As a manufacturer of litter receptacles and recycling containers, it only makes sense for us to stay on top of waste disposal trends and growing environmental concerns associated with increasing population and trash. While the details of waste management can be quite complex, in today's blog post we will touch on some of the basics of trash sorting and zero waste initiatives.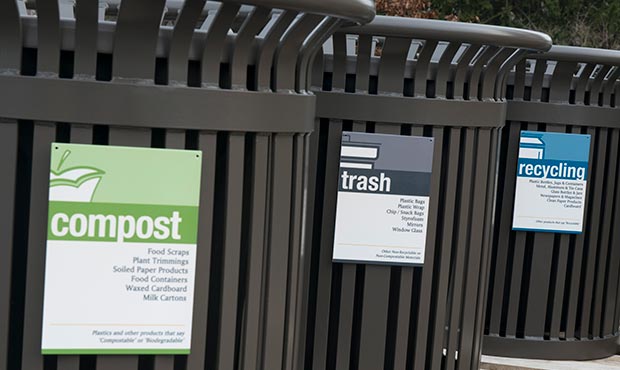 As one of the world's top producers of trash, the United States has plenty of room for improvement when it comes to waste disposal. To combat the many harmful effects of the tons of trash...
Putting the Fun in Furniture
Today's blog is just for fun because, well, that's what we like to do - have fun! We all have to work, so why not have fun while doing it! As if designing, manufacturing, and selling benches and trash cans is not fun enough, we add in extra elements of excitement to the site furniture world through company celebrations, social events, team-building experiences and general office shenanigans.
Celebrations
We like to celebrate everything whether it's a personal milestone or a company-wide success. From cupcakes or donuts on birthdays to showers for weddings and babies, we are on it. Sometimes it's just a lunch out to congratulate employees on goals achieved. A recent success took a group of employees to a local mixed-use development for dining and entertainment. As highlighted in our McCandless Crossing blog, we were partial to the benches and bike racks that were on site and were glad to be a patron of one of our clients' well-branded properties.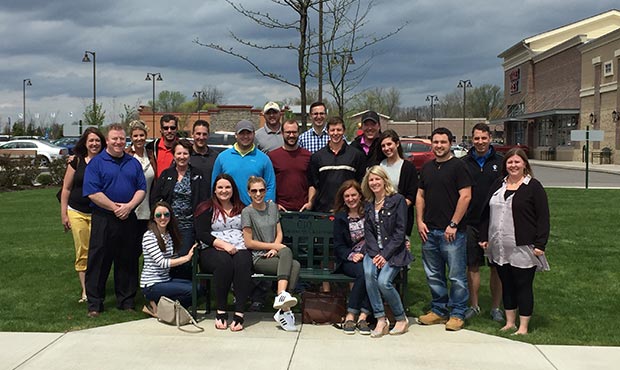 Site Furniture Placement Guidelines
When it comes to site furniture, product placement matters. We talk frequently about the design and aesthetics of our products, but it is also important to discuss installation and location. Today we offer some general guidelines to consider when determining where to install benches, litter receptacles and bike racks.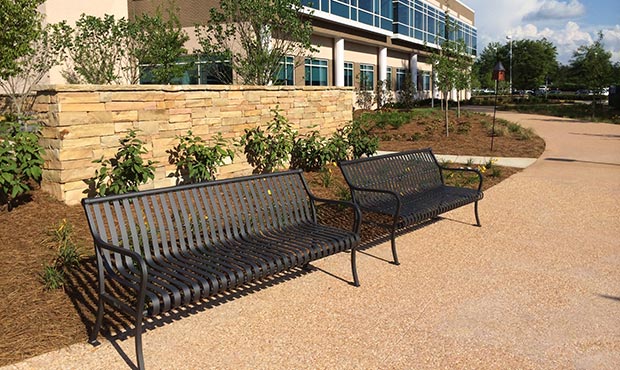 Benches
Site furnishings add the finishing touch to a site. For benches, consider the types of areas where that finishing touch is needed and the function that a bench could serve...
Project Highlight - City of Weston, FL
In the past, we showcased a custom two-color, Penn dual receptacle with a laser cut logo as one of our top 5 customizations. Because we are so fond of the final product and the client with whom we worked to bring it to life, we'd like to share the full story in a project highlight about the City of Weston, FL.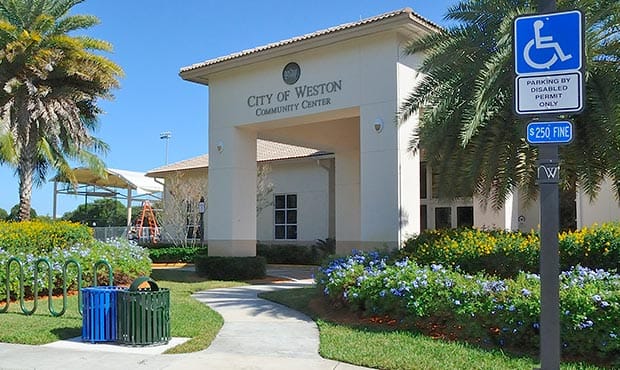 Weston is a beautiful city located in southwestern Broward County, Florida. Initially conceived as a master-planned community, Weston's well managed growth has given rise to one of South Florida's most desirable communities recognized for its lifestyle, appearance and management style. With extensive landscaping, lush foliage and a meticulously maintained park system...
Focus On Photography
We have a special passion for photography here at Keystone Ridge Designs. It is a key element to telling our story of quality and showcasing onsite installations of our products nationwide. We enjoy working closely with our professional photographers and have learned so much from them on how to set up a shot.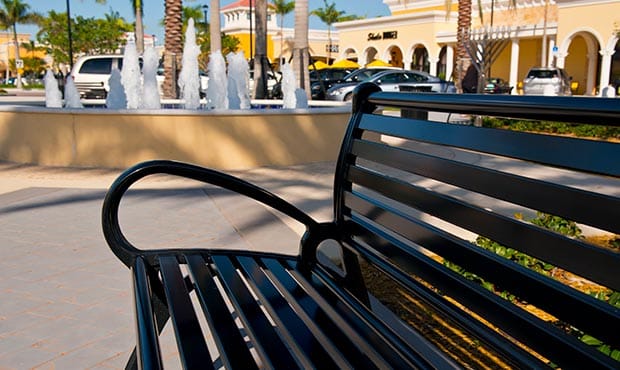 We often ask our clients to send us photos of their products after they are installed. We love seeing the finished project and it's always helpful to have more photos to share throughout our marketing materials. For that reason, we consulted one of our staff photographers for tips and tricks for photographing site furniture and its surrounding landscape like a pro...
Thankful At Thanksgiving
At Keystone Ridge Designs, we have a lot to be thankful for this year. To celebrate, we want to call your attention to a few of the things (and people!) we are most thankful for in this special Thanksgiving-edition blog post.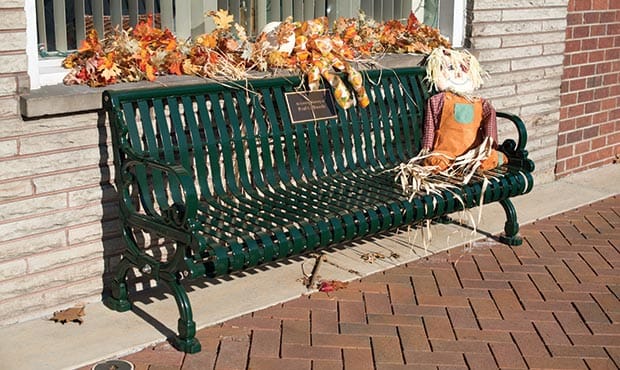 For starters, we are thankful for another successful year of sales and manufacturing. We appreciate the landscape architects who specify our products, the cities and towns that let us help revitalize their streetscapes, the shopping centers that trust us as a site furniture standard and everyone else who chooses us when needing to create a public space. We value these relationships and how they contribute to our continued growth...
How To Accessorize Your Landscape
We constantly find ourselves asking clients, "What style are you trying to achieve?" when helping them select a product series for their project. This is an important question, because, much like in the world of fashion, designing a public space requires careful attention to detail in order to create a cohesive finished product. Just as accessories add the finishing touch to an outfit, the right site furniture can reinforce your style and ensure consistency throughout your property, completing your look. This post is a guide to choosing site furniture according to four of the most common styles sought by our clients.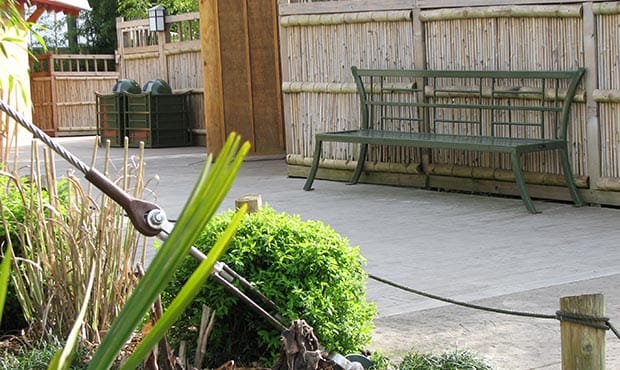 Historic
Historically-styled spaces are not only sentimental and inviting, they can also add to the overall appeal of your downtown or other location...
Why Powder Coat?
We often find ourselves discussing our Keyshield® finish with our clients. Our powder coat finish is something that we take great pride in, so we are happy to explain the powder coating process and why we think it is the best finish available for high-quality, durable metal site furnishings.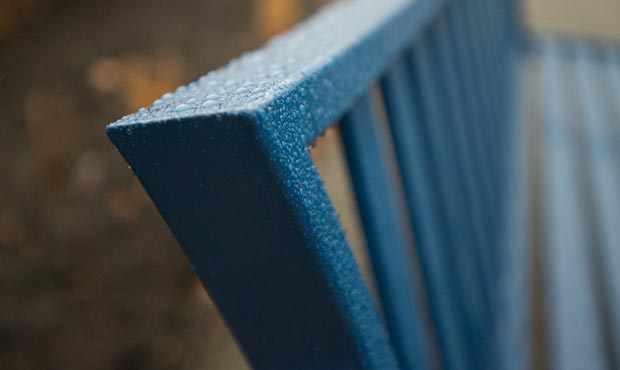 What is Powder Coating?
According to the Powder Coating Institute, powder coating is a dry finishing process that has grown to represent over 15% of the total industrial finishings market...
Top 5 Unusual Customizations
As summer building projects are being completed, it's always a great time to see the creative ideas of our clients and design team come to fruition. We love seeing the unique items coming off of the production line. Over the years, we have seen some particularly interesting creations that we thought we'd share in our Top 5 Unusual Customizations post.
#5
For a popular ski resort out west, we began by providing bike racks and custom ski racks. So why not take it a step further with a towel rack for the pool area?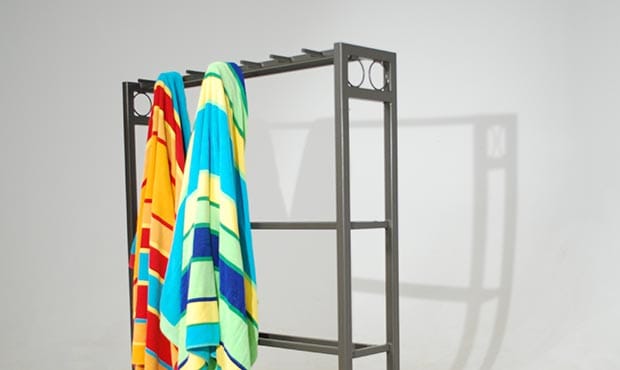 Site Furniture for Kids
With the school year coming to an end and children anxiously awaiting summers of parks, playgrounds and pools, we are turning our attention in this post towards the kids. When planning an outdoor space, it is important to consider your pint-sized patrons and how to best accommodate their site furniture needs and overall safety.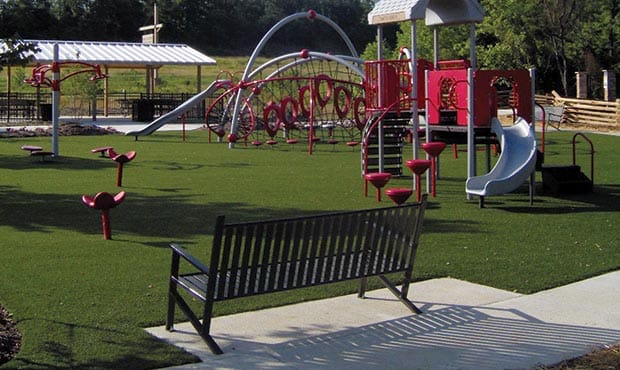 The three main areas to consider for kid-friendly site furnishings are the required function, the children's safety, and age-appropriate design...
Customization 101
We have touched on site furniture customization ideas in previous blog posts such as Retail Branding, Guide to Plaques, and Four Trends in Site Furniture. To take it a step further, we would like to offer a comprehensive guide to altering, personalizing and creating your own unique space with site furnishings in our Customization 101 post.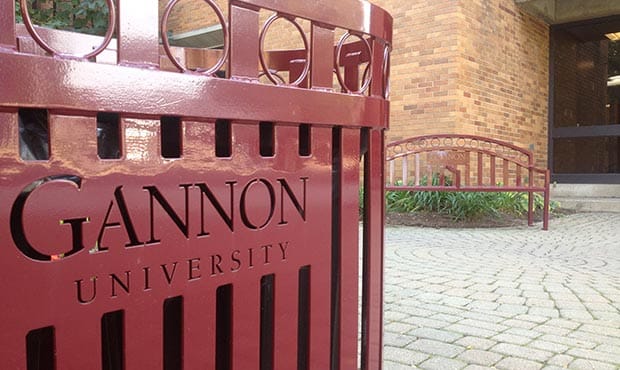 Even though any one of our products can be customized, we will focus specifically on three main categories: benches, litter receptacles, and table sets...
Project Highlight - M
c

Candless Crossing

With a steady stream of our site furnishings being shipped across the country to various projects, sometimes it is nice to just take a moment and recognize an outstanding development where we got to be involved. Today, we highlight McCandless Crossing in the Town of McCandless, Pennsylvania.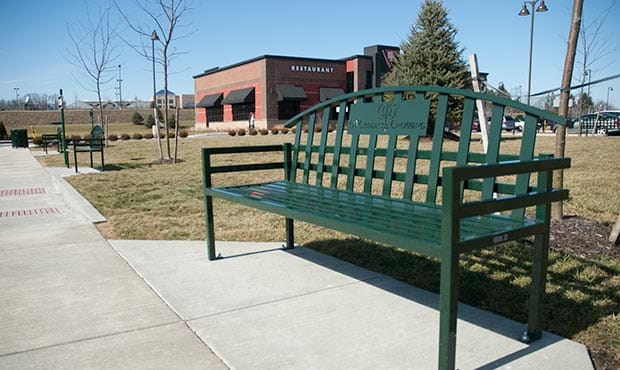 Early on in the planning process, we met with AdVenture Development LLC to learn about their vision for a new shopping, dining and entertainment destination in the North Hills of Pittsburgh. We were able to see the initial design plans, make product recommendations for types and quantities and watch as the project came to life...
How to Save Money on Site Furniture
We stand proudly behind the notion that you get what you pay for, and when you pay for Keystone Ridge Designs American-made products you are getting superior quality and long-lasting durability that is worth every penny. That being said, we understand that everybody is also looking to save money wherever and whenever they can. So in light of our upcoming February promotion, today we offer tips for how to save money on site furniture.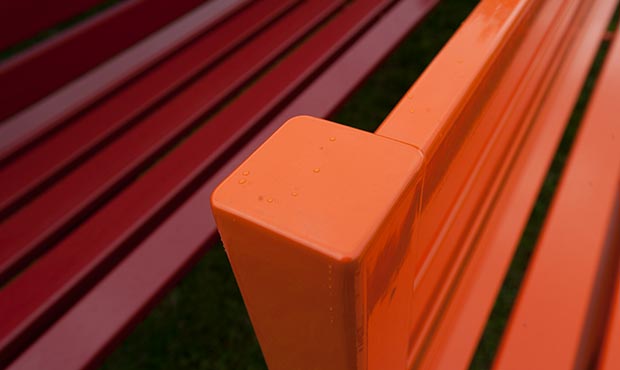 Christmas with Keystone Ridge Designs
From the company Christmas party, to inter-office gift exchanges, to constant sharing of cookies, cakes and other holiday delights, Christmastime is always a joy around the office here at Keystone Ridge Designs.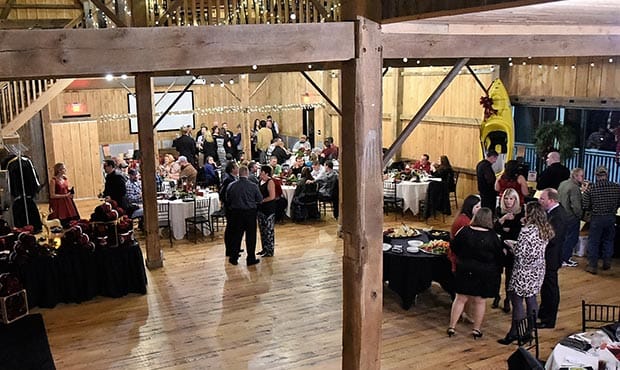 One may wonder how you too can share the joy of Keystone Ridge Designs amongst family and friends. Well, wonder no more. Here is our Keystone Ridge Designs Holiday Gift List!
Retail Branding
With the holidays quickly approaching, 'Tis the season for retail! We work with our mall and retail clients throughout the year to make sure they have everything they need on site before the Christmas rush.
Let's consider the function of site furnishings in a retail or shopping center environment:
Benches allow shoppers to spend more time on site by offering places to take a break, relax and wait for others before going back into the stores.
Trash cans encourage proper litter disposal for a cleaner shopping experience.
Bike racks offer a place for local bicyclists to park outside the stores while shopping.
Ash receptacles keep smoking away from store entrances and confined to designated areas.
Table sets accommodate food court seating and other quick-dining solutions.
Recycling containers support trash sorting initiatives.
Planters add ambiance and greenery both inside and out.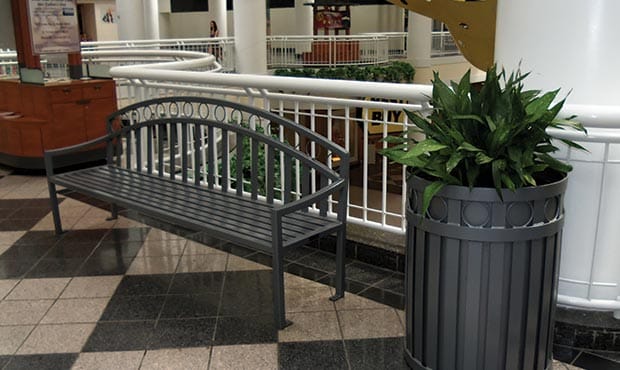 Beyond the basic function of retail furnishings, we often see our clients achieving a bigger picture through incorporating branding and logos...
Halloween Costume Ideas
Halloween is right around the corner so what better time to have a little fun and post about Creative Halloween Costumes in the site furnishings industry. Get your Site Furniture Costume Pinterest boards ready for these unique and oddly specific ideas.
Trash Can
With a little cardboard and some spray paint, you can get ready to pull off a good trick as a Keystone Ridge Designs litter receptacle. Make yourself a cardboard elevated lid hat (call for detailed instructions), hop into a trash can, wait for the right moment with an unknowing person passing by and then BOO! Trash can treachery!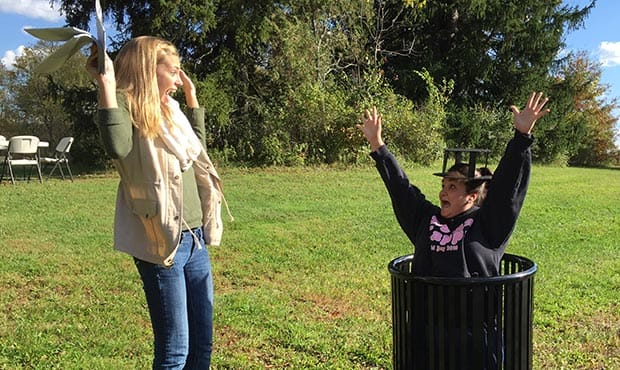 The Benefits of Steel Site Furniture
Our manufacturing processes allow us the flexibility to customize and create products using all types of materials including steel, Ipe, aluminum, stainless steel and recycled plastic. We have followed design trends and perfected the process for all of these different materials, but we must admit that our true passion lies in steel.
Keystone Ridge Designs is located in a suburb of Pittsburgh, PA. Steel is a part of our region's history and it is the roots of what has made our region so strong in manufacturing. Pittsburgh has long since surpassed its reputation as just a steel town, gaining nationwide recognition in robotics, technology, creative arts and countless other industries, but the ethics of hard work, quality, innovation and American manufacturing continue on. And steel remains a part of it.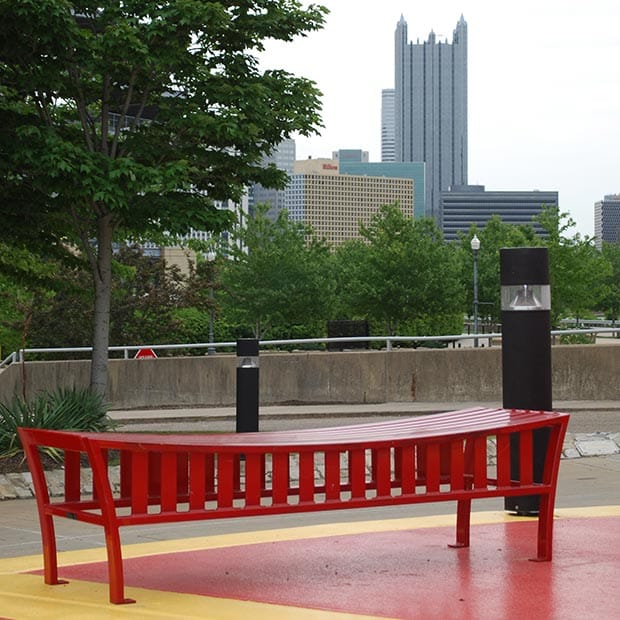 It is not just our regions' past that drives our affinity for steel, or even our love of the Pittsburgh Steelers...
A Campus Standard - Why It's Important
With back to school on the minds of parents, teachers and kids alike, we turn our thoughts towards our clients in the education industry. We often hear the term "campus standard" and no matter who your site furniture of choice is, determining a site furniture campus standard can go a long way to creating a cohesive campus plan.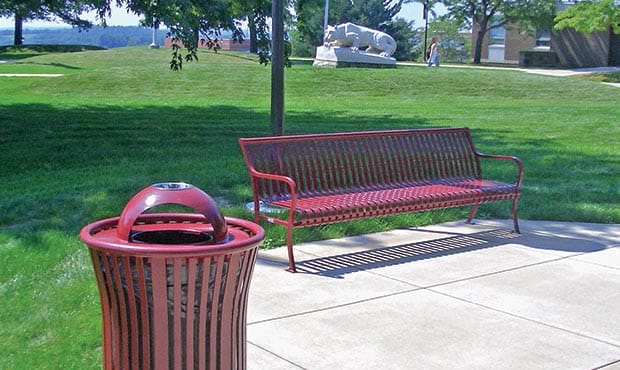 The importance and usefulness of site furniture at a school is clear.
Litter receptacles keep trash in its place and help to maintain a clean campus.
Bike racks encourage alternative transportation and define bicycle parking areas.
Table sets and benches create public spaces for students to relax, meet and gather...
Guide to Plaques
We get a lot of questions about incorporating plaques into site furnishings. Whether you are looking to memorialize, pay tribute, offer donor recognition or provide wayfinding, here is our Guide to Plaques.
Step 1: Consider the Product
Our most common plaque application is on a bench, but we also do customized plaques on many different products. The product that you pick will help to determine the best size for your plaque.
Bench – A standard bench plaque is 10"x5". It's installed in the center and inset into the back with a plaque tray. Custom larger sizes have included 10"x10", 14"x8" and many more.
Litter Receptacle – Standard size is 7"x3". A good option for a smaller message. Another idea is to curve a plaque in a band around the receptacle...
Four Trends in Site Furniture
Our sales team members are the eyes and ears of what is happening in the site furniture industry. It is within their day-to-day conversations that we learn about current projects, upcoming needs and design preferences. From timeless standards to new modern favorites, our inaugural blog post will cover what we see as a few current trends in site furniture selection today.
Timeless Classics
When it comes to our downtown and main street clients, we find that classic, timeless design is here to stay. Historic Victorian architecture remains present in many small town streets across the country. Many look to revitalize and restore their main street as a hub of activity. This influences the selection of street lamps, storefront design and ultimately the streetscape furnishings. The Keystone Ridge Designs Lamplighter and Reading benches are frequently purchased examples that offer both nostalgic design with timeless appeal.
Branding Is Big
Personalization is everywhere. Consumers today want to see products custom-made...