Four Trends In Site Furniture
Our sales team members are the eyes and ears of what is happening in the site furniture industry. It is within their day-to-day conversations that we learn about current projects, upcoming needs and design preferences. From timeless standards to new modern favorites, our inaugural blog post will cover what we see as a few current trends in site furniture selection today.
Timeless Classics
When it comes to our downtown and main street clients, we find that classic, timeless design is here to stay. Historic Victorian architecture remains present in many small town streets across the country. Many look to revitalize and restore their main street as a hub of activity. This influences the selection of street lamps, storefront design and ultimately the streetscape furnishings. The Keystone Ridge Designs Lamplighter and Reading benches are frequently purchased examples that offer both nostalgic design with timeless appeal.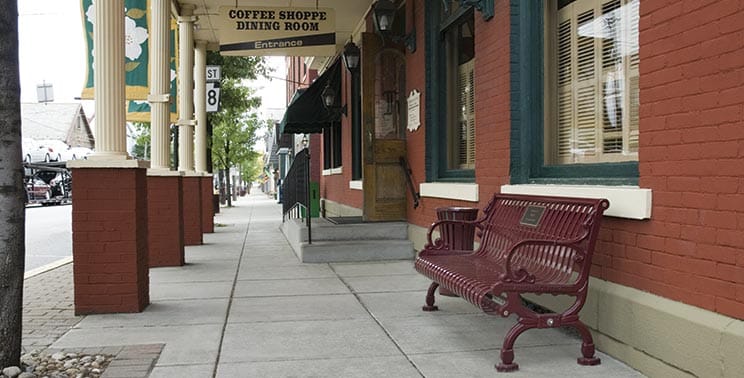 Branding Is Big
Personalization is everywhere. Consumers today want to see products custom-made to exact specifications that represent their own or their business's identity. This is no different with site furniture. We have seen a dramatic increase in the amount of branding and personalization being customized into our standard products. Shopping centers especially have shown an increased desire to brand their properties with the center name or the property management company. This can easily be done with:
Clean Lines = Modern Designs
When speaking with architects and landscape architects, we consistently hear requests for "Clean Lines." Urban public spaces are being designed to create a flow between man-made materials and the landscape. The Schenley bench, the Volant series, the Plaza and the Stanza have all catered to modern design requests. From low profile designs to flowing cast pieces, many site furniture options exist to achieve and complement clean lines.
Recycling Remains Relevant
Recycling initiatives are continuously on the rise as we produce a variety of customized recycling containers and dual trash/recycle units. Trash cans with sorting and separating capabilities cater to the public demand for more responsible waste collection. Decals or screenprinted designs are being applied on the tops or sides of receptacles to define specific function and instruct pedestrians. This trend not only promotes responsibility but also aids in LEED® building requirements.
Browse our collection and call us today to learn more about the latest trends. You can also click here to download our Streetscape Furnishings information sheet.