Project Highlight - M
c

Candless Crossing

With a steady stream of our site furnishings being shipped across the country to various projects, sometimes it is nice to just take a moment and recognize an outstanding development where we got to be involved. Today, we highlight McCandless Crossing in the Town of McCandless, Pennsylvania.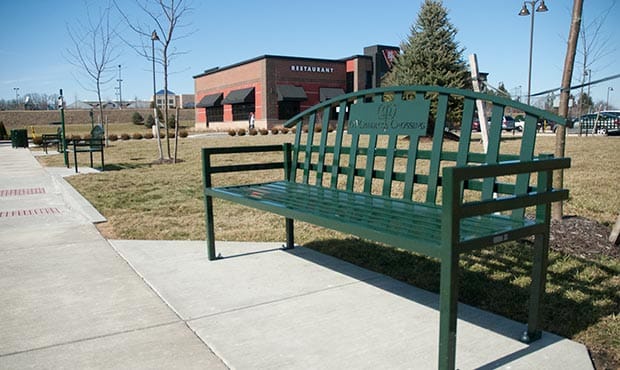 Early on in the planning process, we met with AdVenture Development LLC to learn about their vision for a new shopping, dining and entertainment destination in the North Hills of Pittsburgh. We were able to see the initial design plans, make product recommendations for types and quantities and watch as the project came to life.
Now, McCandless Crossing is a vibrant 1,200,000 +/- sf mixed use development consisting of a Town Center component and a master planned area including retail, office, hotels, entertainment and residential. Construction of the Town Center concluded in 2015 with plans for new business openings and further construction throughout 2016.
"McCandless Crossing is the direct result of many years of partnering with individuals in the community and local businesses committed to quality. Partnering with Keystone Ridge has helped take our development to the next level. We are thrilled with Keystone's products, service and creativity and how they help tell the McCandless Crossing story."
- Kevin Dougherty
AdVenture Development President
See the project for yourself in McCandless Crossing's aerial video:
Not surprisingly, our favorite part of the project is the benches. We talk all the time about how much we love to assist with branding and do custom work - these benches are no exception. Our McConnell bench was chosen in Hunter Green to complement existing architecture and graphic design concepts. To emphasize the McCandless Crossing brand throughout the property, we included their property logo in the McConnell seat backs with laser cutting techniques. (Read more about retail branding in this past post.)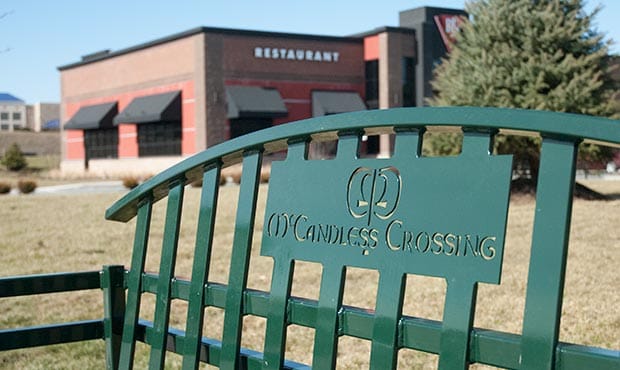 Our Sonance bike racks were also customized with the logo.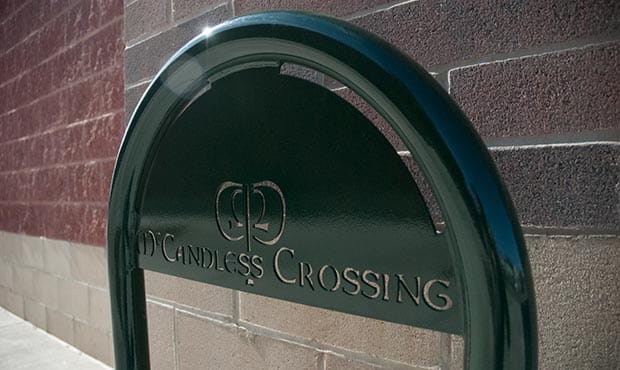 The custom benches and bike racks, along with coordinating Reading litter receptacles and Penn ash towers help to create a functional public space while reflecting the high-end identity of the property.
At Christmastime, it was great to see how a center can transform itself with holiday decorations to create the right mood and atmosphere for its shoppers. We loved seeing the benches adorned with bows for the holiday season!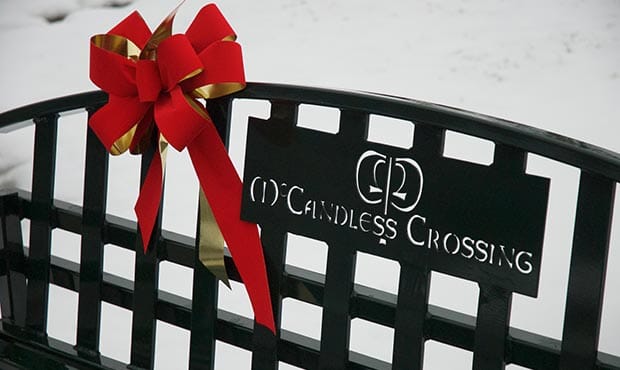 Whether it is during the holidays or throughout the year, McCandless Crossing is a retail destination that we are proud to be a part of and we'd like to congratulate AdVenture Development on a job well done.