Guide To Understanding Plaques
We get a lot of questions about incorporating plaques into site furnishings. Whether you are looking to memorialize, pay tribute, offer donor recognition or provide wayfinding, here is our Guide to Plaques.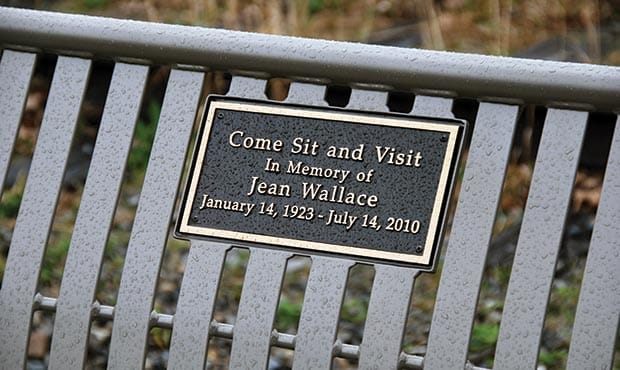 Step 1: Consider the Product
Our most common plaque application is on a bench, but we also do customized plaques on many different products. The product that you pick will help to determine the best size for your plaque.
Bench – A standard bench plaque is 10"x5". It's installed in the center and inset into the back with a plaque tray. Custom larger sizes have included 10"x10", 14"x8" and many more.
Litter Receptacle – Standard size is 7"x3". A good option for a smaller message. Another idea is to curve a plaque in a band around the receptacle.
Table Set – 7"x3" plaque inset into the back of one or multiple chairs.
Bollard – 6"x6" round plaque as a marker on the top of an angled bollard.
Plaque Stand – Can be done in a variety of sizes to fit the message. A perfect option for wayfinding, historical markers or dedications.
Step 2: Consider the Purpose
Defining the application and overall purpose of your plaque helps to influence other plaque decisions such as material and color.
Will it be outdoors?
When it comes to materials for outdoor environments, bronze is best. Cast bronze plaques are thicker, harder and more durable than other signage materials. With an age-old method of casting in sand, it conveys an image of quality and tradition. The most common material we use for plaques is cast bronze, however we have additional capabilities to create lighter-weight plaques out of aluminum, thinner, more detailed plaques made of zinc and other custom materials as requested.


Are you trying to match anything else already onsite?
A standard cast bronze plaque comes with raised bronze lettering and a textured brown background. We also offer a variety of background colors to best coordinate with surroundings. Alternative materials such as aluminum can showcase different metal tones.
Is it for a sponsorship program?
If starting a sponsorship program where multiple donors will request plaques over time, be sure to define parameters in advance regarding size, colors and text requirements to maintain a consistency throughout your property.
Step 3: Consider the Message
Once you know the product and the general purpose, you can determine what you would like your plaque to say. Keep the following in mind:
Characters – On a standard 10"x5" plaque, 50 characters is average but we can do up to 120 characters. If you need more text, options are available for larger custom sizes.


Fonts – Simple fonts work best with the casting process. Small lettering with fine serifs is not recommended. We commonly use Palatino Roman but another good sans serif font is Helvetica. If you have a lot of text that will require a small font size, using all upper case letters will help to keep small spaces from filling in during casting.


Images – If you have an image, emblem or logo that you would like to incorporate on your plaque, all you need is a vector file - .ai or .eps. We even have the capability to cast a photographic image into a plaque using a high-res .jpg file.
Step 4: Always review a proof
Always plan to thoroughly review a proof prior to production. Because of the intensive manufacturing process of casting plaques, once a plaque is cast, it is not easy to make corrections. A proof is your chance to make sure your plaque will look exactly the way you want it.
So if you want your site furnishings to make a statement, do some preliminary planning and say it with a plaque. Feel free to download more information on our plaques by clicking here.