Project Highlight – Latrobe, PA
Whenever we highlight a project in our blog, we typically focus on a high-profile project, a unique location, a memorable story, or a custom collaboration. In this case, it's not just one job we want to feature, but a series of installations throughout a whole town. It is a small town with a big sense of community and a rich history. It is a well-known place in our local Pittsburgh region that has received recognition for its dedication to community revitalization and historic preservation efforts. Here we feature Latrobe, Pennsylvania and our steady relationship providing site furnishings throughout its beautiful parks, streetscapes, and open spaces.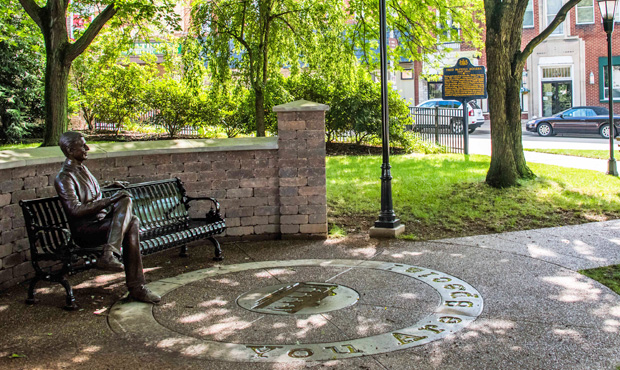 The City of Latrobe, located southeast of Pittsburgh, offers a small-town atmosphere and a vibrant and walkable downtown business district with shops, restaurants, offices, and residential living.
Latrobe has many claims to fame such as being the birthplace of children's television personality Fred Rogers and golfer Arnold Palmer. It's home to the Latrobe Brewing Company, the original brewer of Rolling Rock beer. It is also the location where the banana split was invented and every summer, football fans flock to the area for the Pittsburgh Steelers training camp.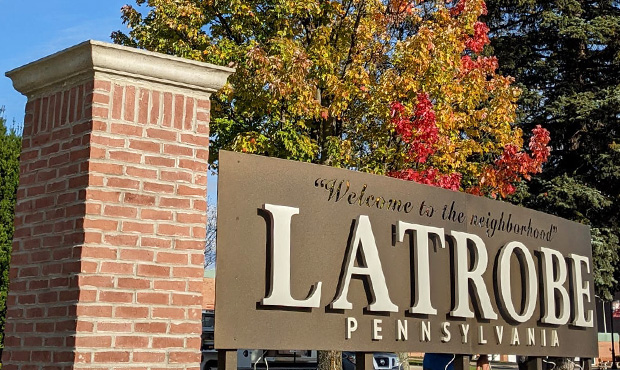 With an abundance of parks, trails, recreational facilities, cultural amenities, and historical buildings, the Latrobe Community Revitalization Program has been a driving force in preserving and developing these important spaces throughout the community. Our 10+ year partnership with the organization has helped to create a fundraising and donor program that provides personalized site furnishings to serve the citizens of Latrobe, and in some cases even to help honor its local heritage and icons.
"We've used Keystone as our sole provider of street furniture for over ten years. For a downtown that has worked hard to revitalize itself, we have found the quality, visual appeal, functionality, and lifetime value of these products to be simply unmatched." - Jarod Trunzo, Executive Director, Latrobe, PA
A Beautiful Bench in the Neighborhood
One of our most notable installations in Latrobe is placed at the James H. Rogers Memorial Park in the core of downtown. The McFeely-Rogers Foundation provided a life-like, custom, one-of-a-kind bronze statue of Fred Rogers to sit atop one of our Lamplighter benches. The Lamplighter bench was already a standard throughout the downtown area, but this installation makes for an exceptionally beautiful day in the neighborhood and a wonderful way to honor and memorialize the influential Mister Rogers.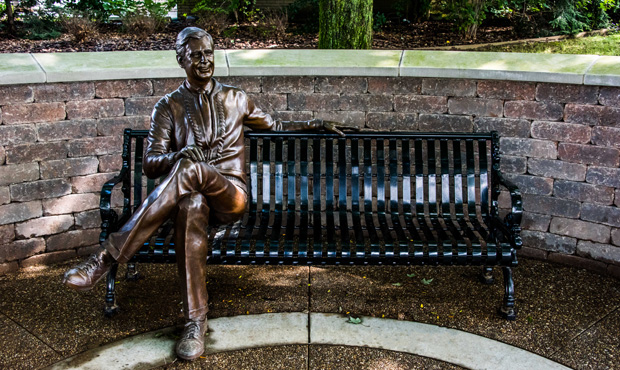 Going Bananas
There is another location that we just go simply bananas about! In 1904, the first documented Banana Split was created at a pharmacy in Latrobe. A Pennsylvania historical marker and a giant banana split statue sit at the location of the former pharmacy along with one of our Lamplighter benches. A perfect place to sit and enjoy a treat!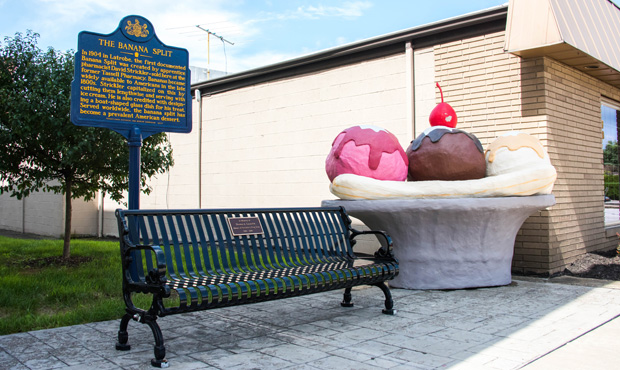 Planting Seeds of Revitalization
The revitalization program definitely recognizes the importance of plants and landscaping to bring color, vibrance, and life to a downtown streetscape. Maintained by their Mini Garden volunteers, our Midtown planters are installed throughout Latrobe and are offered to the community for donor purchasing with plaque recognition.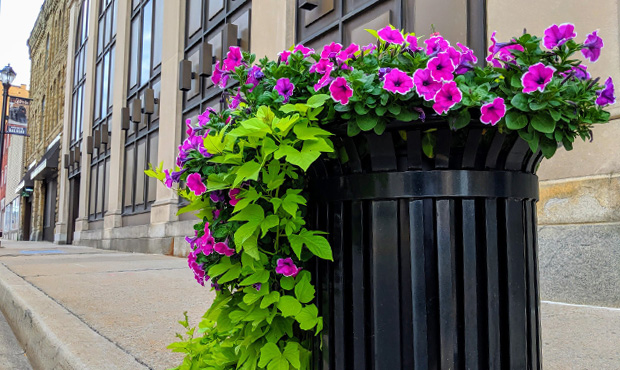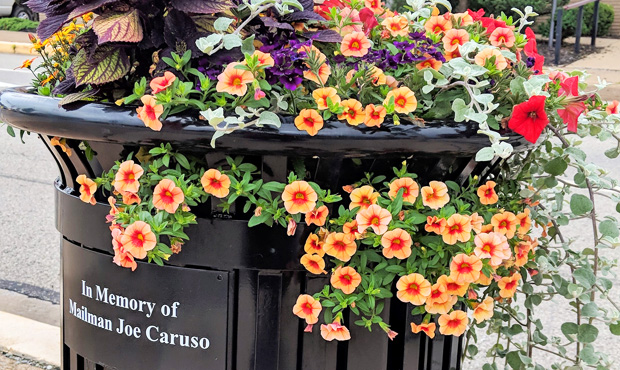 A Community Effort
The town's donor and sponsorship initiatives have been essential to the success of the Latrobe Community Revitalization Program. In addition to the planters, our Lamplighter benches and Midtown litter receptacles are part of the fundraising efforts. The products are showcased on LCRP's website as available for donor purchase with plaque engraving included. This allows for the community to be involved in both the funding and furnishing of the streetscape improvements.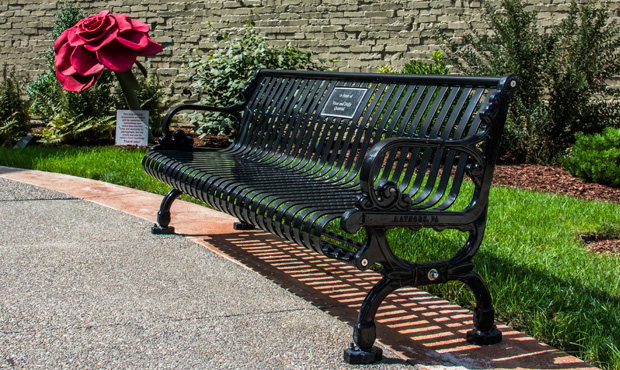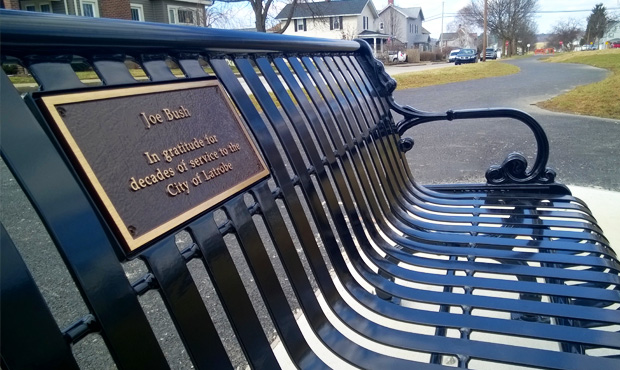 Continuing Reach
What started as an order for a few benches over a decade ago has snowballed into partnerships across many Latrobe organizations such as the parks and recreation department, the public school systems, local colleges, churches, and other city departments and foundations. Along trails, in plazas, at parks, on streetscapes, and everywhere throughout the community, Keystone Ridge Designs' presence can be found. Our products stand as an example of the hard work and persistence of the volunteers and community members to make a beautiful neighborhood.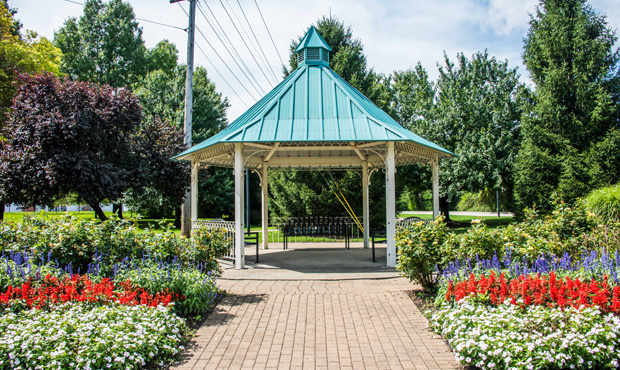 As Jarod explains, "I am pleasantly surprised that after all these years we are still adding site furnishings to our community each year. It's really a testament to the public's love and buy-in of such a high-quality product."
A Legacy of Kindness
As a town with the lofty task to revitalize Mister Rogers' Neighborhood, we can vouch for the good people of Latrobe, its leaders, volunteers, and community members, that they embody the principles of kindness and compassion that Mister Rogers' legacy exemplifies.
As one final anecdote, portions of the 2019 Tom Hanks movie "A Beautiful Day in the Neighborhood" were filmed in Latrobe and throughout the Pittsburgh region. As a thank you to the region after the movie's release, TriStar Pictures and the movie crew donated one of the standard Latrobe Lamplighter benches with the following inscription:
"Imagine what our real neighborhoods would be like if each of us offered, as a matter of course, just one kind word to another person." – Fred Rogers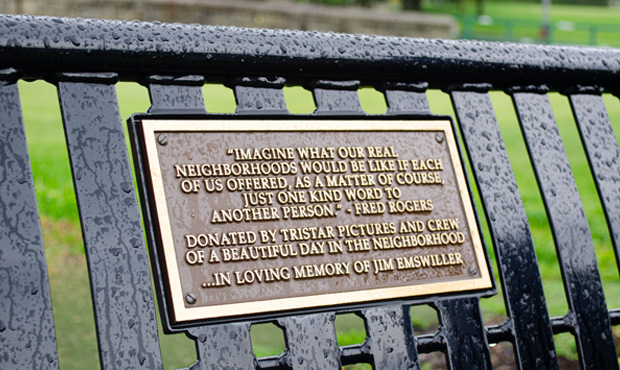 No truer words have ever been spoken on a Keystone Ridge Designs bench. Thank you to Latrobe for your kindness to us over the years and your passion for your neighborhood.