Site Furnishings For Senior Living
In the past we wrote about the different needs and considerations when planning public spaces for children. It brought to light that you cannot take a one-size-fits-all approach to landscape design and site furnishings. That brings us to the opposite side of the spectrum and how to plan for active older adults, senior citizens and long-term care residents. In today's blog, we will consider the unique needs of this growing demographic.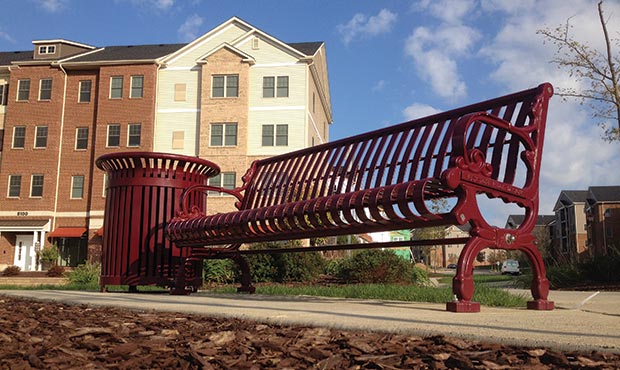 As members of the baby boomer generation continue to reach retirement age, the impacts on senior living are vast. This large generation tends to be more active and more independent than their predecessors. They are wealthier and have more demand for modern comforts and conveniences. Medical advancements and healthier lifestyles are leading to increased life expectancy. To accommodate the aging population, retirement communities, senior apartments and assisted-living construction is on the rise and further thought is going into amenities and outdoor spaces that encourage their wellbeing.
What does that mean for site furniture? Below are some thoughts to consider when planning areas for the use and care of senior citizens.
Encourage Outdoor Activity
Increasingly, older adults want to maintain an active lifestyle and continue to enjoy the outdoors whether it's playing pickleball or enjoying an evening stroll.
Walking trails - Benches need to be installed frequently along trails and walking paths to provide comfortable places to stop and rest. A great example of this involves a customized Keystone Ridge Designs' Everett bench at Manchester-By-The-Sea. Learn more in our Longevity Bench Project Highlight.



Biking - An active retirement community can promote a biker-friendly neighborhood with safe, well-paved biking paths and the addition of bike racks throughout the common areas.
Healing gardens - In long-term care facilities, therapeutic outdoor gardens are not just about flowers and landscaping, but can be functional sanctuaries for residents to use. Providing appropriate seating with benches and table sets encourages the enjoyment and healing effects of nature in a relaxed setting.
Offer Variety and Flexibility
Senior facilities and age-friendly communities need to recognize the varying stages of life and the diverse physical capabilities of its residents. The environment needs to be flexible, offering many features and choices for residents to feel engaged, social and at home.
Make Safety a Priority
It is important for seniors to feel safe and comfortable in their surroundings. Stability is essential for all senior living site furniture in order to prevent falls or injuries and to assist with physical limitations. Here are some safety tips to keep in mind:
Durability - First and foremost, you need furnishings to be strong and durable with no risk of breaking. Fully-welded steel products offer structural integrity that will not fail or buckle under weight.



Seating with armrests - The Reading and Schenley benches from Keystone Ridge Designs are common choices for senior facilities because of their wide armrests. The wider arms and especially additional arms in the center of the bench allow somebody to easily lower themselves down or get up out of the seated position.
Secure furnishings - When possible, furnishings should be bolted down to prevent any risk of rocking or tipping. The less moving parts the better.
When you are involved in the design, construction and maintenance of senior housing, planning for retirement takes on a whole new meaning outside of investing in your 401K. As more and more baby boomers hit retirement age, you need to plan for senior-friendly open spaces, therapy gardens and recreation facilities that have appropriate site furnishings to meet their unique and diverse needs.