Durable Site Furniture
We frequently use the terms durable and quality to describe our site furniture products. Quality can be a relative term, so what does it really mean when we say we offer quality, durable site furnishings? We can talk about the thickness of our powder coating or the full-weld seams that bind our product together or even simply the heavy weight of our products. What truly makes a quality story resonate though are case examples of installations that have lasted the test of time. Here are a few stories from our collection.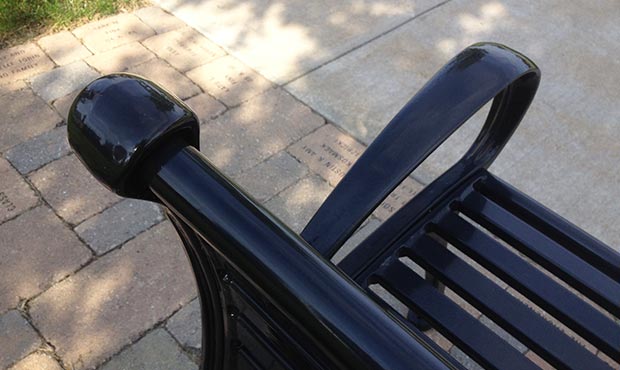 St. John Fisher College
When the 2018-2019 Student Government Association at St. John Fisher College wanted to contribute new benches to campus, we were sent an example of what is currently on site. This recent photo shows a bench that was installed in 2001. Our custom laser-cut Atlanta curved bench is still standing strong in a busy campus setting.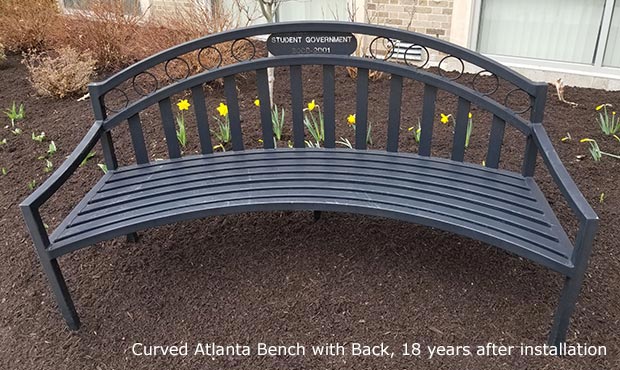 Prince Georges Sports & Learning Complex
Earlier this month, an employee stumbled upon our products while attending his son's gymnastics meet in Landover, MD. He came back with photos of products that have been at the facility since 1998. These colorful creations of Cabaret Table Sets and Atlanta Litter Receptacles have been serving their purpose as interior public furnishings for over 20 years!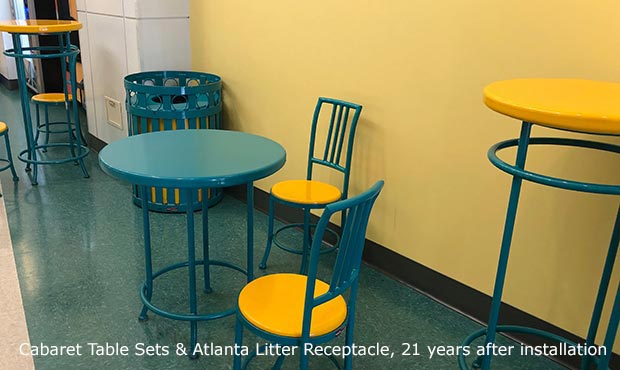 Laris Rehabilitation
A client in Brookfield, WI called in to inquire about how to clean the benches she had on site. She sent a photo and while we did offer advice on cleaning, we also were pleased to learn that the bench was over 17 years old and still looked great! This photo of our Atlanta Reverse Curved Bench was from 2018 for an installation in 2001.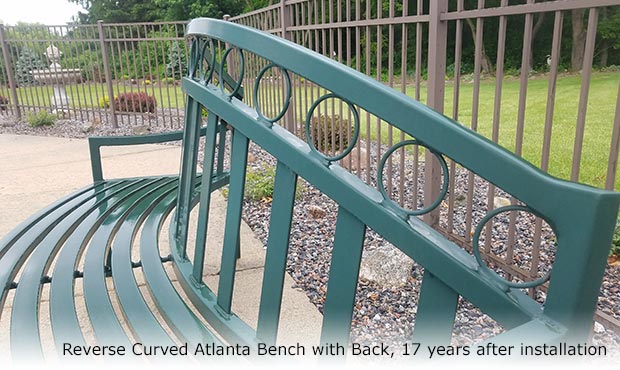 McKinley Marina in Milwaukee, WI
Even with the heavy use and abuse that a bike rack receives, this photo from McKinley Marina proves that our Pullman bike rack can handle it. The picture was just taken but the bike rack has been onsite for 17 years.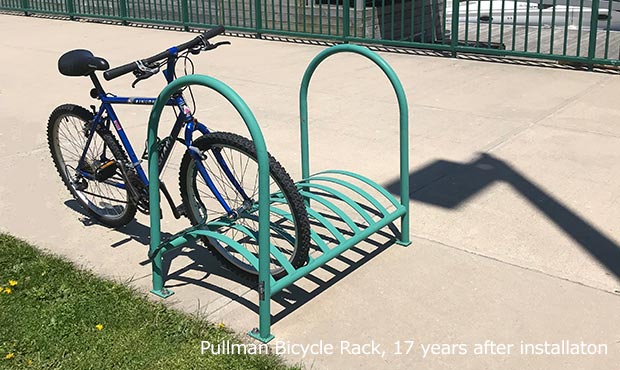 City of Evanston, WY
Our experience in custom design has been a part of our story for a long time. Check out these benches at a historic Roundhouse in Evanston, WY. We received these photos in 2017 from an installation that dates back to 2008. These custom railroad-themed Reading benches keep chugging along with high-end, rust-resistant durability.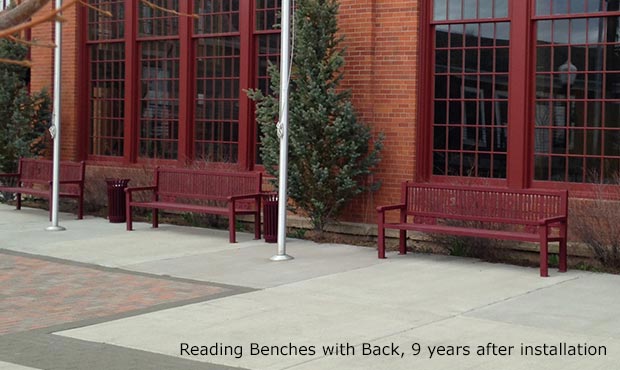 Of course, these are just a few examples of the time-tested value of Keystone Ridge Designs' site furnishings. We hear stories all the time of products lasting well beyond their warranty. And if the photos don't hit home enough, perhaps some of these testimonials from satisfied clients will:
"You make things too durable, as they don't wear out or need replacement!"
"Keystone furniture never wears out!"
"I'm pleased with 8 years of use and they still look almost like new."
"We have used your products for a long time and they hold up so well even through Utah's climate and daily abuse."
"Keystone Ridge Designs has been our go-to source for litter receptacles. They continue to offer the quality and durability we need to maintain our streets. I would recommend their site furnishings and their attentive customer service to anyone looking to revitalize their parks or streetscapes with beautiful site furnishings."
"We've used Keystone as our sole provider of street furniture over the past five years. For a downtown working hard to revitalize itself, we have found the quality, visual appeal, functionality, and lifetime guarantee of these products to be simply unmatched in the state of Pennsylvania."
"Your benches may cost a little more, but I believe in time no one will remember or care how much they cost, but their high quality will be apparent every day for years to come."
You will often hear us speak of our Price-to-Life ratio. In its simplest terms, that means you get what you pay for. When looking for a high-quality bench, bike rack, litter receptacle or any other site furniture piece, make an investment in something that lasts. Consider the value of a time-tested product that will not require frequent replacements and will continue to beautify your public spaces for years to come.