Site Furniture Placement Guidelines
When it comes to site furniture, product placement matters. We talk frequently about the design and aesthetics of our products, but it is also important to discuss installation and location. Today we offer some general guidelines to consider when determining where to install benches, litter receptacles and bike racks.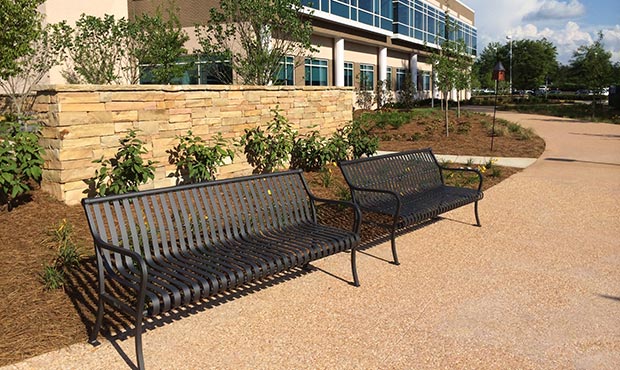 Benches
Site furnishings add the finishing touch to a site. For benches, consider the types of areas where that finishing touch is needed and the function that a bench could serve.
Waiting - Whether people are waiting in a lobby of a building, at a bus stop, to meet a friend or while a partner shops, always provide seating to keep guests comfortable.
Watching - Sometimes a favorite pastime can be people watching. In a park, on a streetscape or at a mall, allow benches for those who like to stop and enjoy their surroundings.
Resting - Provide rest for the weary. At a location such as an amusement park or on a hiking trail, people often need to take a break. Strategically placed benches can meet that need. How many you need depends on the crowds. For instance a busy park may need large clusters of benches whereas a quiet trail may just need one every 100 yards.
As a rule of thumb, if you want pedestrians to stay longer, socialize and enjoy the space, install benches based off of demand and expected crowds. Benches with backs are most common for comfort, but flat benches offer great flexibility in how the seating is used. If you want people to stay and relax but not necessarily sleep, consider customizing with center arms to deter vagrancy.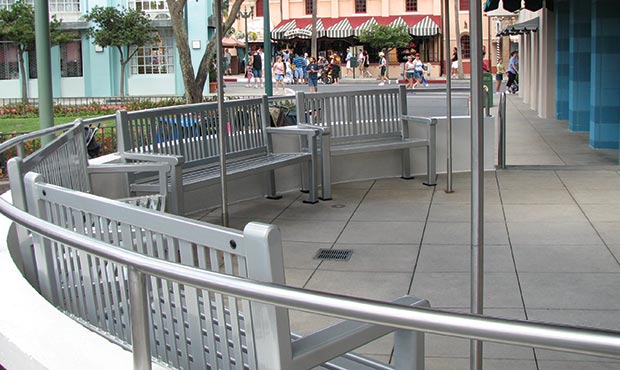 Litter Receptacles
The importance of litter receptacles is obvious – when used properly, they keep trash out of sight. In many public spaces, they are a necessity.
Eating Areas - Where there is food, there is trash. In a food court, in picnic areas, outside restaurants or near food trucks – visible and frequently placed trash cans are needed to encourage people to clean up after themselves.
Entrances - Encourage people to get rid of trash before entering a building or on their way out by always placing receptacles near doors.
Streetscapes and Parks - In busy public spaces with high pedestrian traffic, the more trash cans and recycling containers you install, the better chance of achieving clean street initiatives.
When in doubt, follow the Disney philosophy. Walt Disney did his own research to determine how many steps people took before they needed a trash can. The story goes that in one experiment, Walt ate a hot dog and went 30 steps before he was done. Therefore, if you are deciding on litter receptacle placement, follow Disney and install trash cans every 30 feet.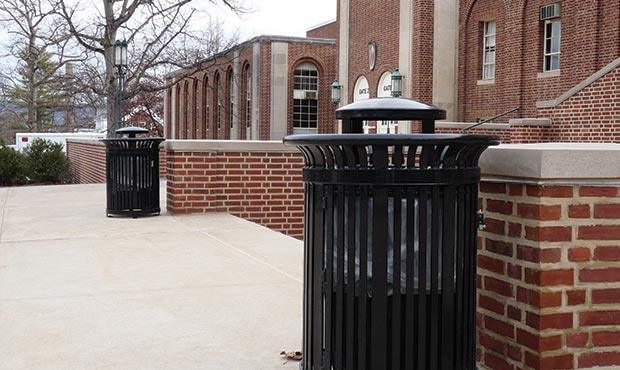 Bike Racks
In order to encourage alternate transportation, bike racks should be installed at building entrances, public parks, schools and anywhere else where bicycle commuting is a consideration. Some basic short-term bicycle parking guidelines according to the Association of Bicycle and Pedestrian Professionals are as follows. Check your local codes and ordinances to be sure.
Install in a location within 50 ft from an entrance. Bike racks should be easily visible and the intended use obvious.
Anchor securely to a sturdy surface such as concrete.
Aim for a 6 ft clear space from the building to allow an open walkway. Keeping bike racks in line with other sidewalk obstructions will help maintain an appropriate through zone.
Install 2 - 3 ft from the curb or street.
When using a basic inverted-U style rack, keep a 3 - 4 ft space between bike racks side to side and 6 ft front to back.
Properly installed bike racks can ensure safe places for biking enthusiasts to park and lock their bicycles. If you follow placement recommendations and guidelines, you encourage a biker-friendly and walkable community.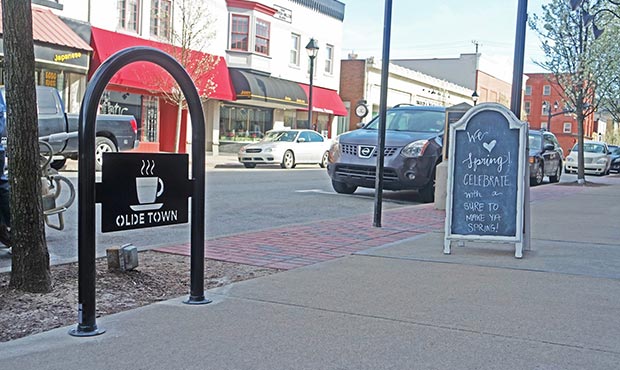 Ultimately, the goal of site furniture is to make public spaces walkable, interactive, functional and aesthetically inviting. Proper placement is a key element in creating these spaces. For further information, give Keystone Ridge Designs a call and create space with us.