The Making of a streetscape
What does it take to make a streetscape? Depends on who you ask, but if you ask us, we'll say a design vision, a lot of planning, and the perfect collection of site furnishings. A recent site visit to South Bend, IN proved how well all of these things can come together to make a vibrant streetscape and an inviting, walkable community.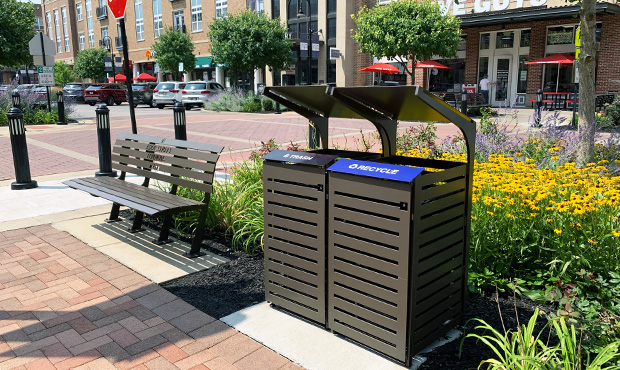 Initially opened in the summer of 2009 on the edge of the University of Notre Dame campus, Eddy Street Commons is an urbanist, mixed-use development that creates a "college town" atmosphere and the feel of a downtown streetscape adjacent to the campus. The property features street-accessible retail, restaurant, hotel, office, and residential offerings that serve a mix of students, faculty, visitors, Eddy Street residents, and the South Bend community.
Created through a shared revitalization vision between the University of Notre Dame and Kite Realty Group, Eddy Street Commons has grown and evolved into a thriving, active mixed-use environment. This multi-phase development most recently celebrated the completion of Phases II & III, adding 452 new apartments and South Bend's first Trader Joe's location.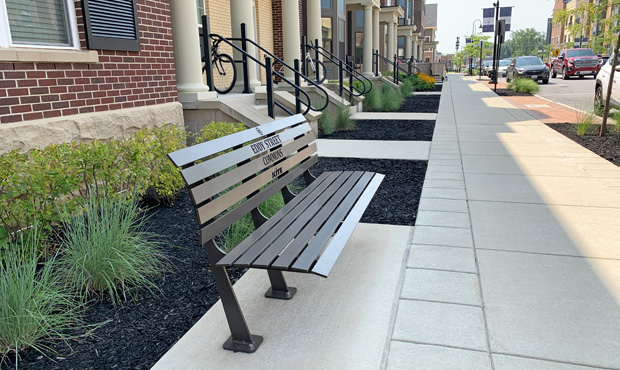 Of course, a busy college-town streetscape needs durable furnishings to support the design vision and provide pedestrian functionality. On such an expansive development, consistency is key, so across the various phases and sections of Eddy Street Commons, you'll find a matching collection of Keystone Ridge Designs furnishings including benches, litter receptacles, recycling containers, and bike racks in a bronze powder coat finish.
Benches
Throughout the development, numerous benches have been installed along the sidewalks, outside residences, and at storefronts. This promotes a sense of community by offering places to sit with friends, grab a bite to eat, or just take a break on a walk through the neighborhood. The modern design of our Carson bench perfectly fits the urban appeal of the development. Each bench also includes a custom laser cut that personalizes the benches with the Eddy Street Commons name and Kite Realty recognition.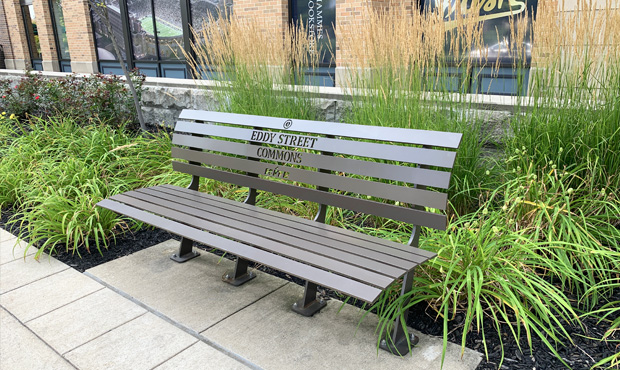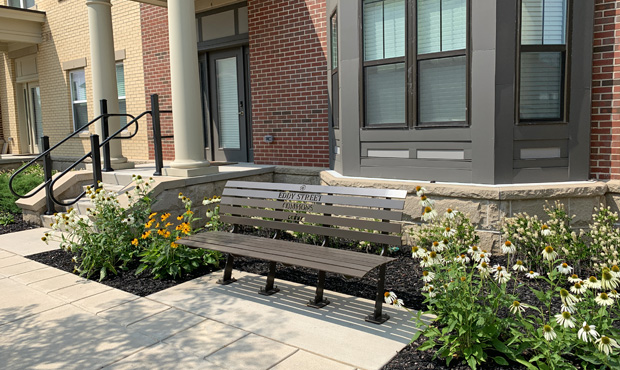 Receptacles
Trash receptacles are important to any property with high-volume pedestrian usage, especially in a place where gameday can bring in 70,000+ fans into the area. Our Carson litter receptacle coordinates well with the benches but also provides unique side-by-side placement for both trash and recycling collection. With hinge-door access and a large 32-gallon capacity, these receptacles complement the streetscape with contemporary design and smart function.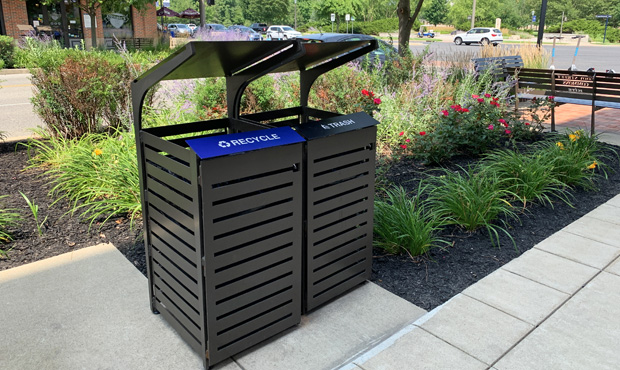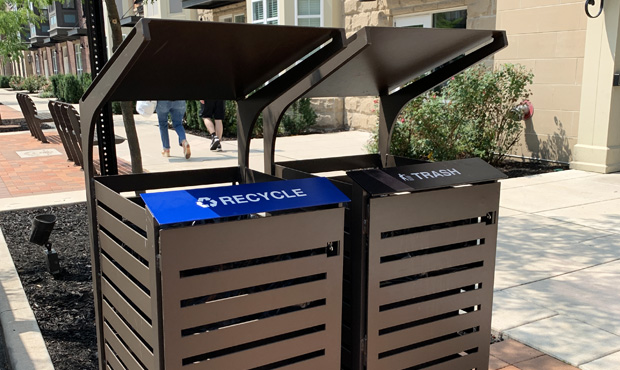 Bike Racks
Bicycle commuting is common on and around a college campus. To support the residents of Eddy Street Commons and the nearby cycling students, bike racks are an essential addition to the development. Known for its design simplicity, the Penn bike rack provides bike parking solutions at various locations throughout the residences and retail environments. They even have the dual function to support electric scooter parking.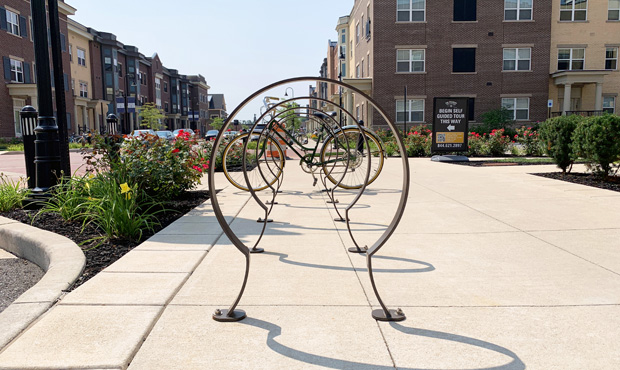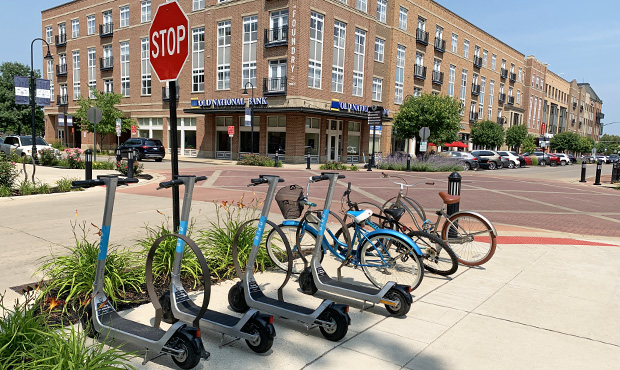 A New Destination
It is common for us to feature a downtown or city streetscape that undergoes a major revitalization effort. This project was unique in that the streetscape was essentially made from scratch in an otherwise unused space near Notre Dame. It created a destination. Seeing the multiple phases of this project come together from the initial conversations with Kite Realty, to the custom benches coming off the production line, all the way to seeing the project at its current state of completion has been a rewarding endeavor.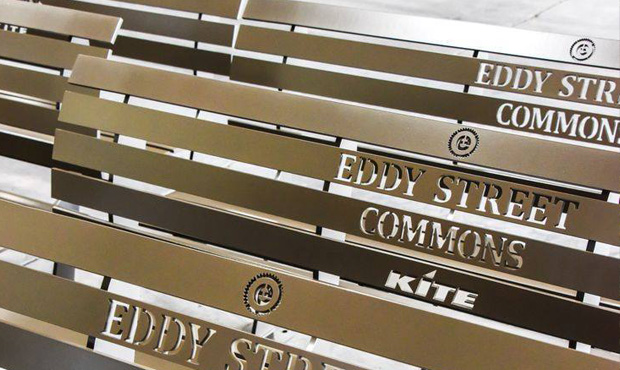 "This project truly sticks with me as a comprehensive usage of site furnishings and product customization to achieve a large-scale design vision. Eddy Street Commons reinvents the streetscape and brings modern mixed-used amenities to a famous college town. It was an honor to work with the Kite Realty team to help bring it to fruition."
- Justin Maskal, Keystone Ridge Designs Territory Manager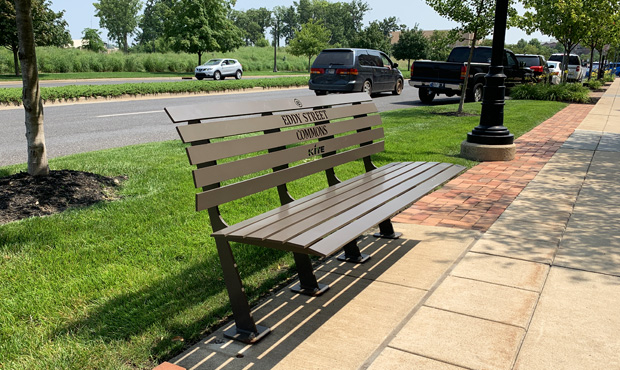 If your travels ever bring you through South Bend, IN or if you are just a fan of the Fighting Irish, we hope you get the chance to enjoy Eddy Street Commons and the vibrant atmosphere it creates. And perhaps you'll even get to sit on a Keystone Ridge Designs bench or two.