Tips For Choosing Commercial Outdoor Table Sets
Whether expanding your business into the outdoors or upgrading existing open-air spaces, finding the right commercial-grade table sets can make all the difference. When it comes to selecting the best outdoor tables for commercial spaces, here are some of the top considerations to keep in mind.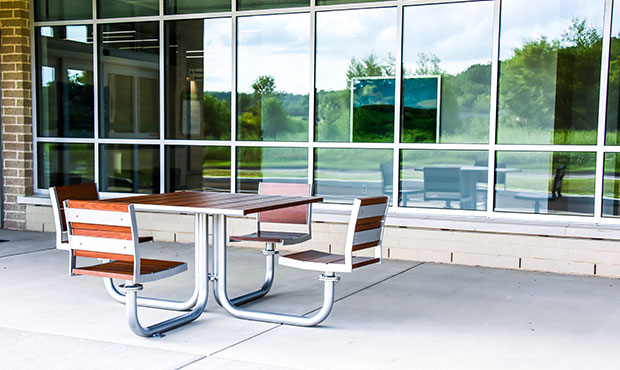 1. Size & Capacity
First, start by evaluating the functionality of your outdoor public space. How many people do you want to accommodate? What is the primary function of the tables – dining, work, leisure, etc.? Once a clear purpose is defined, you can begin working on a layout to meet those needs.
Finding the right table size will help you achieve capacity goals as well as safe and appropriate spacing. Common table top sizes include 24", 30", 40", 48", and 60". Larger tables offer more capacity while smaller units help to create an intimate setting. For additional variety, bar height tables and standing counters provide a space-saving solution. Regardless of table height or size, try to ensure a distance behind seat backs of 36" for safe passage and wheelchair access.
The 60" Penn Curved Table from Keystone Ridge Designs is a popular option for large, spacious seating while the Creekview Counter offers a unique compact solution.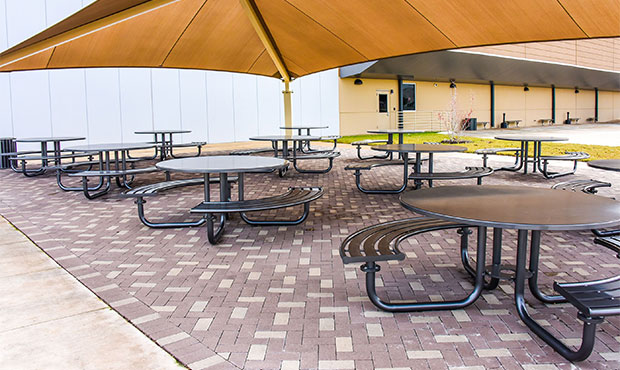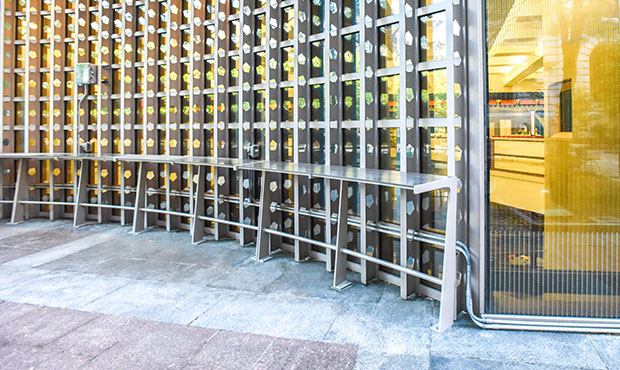 2. Shape
Round, square or rectangle – how do you know which shape is best? The safest answer is, it depends, but it mostly comes down to space and personal preference.
Large round tables tend to take up more room but are actually more common for visual and functional purposes. They lend themselves to more flexibility in chair placement, provide more personal table space and can facilitate better conversation around the table. Smaller square and rectangle tables certainly have their place to create straight visual lines, save space and to coordinate with existing architecture.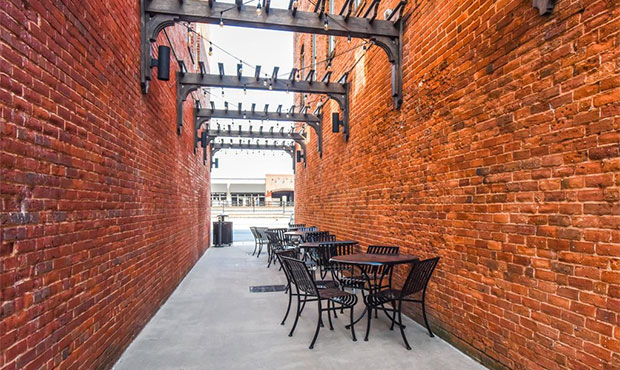 In recent production at Keystone Ridge Designs, large round 60" table tops are being combined with fewer chairs to help with social distancing measures. The rectangle Breakwater table has also been a trending product in park settings as a more durable and easy to clean replacement to the classic wooden picnic table.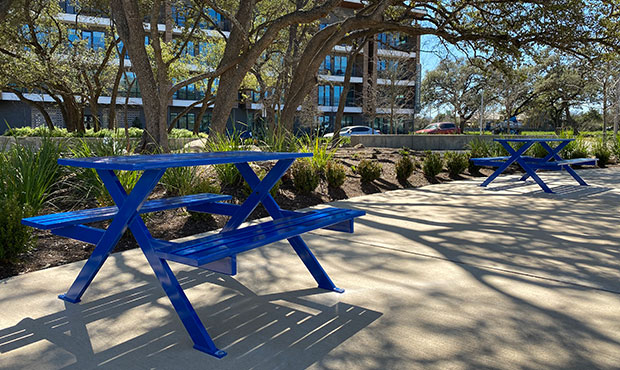 3. Durability & Maintenance
If you are planning tables for outdoor public spaces, then you need to ensure high durability to handle the wear and tear of daily usage, weather conditions and frequent cleanings. Powder coated steel is consistently the most durable option in outdoor table manufacturing.
Fully-welded steel table sets will guarantee the strength, weight and solid construction to stay in place and weather any storm. Add to that a powder coat finish to maximize product durablity. With its high-quality performance properties, resistance to fading, rust protection and gloss-like appearance, powder coating is a smart choice for outdoor seating and tables. The maintenance, care and disinfecting of powder coated steel tables is as simple as cleaning with soap and water.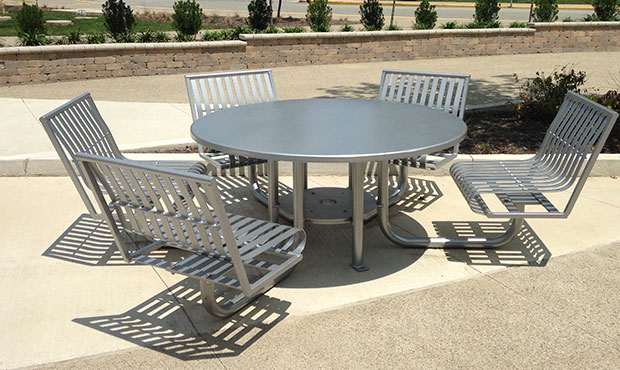 For added health and safety, Keystone Ridge Designs offers a silver-ion anti-microbial powder coat option that provides further protection from mold, fungus or bacterial growth.
4. Customizations
The final point to consider when choosing table sets for a commercial setting is the ability to customize. No two outdoor spaces are the same and every property has its own individual table needs and unique usage goals. Working with a company that has flexibility to custom manufacture tables means that you will not need to compromise to achieve your vision. Custom colors, sizes, shapes, materials, capacity, ADA accessibility, graphics, shade solutions and more can all be considered when designing your space. Even mix and matching tables and chairs can give your property its own personality.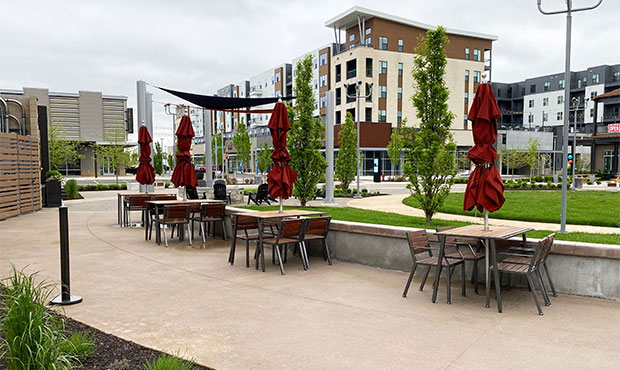 As a made-to-order American manufacturer, Keystone Ridge Designs has the experience to custom design tables to suit clients. Whether it be a minor alteration, a completely original design, or the addition of custom graphics and logos, Keystone Ridge Designs is equipped to help you design the perfect outdoor space.
The benefits of connecting people to the outdoors continue to grow in importance. This is true for students, employees, diners, visitors or the general public. Table sets create a central hub for outdoor activity. They define a space for work, meetings, lunch breaks, picnics, social gathering and more. Strategic design and thoughtful table placement help to bring life outdoors in safe ways during times when it's needed the most.