Why You Should Choose Powder Coated Site Furnishings
We often find ourselves discussing our Keyshield® finish with our clients. Our powder coat finish is something that we take great pride in, so we are happy to explain the powder coating process and why we think it is the best finish available for high-quality, durable metal site furnishings.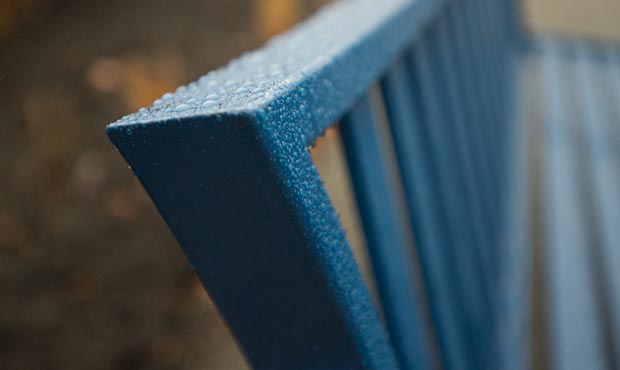 What is Powder Coating?
According to the Powder Coating Institute, powder coating is a dry finishing process that has grown to represent over 15% of the total industrial finishings market. It is a protective and decorative finish that offers excellent performance properties and is available in a wide range of colors and textures.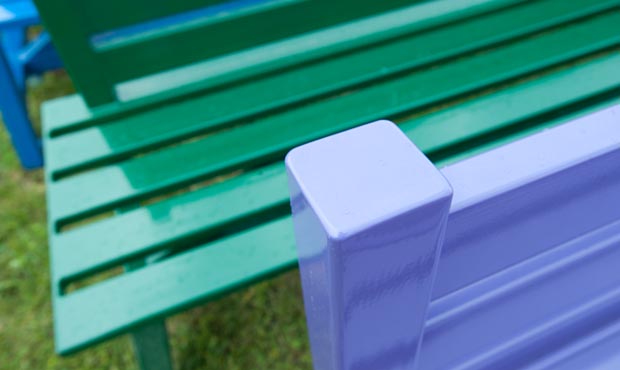 What is the Process?
For the quick and easy description: Powder is sprayed onto metal. It sticks there because of an electrostatic charge. You put it in an oven and voilà! – Beautiful, shiny site furniture!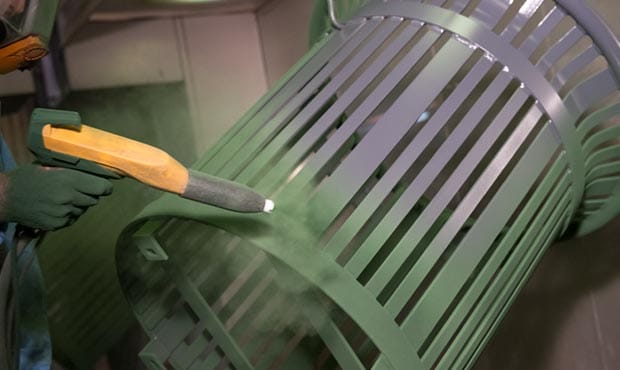 For the more technical reader, we will quote the experts from the Powder Coating Institute:
"Powder coatings are based on polymer resin systems, combined with curatives, pigments, leveling agents, flow modifiers, and other additives. These ingredients are melt mixed, cooled, and ground into a uniform powder similar to baking flour. A process called electrostatic spray deposition (ESD) is typically used to achieve the application of the powder coating to a metal substrate. This application method uses a spray gun, which applies an electrostatic charge to the powder particles, which are then attracted to the grounded part. After application of the powder coating, the parts enter a curing oven where, with the addition of heat, the coating chemically reacts to produce long molecular chains, resulting in high cross-link density. These molecular chains are very resistant to breakdown. This type of application is the most common method of applying powders."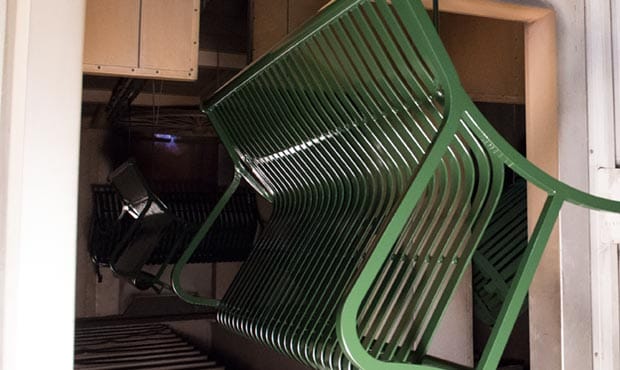 What are the Benefits?
Performance - The powder coating process creates a durable finish that prevents chipping, cracking, scratches or UVA damage while providing unparalleled corrosion resistance.
Appearance - The final product showcases a smooth, satin-like finish with an incredible luster. Because it is not applied as a liquid, you do not have any issues with the finish running and showing drip marks or bubbles. It also will retain its color and gloss longer than liquid paints.
Environment - The powder coating process itself releases negligible amounts of volatile organic compounds (VOCs) into the atmosphere and is considered to be HAPS free - free of hazardous air pollutants. It is a low-emitting, environmentally-friendly process compared to the solvents used with liquid paints. Also, in the powder coating process, excess powder that does not adhere to the product is easily captured and saved for reuse.
Options - In addition to a large selection of RAL colors, powder coating gives the option for interesting effects and textures such as hammer tones, veins or translucent finishings. These types of effects could not be achieved with liquid paints.
Maintenance - Powder coating requires minimal maintenance. The sleek finish allows for easy cleaning with just soap and water. No additional sealants or coatings need to be applied to maintain its luster.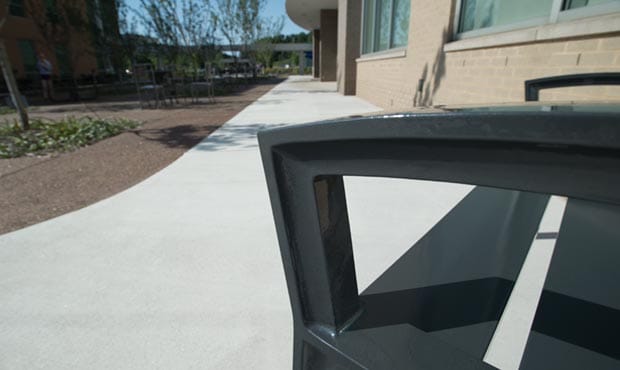 What is Keyshield®?
Keystone Ridge Designs has trademarked the name Keyshield® to identify our in-house powder coating system that involves advanced levels of preparation and coating. Steel products are finished with a two-coat powder coating process applied to a 7-15 mil thickness. Substrate preparation includes sandblasting to a white finish to remove all surface contaminants. The raw product then receives a corrosion-inhibiting phosphate coating prior to the application of the powder coating. The first coat applied to the substrate is zinc-rich epoxy powder primer used exclusively on sandblasted parts. The second coat is a colored polyester powder coating. Both coats are electrostatically applied and oven cured according to powder coating manufacturing specifications to create a smooth, non-porous armor.
We've blogged in the past about why we love steel, and we love powder coating our steel just as much. Now you can rest assured that if quality, durability and appearance are important to you in site furniture selection, powder coated steel is the way to go.