Promoting Healthy Outdoor Spaces
Public parks, open spaces and outdoor venues remain essential to our communities now and moving forward. During times of health concerns, there are a lot of questions on how to safely use these spaces. Of course, always default to CDC recommendations for up-to-date information. The NRPA also has some great resources and guidelines on public park usage. To help support public wellness, we can offer some suggestions on how to best clean and disinfect park furniture as well as plan for the future with creative public space alternatives.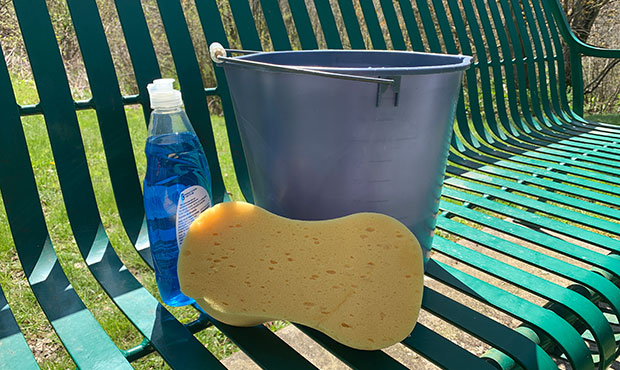 How to Clean & Disinfect Park Benches and Outdoor Furnishings
Wear protective gear such as a mask, gloves and goggles.
Use a mild, non-abrasive soap and warm water with a soft sponge to clean powder coated products. For tougher dirt or grime, use a pressure washer on its lowest setting. Avoid using any harsh chemicals or solvents. Harsh chemical cleaners can shorten the life expectancy of the finish.
The CDC recommends that outdoor areas generally require normal routine cleaning, but do not require disinfection. If disinfection is needed, a solution of 1/3rd cup bleach to 1 gallon of water can be used. Spray lightly on products.
If disinfecting, leave solution on the surface for at least 1 minute but no longer than 3 minutes to avoid damage to the coating.
Rinse with clean water and allow to air dry.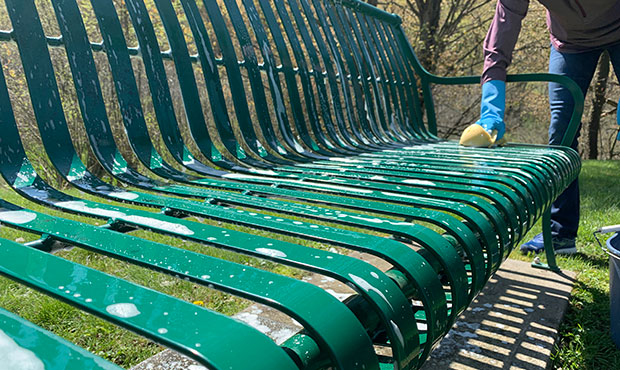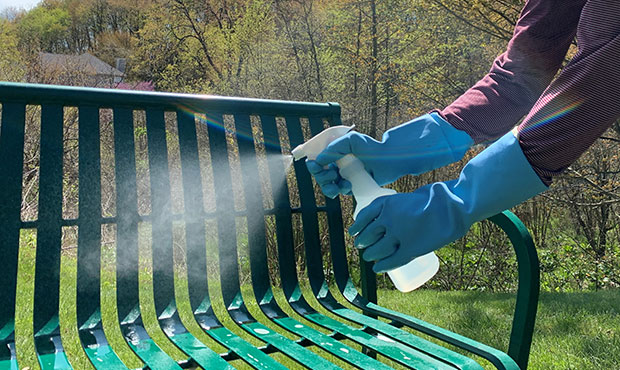 Other Considerations
Maintaining clean site furnishings is definitely one way to help encourage safe and welcoming spaces for pedestrians. As you plan to upgrade properties or create new open spaces, consider how product design and material choices can support wellness-focused communities.
Anti-Microbial Powder Coated Steel Site Furnishings
All of Keystone Ridge Designs steel site furnishings are coated with our Keyshield® powder coat finish. This highly-durable, glossy finish allows it to be easily cleaned, wiped or sprayed down without risk of product breakdown or rusting. In addition, we now offer powder coating with an anti-microbial additive that resists the growth of microbes such as bacteria, fungus or mold through the use of silver-ion technology. Anti-microbial powder coating provides the same product durability with the added benefit of controlling the growth and spread of harmful pathogens.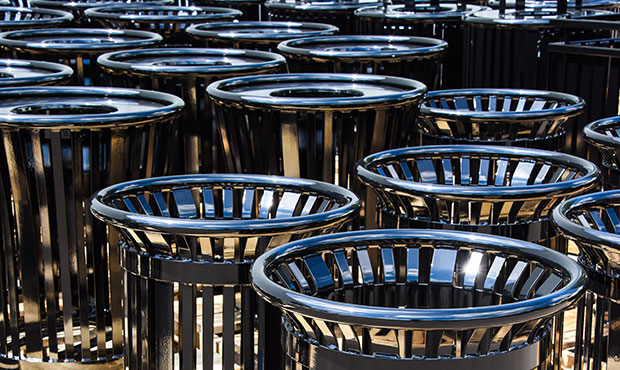 Low Touch Point Seating
Consider offering seating solutions with less touch points for hand contact. Modular benches, flat benches without arms, single chairs or long continuous seating allow the flexibility needed for pedestrians to decide how to use a space and maintain their own comfortable distances.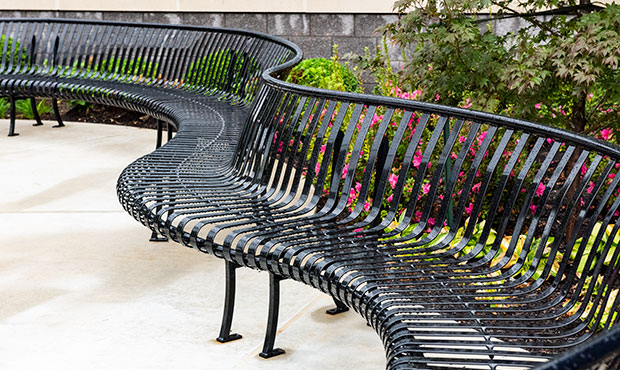 Leaning rails are a unique alternative to traditional benches. Available as stand-alone units or wall-mounted options, these space-saving products provide a rail at the appropriate height for hands-free leaning.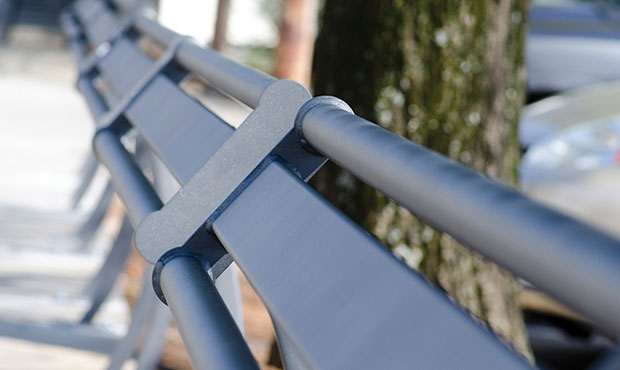 Touch-Free Trash Receptacles
Avoid push doors or handle opening litter receptacles. Trash cans with wide openings allow for easy trash disposal with minimal contact. With an increase use of anti-bacterial wipes and tissues, make sure you have a sufficient amount of trash cans installed throughout your property to encourage proper waste disposal and avoid littering.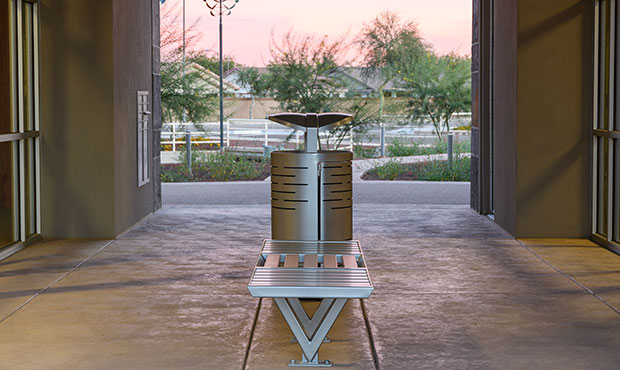 Durable Outdoor Signage
Awareness, safety and instructional signage can help direct appropriate usage and encourage healthy practices. In outdoor settings, powder coated metal signage with full color graphics offer the durability needed to handle sun exposure and year-round weather.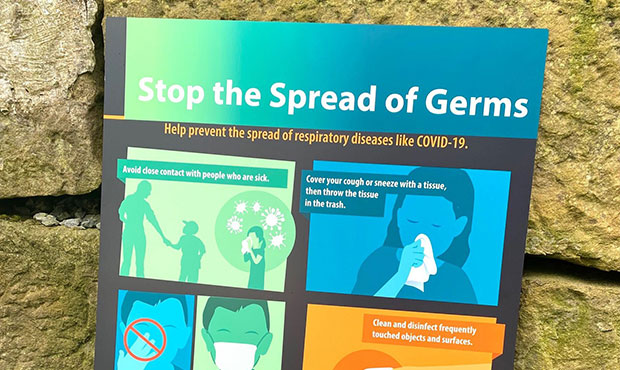 How we use public spaces is undoubtedly changing but along with that is an increased need for connecting with nature, maintaining a sense of community, and being able to utilize the outdoors for anything from work and school to health and leisure. With the right durable furnishings, custom site solutions and healthy practices, our outdoor spaces can be what keeps us together and moves us forward.