Park Furniture
Essential to strong, healthy communities are the park systems and parks and recreation departments that provide diverse opportunities for physical and mental fitness. Whether in rural settings or urban communities, access to shared outdoor spaces can help to improve the quality of life for those that live there.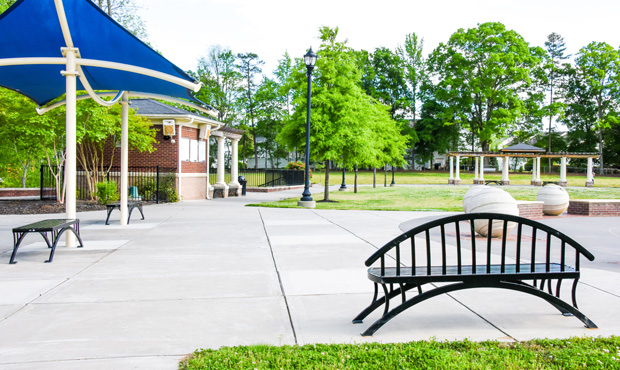 At Keystone Ridge Designs, we support the belief that everyone deserves a great park and we are proud to know that in their own way, our site furnishings help to enhance these parks and provide additional opportunities for outdoor recreation. Here we explore park furniture options and their specific applications in public park settings.
Park Benches
A recognizable icon of a community park is the classic park bench. Think of the countless movie scenes that involve heartfelt conversations on a park bench. It's a place to sit and feed the birds, stop to do stretches during a workout, watch your kids while they play, or just to sit and enjoy a moment of peace in the fresh air. Having abundant park seating available is a key element to the overall design of a park and a great strategy to encourage pedestrians to stay longer and engage with the space.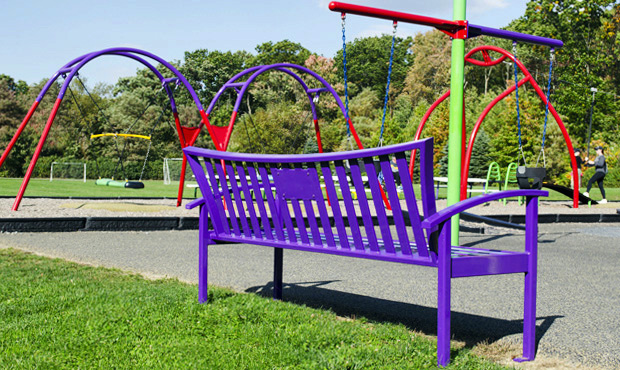 Consider other unique applications for park benches such as aligning in rows for amphitheater seating.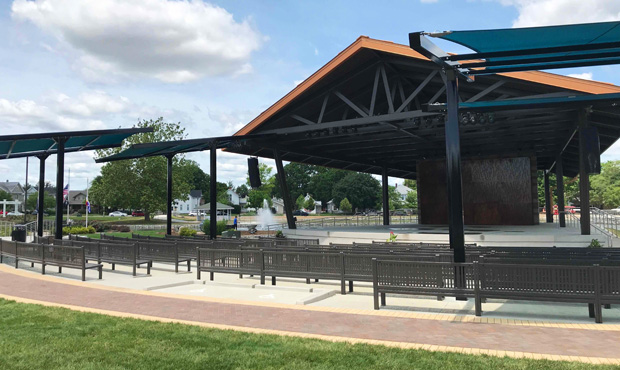 They can also be used to create an art installation or a memorial bench landmark in a city park.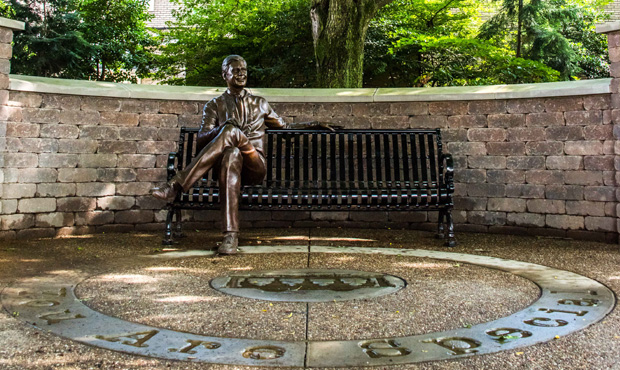 Picnic Tables
Outside of the park bench, the next park furnishings that typically come to mind are picnic tables. They provide a place to gather as family or friends with a picnic lunch for a fun getaway in the outdoors. These tables need to be durable and easy to wipe down for frequent turnover of daily picnics. Consider your park usage and make sure to provide enough tables to accommodate needs.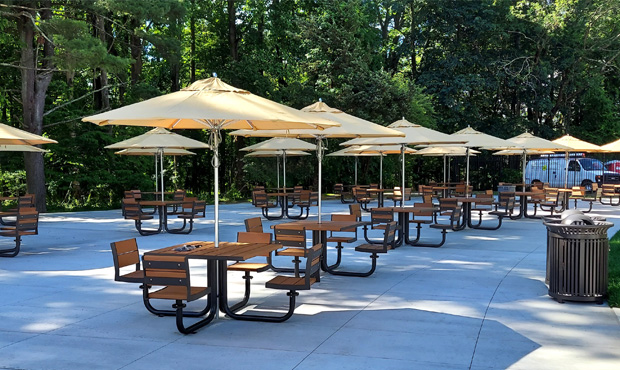 Powder coated steel tables provide an excellent option for durable function. Choose from different shapes, sizes, seating orientations, ADA accessibility, with or without umbrellas and more. See additional tips for choosing table sets HERE.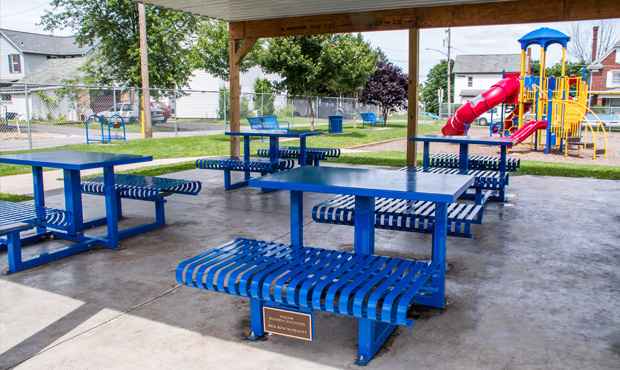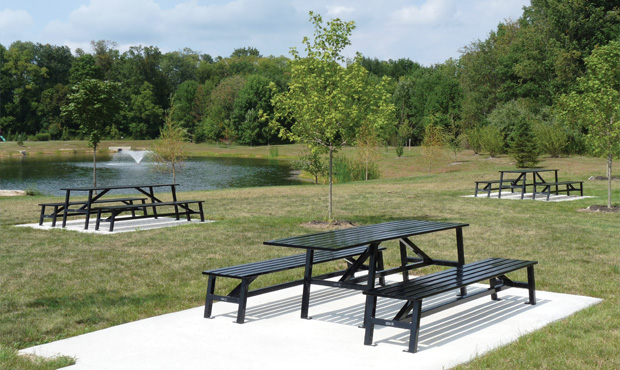 Trash Cans
Where you have picnickers and public access, you will have trash. The appearance and cleanliness of a park makes a big difference in how it is perceived. The best place to start for maintaining clean parks, is to have enough trash cans installed to always be within short walking distance from where people gather, especially near picnic tables. Make it easy and accessible to reach a litter receptacle to ensure your best chances of preventing littering. You can also use recycling receptables to support city-wide sorting initiatives.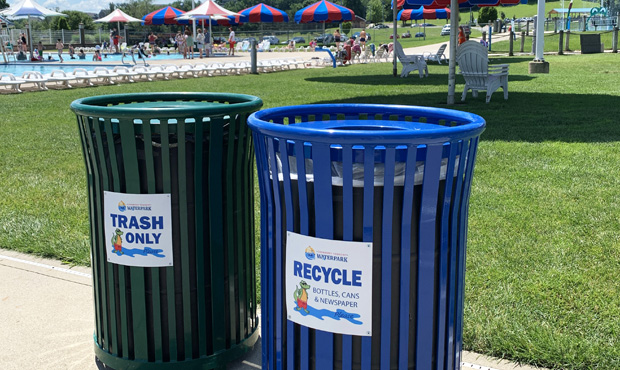 Not just for picnic areas, also provide refuse containers at public pools, sports courts, on trails, near parking lots and any other park facilities with high-volume use.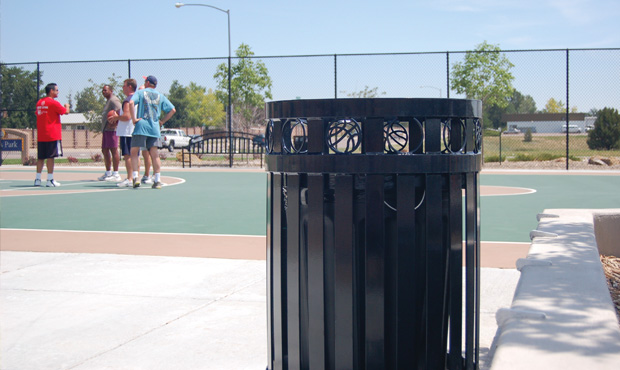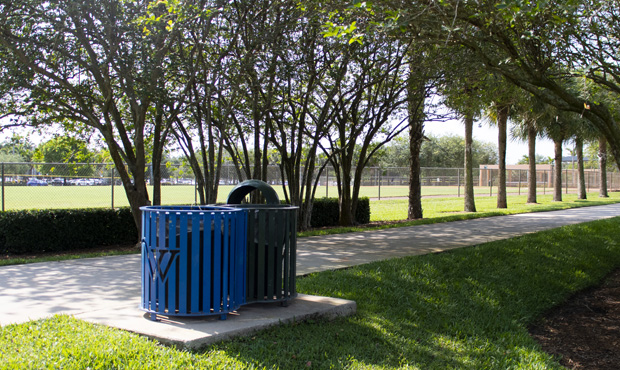 Bike Racks
A comprehensive park promotes all different kinds of outdoor activities from competitive sports, to walking and running to also including biking. Whether you offer bicycle parking to those who biked to the location or if your park has its own biking trails within it, having established places to park bikes is necessary to welcome biking enthusiasts and also discourage bike parking in unintended areas. Bike racks offer a place to easily stand a bike and lock it up for additional safety measures.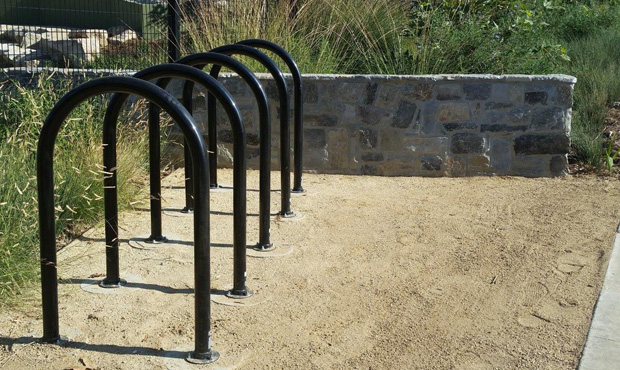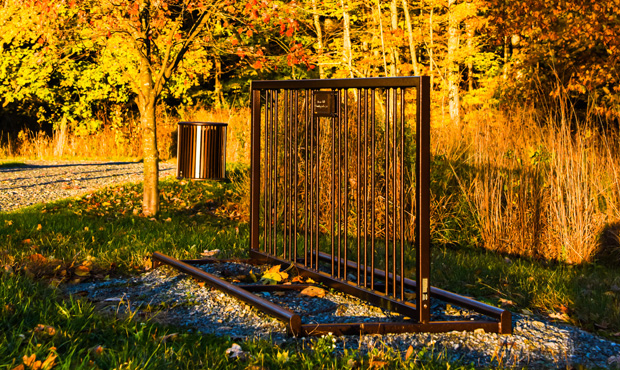 Leaning Rails
Perhaps a less familiar site furniture product that can have great applications to support the programing of parks and rec departments is the leaning rail. At community ballfields and sports courts, leaning rails offer a space-saving solution for spectators to enjoy a game. When standing room only might be the only option, providing leaning rails can offer a resting alterative.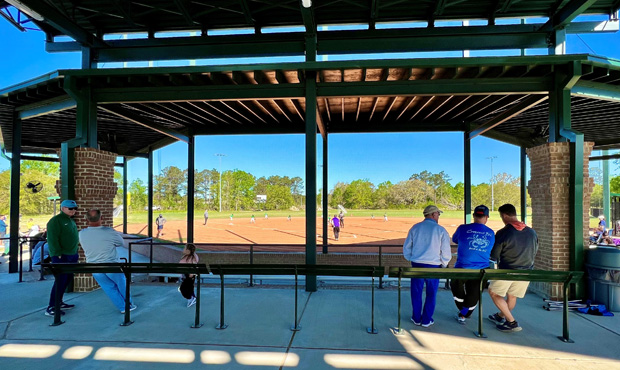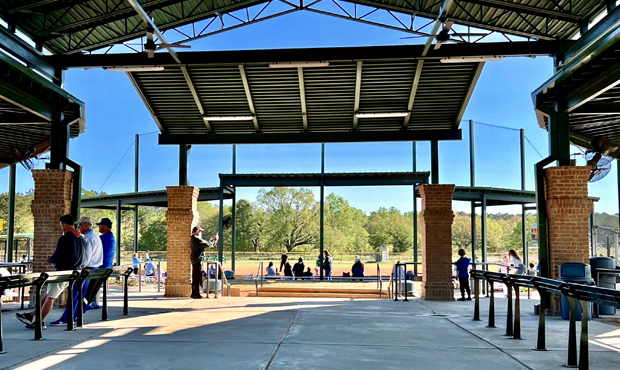 Keystone Ridge Designs products are intended for all outdoor public spaces, but it's no coincidence that the terms site furnishings and park furnishings can sometimes be used interchangeably in design specifications. Benches, bike racks, litter receptacles, table sets and other outdoor amenities frequently find their home and most significant usage in park settings. In any case, you can count on Keystone Ridge Designs' park furnishings to provide beautiful designs, lasting durability and the right options to support the goals and initiatives of parks and recreation departments nationwide.