Project Highlight - City of Weston, FL
In the past, we showcased a custom two-color, Penn dual receptacle with a laser cut logo as one of our top 5 customizations. Because we are so fond of the final product and the client with whom we worked to bring it to life, we'd like to share the full story in a project highlight about the City of Weston, FL.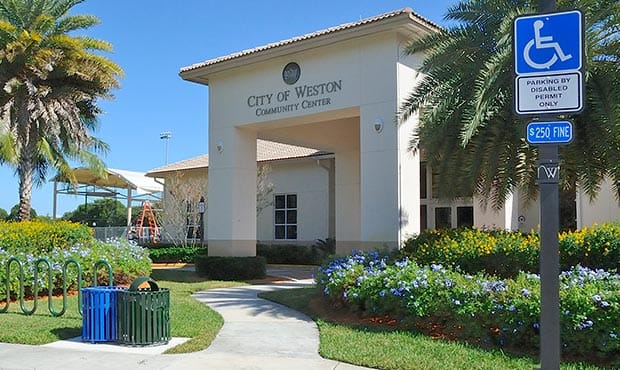 Weston is a beautiful city located in southwestern Broward County, Florida. Initially conceived as a master-planned community, Weston's well managed growth has given rise to one of South Florida's most desirable communities recognized for its lifestyle, appearance and management style. With extensive landscaping, lush foliage and a meticulously maintained park system, approximately 67,000 residents call Weston their home.
The city's focus on quality and appearance made for a natural partnership with Keystone Ridge Designs to work together on a city-wide trash and recycling solution. We offer many options for sorting initiatives such as split-lid containers, instructional decals, or multi-function units for trash, recycling and compost. Through creative exchanges between the architect, the city manager, the parks department and our design team, we developed an all-in-one custom color-coded sorting system entirely unique to the City of Weston. Additional customizations were added with a weather-protecting dome lid, laser cut logo and screen-printed labels.
To further explain the process, we spoke with Don Decker, the Director of Parks and Recreation for Weston.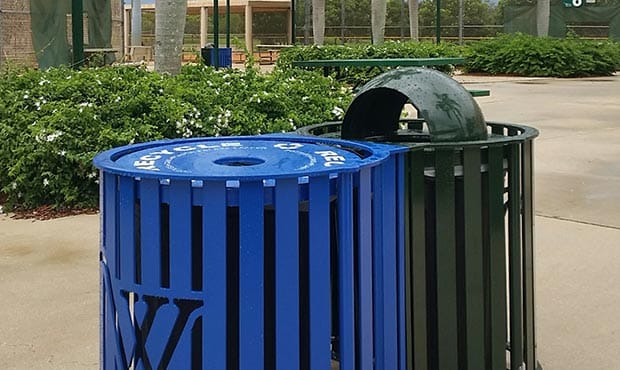 KRD: What was your ultimate goal when you started looking into trash and recycling solutions?
Don: We were looking for an attractive garbage/recycling can for our parks to encourage better recycling habits while at the same time honoring the aesthetics of the parks. Many of the off-the-shelf options out there were too industrial and, frankly, boring.
KRD: What led you to Keystone Ridge Designs?
Don: The City's contractual engineer shared with me a Keystone catalog and I knew immediately that you offered products that would meet our high expectations. The ability to customize those products both with laser cutting and a unique paint scheme sealed the deal for us.
KRD: The receptacle we provided was very unique and customized. Can you explain the creative process working with Keystone Ridge Designs?
Don: We shared some ideas for other customization we have done in the City and Keystone came back to us with a design that took the W from our "Weston" name and gave it a unique font that we found attractive. While my City Manager liked the initial concept, he suggested that delineating the garbage side of the can in green and the recycling side can in blue would make it even easier for our park visitors to help us recycle.
KRD: Tell us about the results. How have the receptacles improved your community?
Don: You don't expect to get compliments on your trash cans but we did get quite a bit of feedback about the cans as soon as they hit the parks. That feedback was further substantiated by a marked increase in the amount of recycled materials being collected...which is perhaps the most important outcome. After sharing photos of our cans on social media I have had a number of cities contact me to ask who our supplier was.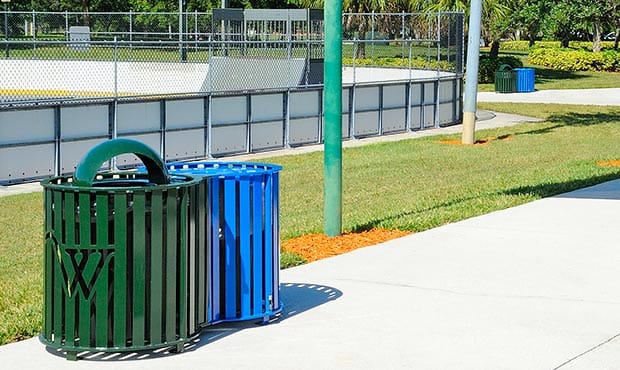 Our experiences with Don and the City of Weston offer a great reminder to our clients to do research to find exactly what you are looking for without compromising on quality. It is also important to be open to options beyond what you see in a catalog and to be creative in customizing a product to fully achieve your goals and visions. As Don affirms, sometimes it just takes a little patience,
"This project took a long time to get done as we went back and forth trying to settle on a design, getting the purchase orders done to our satisfaction, etc. Michelle (Keystone Ridge Designs territory manager) was extremely patient and she even went so far as to advise me when Keystone was offering shipping promotions that would save us thousands of dollars. Knowing that Michelle and others are back in Pennsylvania ready to assist me if we have a problem or, more likely, are available to walk me through my next order is reassuring."
- Don Decker
City Of Weston, FL
We are thankful to have had the opportunity to work with the City of Weston and we will always be available to them and to everyone else looking for creative ways to achieve their vision with site furnishings.