What Is A Bollard?
To those of us who eat, sleep and breathe public furnishings and site amenities, the answer to the simple question "What is a bollard?" may seem obvious, but for anyone who may be a novice in site planning and urban design, this blog is for you.
Bollard ('bälərd): A bollard is a short, sturdy post used to establish boundaries on a property, offer perimeter security and help guide traffic.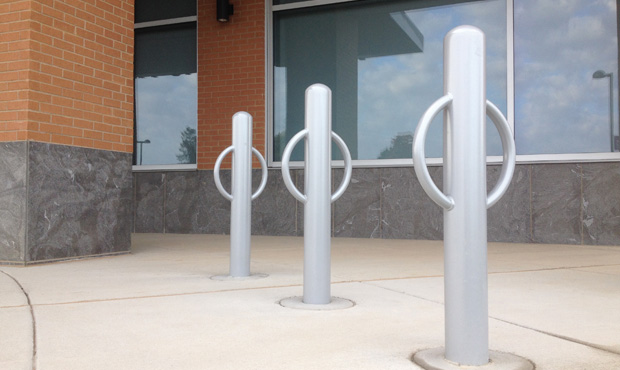 The term bollard originated in its maritime application as a post for mooring boats but over time has also come to encompass its usage for public space and traffic management. Allow us to further clarify what a bollard is and what it can do with the common uses, options and decorative customizations from Keystone Ridge Designs.
PERIMETER SECURITY
One of the most important uses of bollards is preventing vehicular traffic from colliding into structures or pedestrians. When installed around buildings, vulnerable utilities, protected plantings or unique architectural elements, commercial-grade bollards are intended to minimize property damage by absorbing the impact of out-of-control vehicles. They add an additional level of security at storefronts where they can act as a deterrent from ram-raid burglaries or vandalism. Bollards also help to protect pedestrians in areas such as parks, public squares or playgrounds that are located near busy roads. In those spaces, strategically-placed bollard posts can help prevent tragic accidents of vehicles crossing into crowded public spaces.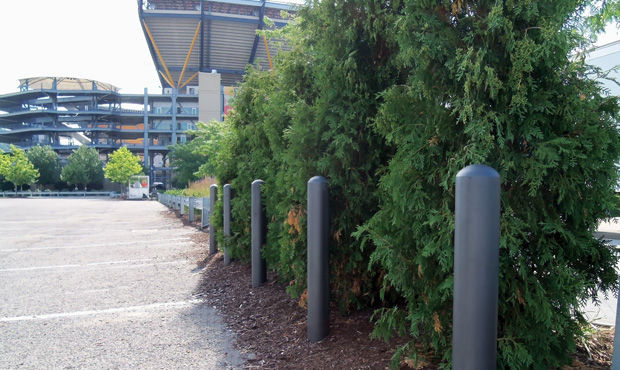 TRAFFIC DETERRANT
Another bollard application is to act as visual barriers that prevent motorized vehicle access to restricted zones. This helps to keep pedestrian areas such as bike trails, closed-off streets or pedestrian paths protected from dangerous traffic. Removable bollards can be a great solution in these cases. With a base that is installed into the ground, the top post can be temporarily removed for case-by-case access such as for emergency vehicles, maintenance visits or deliveries. You can include instructional signage and connecting chains to further define use and keep out unwanted traffic.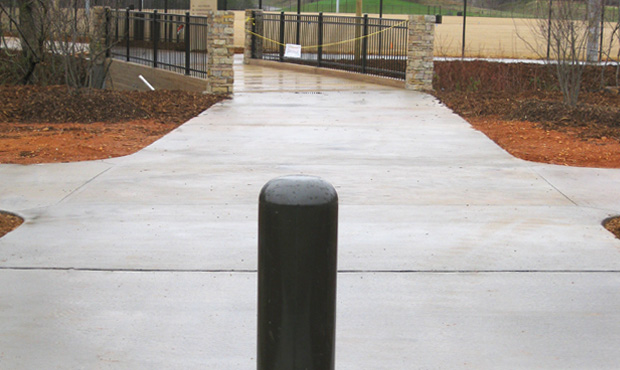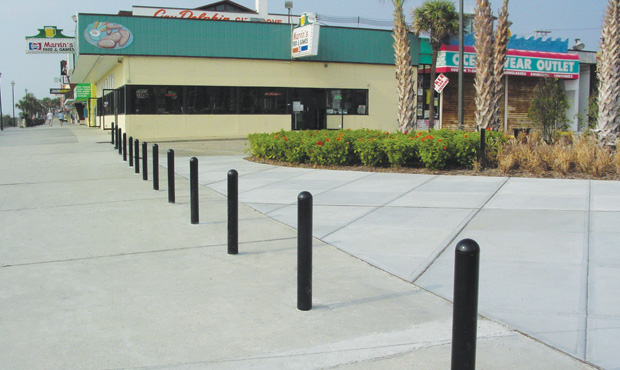 BICYCLE PARKING
The simplicity of a basic straight bollard design easily lends itself to become an inconspicuous and space-saving bike rack. By adding loops onto a steel bollard, it quickly transforms into a place to temporarily secure bicycles and add bike parking solutions to your property. Line multiple bike-loop bollards in a row to welcome bicycle commuting and encourage alternate transportation. At a building entrance, it can provide dual function of both perimeter security and bike rack functionality.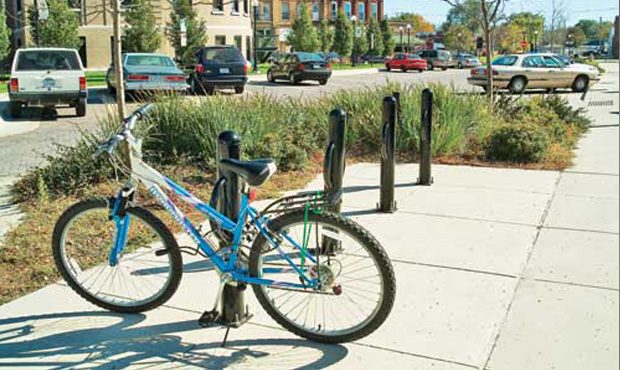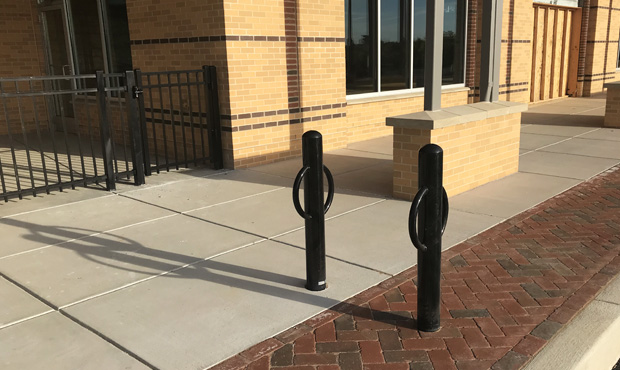 OPTIONS
Keystone Ridge Designs high-quality, durable bollards come in a variety of options to meet the security, parking and demarcation needs of public spaces. We specialize in manufacturing powder coated steel bollards. With our made-to-order capabilities, we can easily provide different options and alterations.
Add bike loops to provide additional function as a bike rack
Include chain loops to connect bollards together with a chain
Choose from permanent or removable bollard options to define property access
Consider a lighted bollard for pathway illumination
Select bollard sleeves for a quick cosmetic update to existing bollards
Vary the sizes and colors to suit your property needs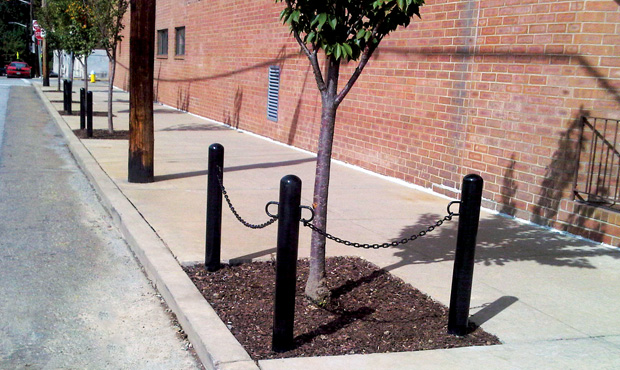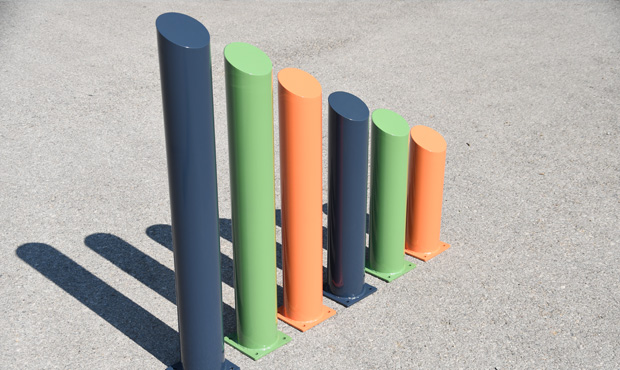 CUSTOMIZATIONS
Beyond the standard bollard alterations, we also have worked with many clients on unique customizations that bring personalization, color, branding and wayfinding to bollard design. Cast bronze plaques, KeyshieldArt graphics or completely customized shapes and designs allow bollards to make a statement as an artistic installation along with their usual function.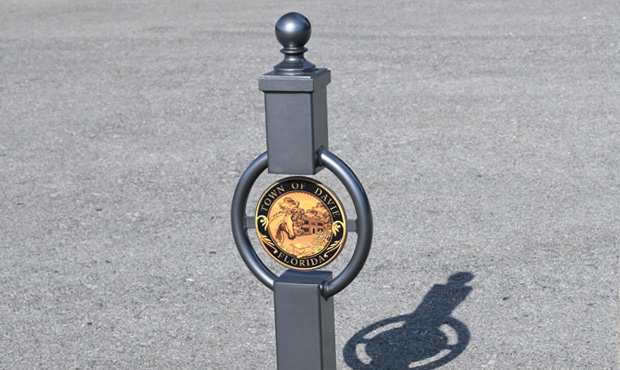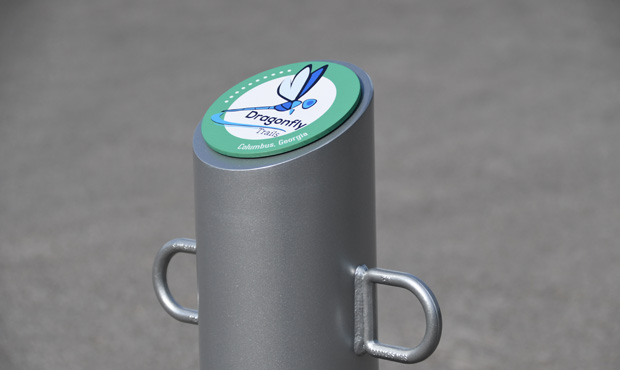 So, what is a bollard? You see them everywhere. Posts installed at storefronts, gas stations, parks, businesses, streetscapes and more. But they are clearly more than just posts. They are there for the safety of others. They are there for the convenience of cyclists. They are there to add color and architectural nuances while quietly protecting pedestrians. Bollards are out there every day standing tall, doing their public service to help keep public spaces a little bit safer.