Project Highlight - Longevity Bench Project
Summer is the ideal time to get outdoors and appreciate how something as simple as a walk can improve our health and well-being. A grass-roots initiative by a non-profit in the town of Manchester-By-The-Sea, MA is making strides to not only recognize that but also to support and encourage it through the Longevity Bench Project, Inc. With the use of our Everett bench and product customizations, this project has been near and dear to our hearts since its inception in 2017.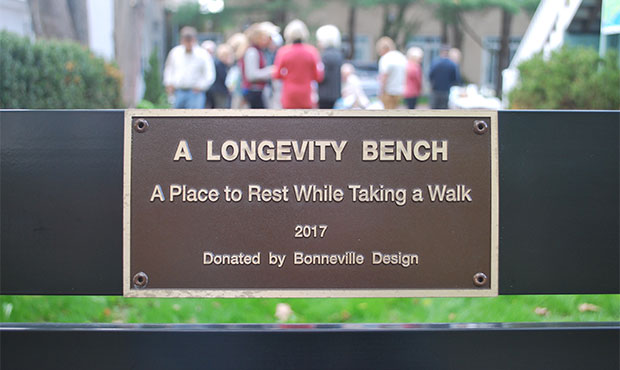 Exactly what is a Longevity Bench? Simply put, it is "A Place to Rest While Taking a Walk." The Longevity Bench Project, Inc. was founded as a resident-based non-profit in Manchester-By-The-Sea with a goal to create a more walkable town for people of all ages and abilities by adding a bench every half mile along popular walking loops throughout its neighborhoods.
Similar to what we noted in our blog about Site Furnishings for Senior Living, this community initiative considers the varied mobility levels of its residents and the need to support their physical activity with appropriate outdoor amenities – in this case, benches. Sometimes the ability to take a walk is determined by the distance between home and the next resting place. The Longevity Bench Project addresses that concern through the use of strategically-placed site furniture along familiar walking paths.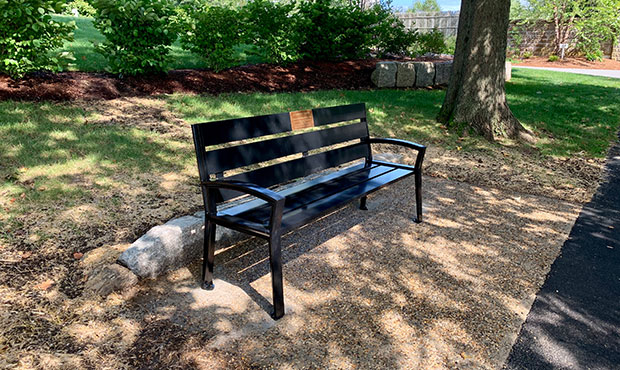 Founder of the project and Manchester-By-The-Sea resident, Lisa Bonneville, had a natural progression into developing this idea as an interior designer specializing in helping clients create accessible, multi-generational homes. She has taken that passion for the aging population and extended it into her community to help support good health, social interaction and a sense of well-being.
"I strongly believe in creating an accessible world and that begins where we live; within our homes and then into our neighborhoods and communities, and into all living environments where we work, play, worship and learn."
- Lisa Bonneville
The Longevity Bench Project, Inc. Founder
In collaborating with Keystone Ridge Designs, Ms. Bonneville presented a modification of our Everett bench that added a lower back bar to ensure ADA standards for ease of use, support and safety. This bench was chosen because of its comfortable seat height, depth, full supportive back and wide full-depth arms that aid in sitting down and standing up. For a completed installation, the Longevity Bench Project, Inc. includes the modified 6' Everett bench from Keystone Ridge Designs mounted to a 12' x 6' concrete pad. This provides a 5' wheelchair turning radius at one end and a place for chairs, walkers, strollers and bikes to rest out of the path of travel.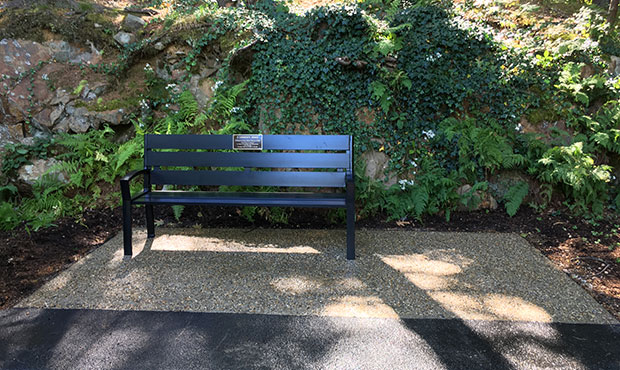 Currently eleven benches have been installed throughout the community with two on the way and a number more in progress. The goal is to reach thirty installations. To further support the project, individuals, homeowners, business owners, social groups and other organizations can donate to the initiative. That is where our donor plaques come in. Each bench comes with a fully customizable plaque to recognize and honor the sponsor. This allows the benches to be viewed as a gift to the entire town, donated by thoughtful, caring and inclusive-minded people to make a better, more walkable community.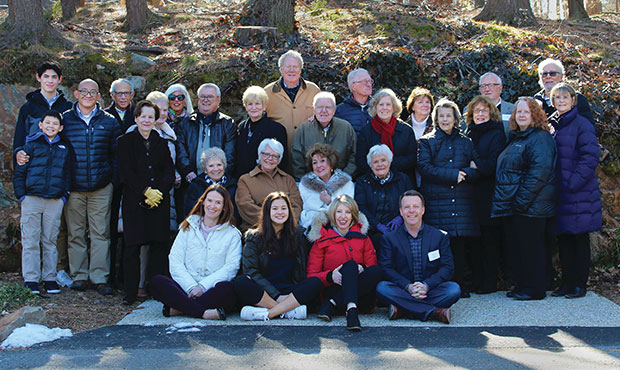 Bonneville, seated on her birthday bench, second from left
According to Lisa, "Manchester is a small antique town settled around a picturesque harbor. This year is its 375th anniversary and a commemorative gift from many of its residents to the town will be a 375th Anniversary Longevity Bench, made of aluminum to stand the test of many more years to come!"
Connor Lowe, Territory Manager at Keystone Ridge Designs, not only works with Lisa Bonneville on all new Longevity Bench orders but he truly appreciates the value and importance of the initiative. "Creating spaces where seniors can feel less isolated and engage with their community helps to promote a better quality of life. That's why this project is so important. It's remarkable that something as simple as a bench can open up so many benefits for such a large and growing section of the population. It's simple, cost effective, and personally a very rewarding effort to be a part of."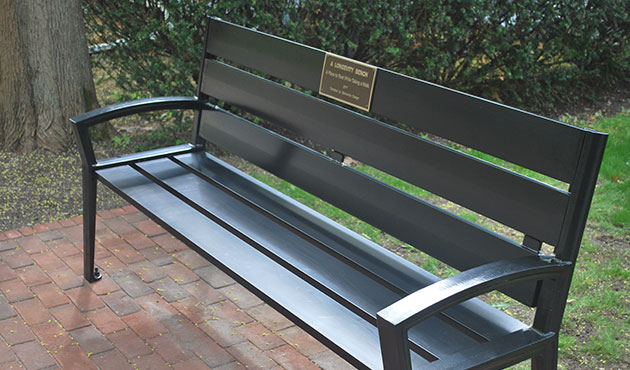 Now more than ever, it is important to get outside and find ways to keep active, keep social and keep appreciating your surroundings. Benches can play a significant role by serving as a meeting place, a stopping point, a meaningful landmark or simply a quiet seat to enjoy the outdoors. The residents of Manchester-By-Sea and the Longevity Bench Project, Inc. are paving the way to help their community step out into nature, one half mile and one bench at a time.