Site Furniture Materials 101
If variety is the spice of life, then consider how alternative materials can spice up your site furnishings. While we always tout the many benefits of steel site furnishings, we also recognize the importance of different material options to achieve certain visual and functional requirements. What are the types of site furniture materials and special considerations for each? Today's blog will break it down for you.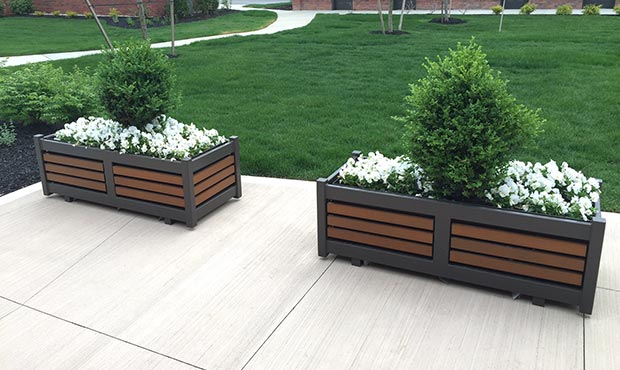 Steel
Steel is one of the most structurally sound, dependable building materials we use. Its strength, weight, and durability make it a fit to stand up to harsh elements or heavy usage. Steel products are fully welded as one unit to prevent any loose parts or rust vulnerabilities. With a powder coat finish, you have a huge selection of color options, it is low maintenance, and is resistant to corrosion, chipping or fading. If you want products to stay in place and withstand the test of time, powder coated steel furniture is the way to go.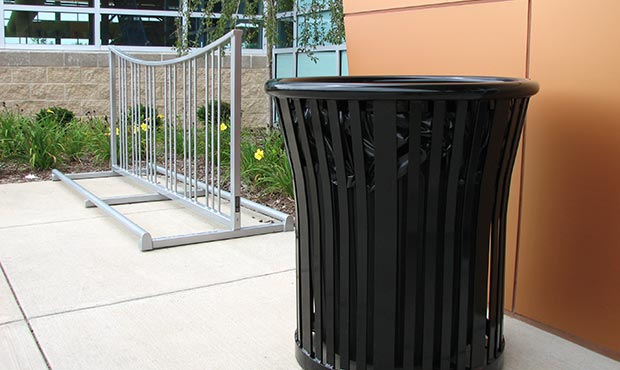 Aluminum
Aluminum offers a lighter alternative to steel. It has a superior strength-to-weight ratio and a high resistance to corrosion. Clients often opt for all-aluminum customization in a scenario where they need a product to be movable. If high winds are a concern, aluminum site furnishings should be bolted down due to their lighter weight. As with steel, powder coated aluminum offers durability for the outdoors and busy public spaces.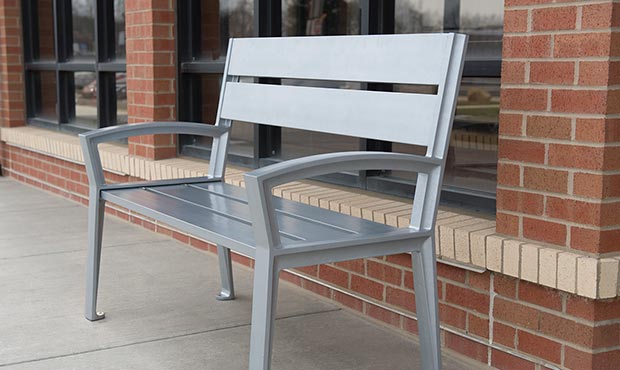 Wood Grain Aluminum
Exclusive to Keystone Ridge Designs, aluminum extrusions can be customized with the genuine look of wood finishes. Our KeyshieldArt™ technology takes site furniture materials to the next level by fusing imagery into the powder coated metal. Get the look of wood on bench slats, table tops or trash cans without the cracking, fading and splintering common in aging wood products. Wood-grain aluminum offers a unique way to achieve Antique Oak, Cherry Flame, Oriental Beech and Knotty Pine finishes. Even beyond wood, the KeyshieldArt™ possibilities are endless to turn aluminum bench slats into any texture or pattern such as marble, camouflage or custom designs.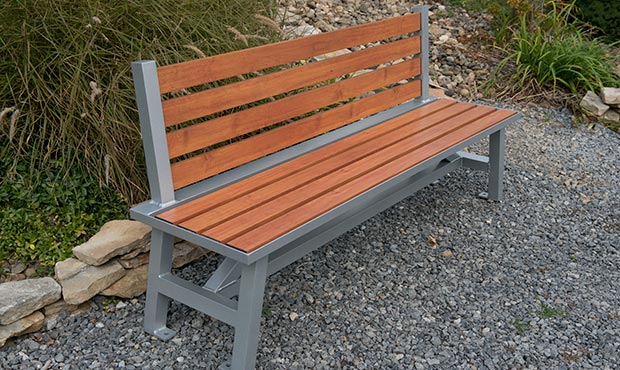 Wood
Sometimes a job requires the warmth, look and feel of natural hardwood site furniture. Sustainable Ipe hardwood is the wood of choice for Keystone Ridge Designs. With a beautiful reddish-brown color, Ipe is rated as very durable with superb weathering characteristics. As with most wood site furnishings, some sun-fading is expected over time. Because it is extremely hard and dense, Ipe has common applications in flooring and decking, making it a natural contender to build a strong Ipe wood bench seat.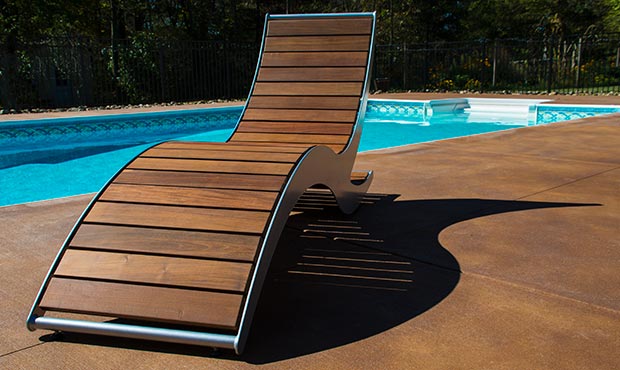 Recycled Plastic
Most of our steel and aluminum products contain recycled percentages to meet recycled content requirements, but when specifications call for recycled plastic furnishings, it's a great solution for long lasting, virtually maintenance-free slats in benches or litter receptacles. While not as diverse as powder coat color options, multiple recycled plastic color choices are available to customize your slats.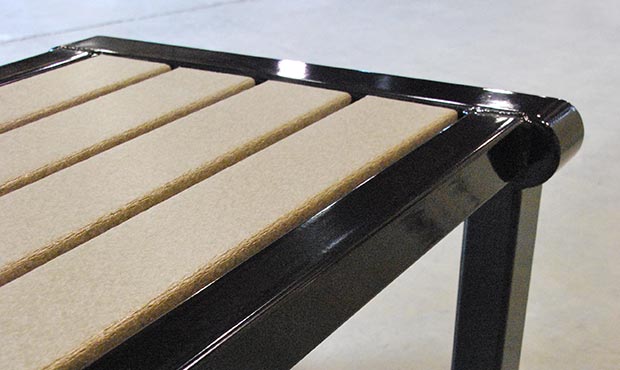 In our catalog or on our website, Keystone Ridge Designs products typically are shown in our standard steel orientation, but if your specifications call for any other material, consult with our staff on how we can customize products with alternative options. Regardless, you can be assured that no matter what the material, our expert craftsmen will manufacture and assemble your product with quality and pride.