Powder Coating Perfection
When it comes to outdoor site furnishings, quality and durability are paramount. Powder coating is one of the primary ways to protect steel furnishings and ensure outdoor durability. For this reason, we made a decision back in 2001 to bring our powder coating line in-house to have complete control over our final product quality. Owning and operating our own powder coating line has been a manufacturing advantage that allows us to achieve the highest level of quality control, production efficiency, and powder coating perfection.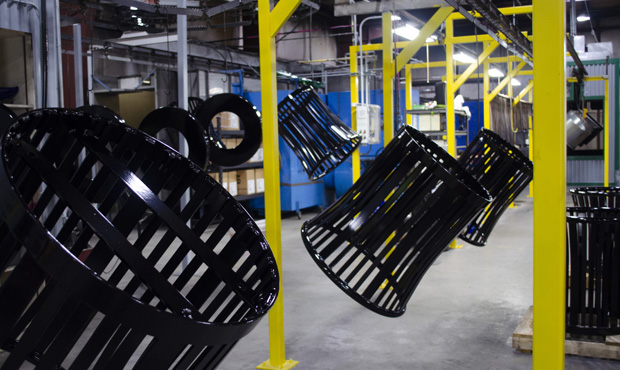 By adapting to advanced technologies and continuously improving equipment throughout our production facilities, our Keyshield® powder coat finish has certainly become something to write about and a true differentiator in the site furniture industry. In this blog, we will take a closer look at Keystone Ridge Designs' powder coating and how we have perfected the process to create unmatched standards of excellence for steel furnishings.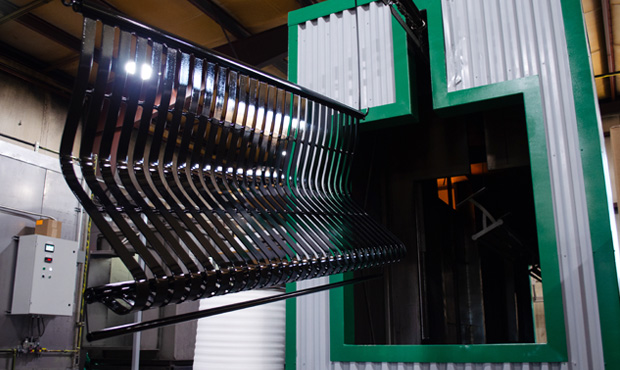 In the previous blog, "Why Powder Coat", we discuss the general benefits of powder-coated products but it is the details of our step-by-step process that earn us a superior reputation of quality.
The Powder Coating Process
In its simplest definition, powder coating is a method of applying a protective and decorative finish to metal surfaces to create a beautiful, high-performance finish. Keystone Ridge Designs masters this technique through every stage of our site furniture powder coating process.
1. Surface Preparation
The journey to a high-quality powder coat finish begins with meticulous surface preparation. We take great care to smooth, clean, and treat steel surfaces to ensure our products are free of contaminants like rust, oil, and dirt. This is done through both steel shot blasting for a smooth surface and sandblasting to remove any remaining contaminants. It is a crucial step that directly affects the adhesion of powder coating.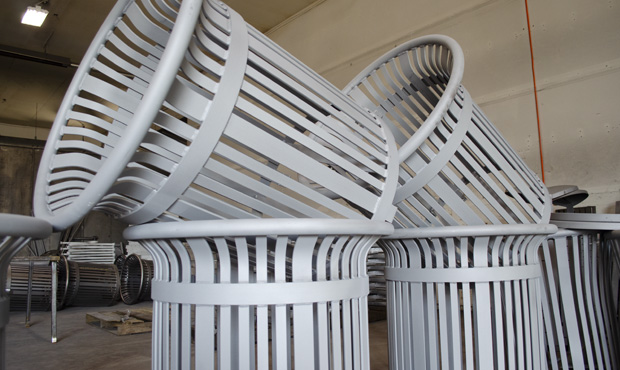 2. Pre-Heat
The raw product then receives a corrosion-inhibiting phosphate coating that continues through a dry-off and pre-heating process. This pre-heat further prepares the product for a more effective bond of our two-coat powder application.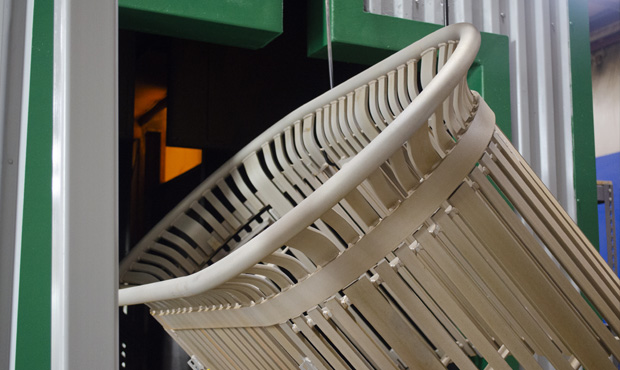 3. Powder Application
An electrostatic spray gun is used to apply a fine powder coating to the steel components. The first coat is a zinc-rich epoxy powder primer. The second coat is the colored polyester powder coating. Both coats are electrostatically applied to an industry-leading thickness to create an even and consistent coat.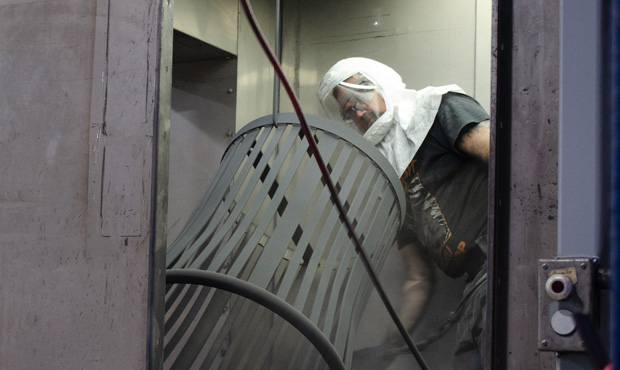 4. Curing
After the powder is applied, the products continue through the line to a 425-degree oven where they undergo the final curing cycle. During curing, the powder chemically reacts and fuses to the steel, creating a smooth, durable, and resilient finish. This curing process ensures the coating is highly resistant to chipping, cracking, peeling, corrosion, or UV damage. It is where the final product begins to shine in its vibrant, glossy finish.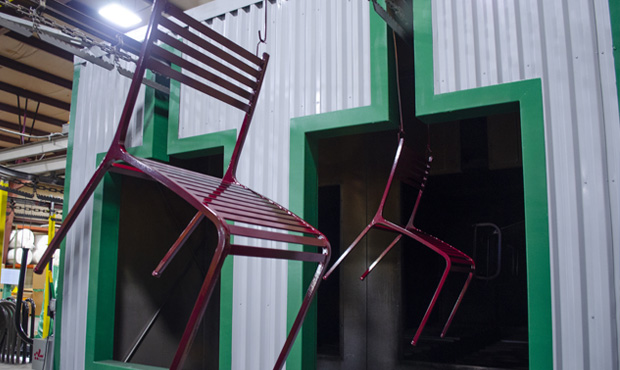 The KEYSHIELD Advantage
The advantage of our KeyshieldTM finish is not only found in the process but also in the people who take great pride in that process, the equipment, and the end product. Our team works tirelessly to keep our line running smoothly and looking good. It is the attention to detail of our employees that makes sure every product passes inspection and has been coated to perfection.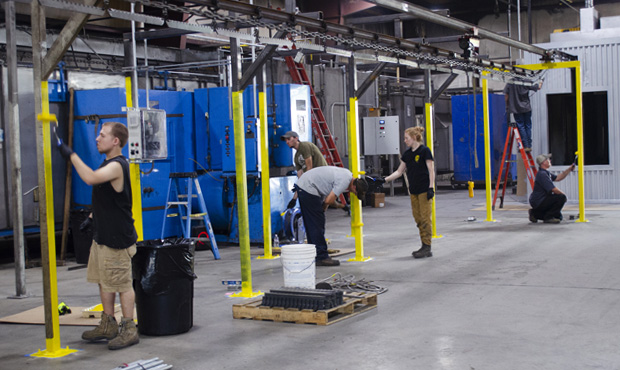 Throughout the manufacturing evolution of Keystone Ridge Designs, we have made numerous upgrades to our powder coating line to increase capacity, improve the thickness of our coating, prevent rusting vulnerabilities, and ultimately ensure client satisfaction.That brings us to where we are today with a state-of-the-art facility that utilizes cutting-edge technology and skilled operators to coat hundreds of benches, litter receptacles, bike racks, table sets, and other site furnishings every day. When you invest in Keystone Ridge Designs steel site furnishings, you're not just getting outdoor furniture, you're investing in long-lasting quality that enhances outdoor spaces. And our powder coat finish is one of the main reasons why.