Community Fundraising With Site Furnishings
Limited funds and budget restrictions are common problems that we hear when we are speaking to downtowns or civic organizations about site furnishings and streetscape revitalization. But did you know that you can raise funds for downtown improvements and add new site furnishings all with one initiative? We have helped many clients work through the details of starting a program that can encourage fundraising and community involvement by offering sponsorships, memorials and dedications on site furniture.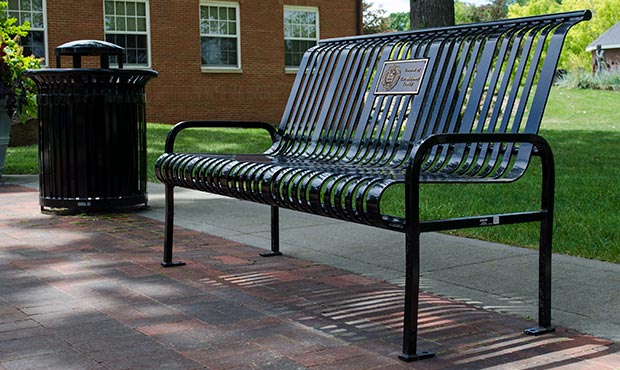 With the addition of personalized cast bronze plaques or other graphic customizations, it becomes easier to solicit donors to help fund improvement projects. Keystone Ridge Designs has decades of expertise in custom furniture with sponsorship options, so here we offer our step-by-step guide to fundraising with furnishings.
Choose Your Furniture
Are you looking for benches, bike racks, litter receptacles, table sets or all of the above? Any of these can be customized to include personalization for recognition or memorials. Once you have determined your needs for new site furnishings, decide on the specific products that you want. You will want to establish a standard and then stick with it to maintain a consistent look throughout your public spaces. Your main considerations should be design and quality.
Design
Choose products that fit with the architecture and general theme of your surroundings. Is your town rich with history or on the cutting edge of modern design? That should play into your furniture design choices. Our How To Accessorize Your Landscape blog is a great resource to help determine your style. Also, consider what products work well with plaques and other customizations. Some of the commonly used furnishings from our collection are the Schenley bench, Pullman bench, Reading bench, Lamplighter bench, Midtown litter receptacle and Sonance bike rack.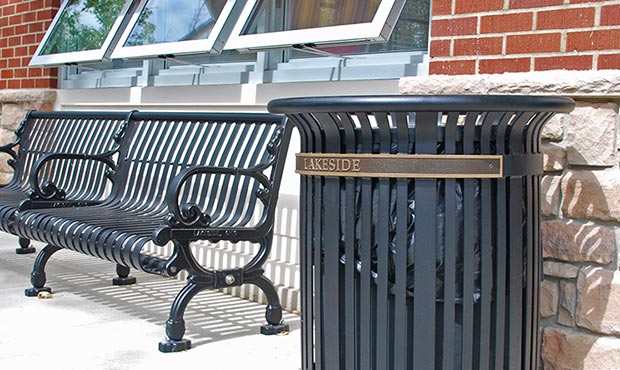 Quality
Quality is of the utmost importance. If you are asking people to put their name on a product or to honor a loved one, you want the donor to have confidence that the product will last. Resist the temptation to go for a cheaper, low-quality alternative that will leave donors disappointed. Powder coated steel furnishings offer you the best price-to-life ratio and cast bronze plaques provide the beauty and durability to make the dedication or sponsorship stand out.
Determine Price
To make the most effective fundraising effort, it is ideal to charge the donor an amount that fully covers the cost of the bench, the custom plaque with inscription, the shipping and also leaves a little extra to go towards other improvement projects. Offer one flat price that includes the complete customized product. Consider offering different product types at different price levels. This could help donors choose a budget that best works best for them. For instance, a personalized bike rack could be offered at a lower donation amount than a bench.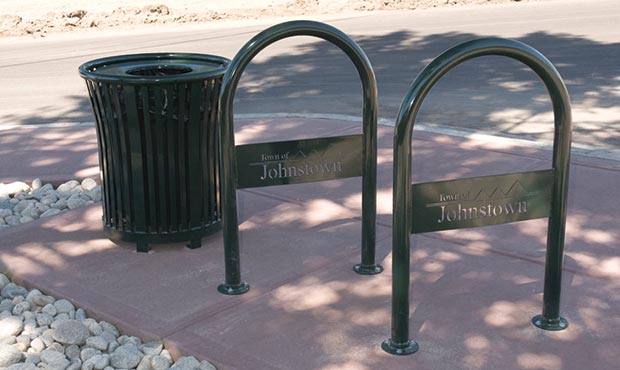 Make Donations Easy
Make it as easy as possible for donors and sponsors to place an order. Have forms, brochures or even a web form for easy submission and payment. Include photos of the product to showcase what is being offered. Be as a specific as possible in what the donor gets and what they need to provide. Define parameters regarding size, colors and text requirements to keep all donations consistent. To help, we can provide an editable example donor form or you can create your own. For more advice on plaque options, read our Guide to Plaques. We always provide a proof when working with custom plaques or graphics, so be sure to share with the donor and get their approval before proceeding.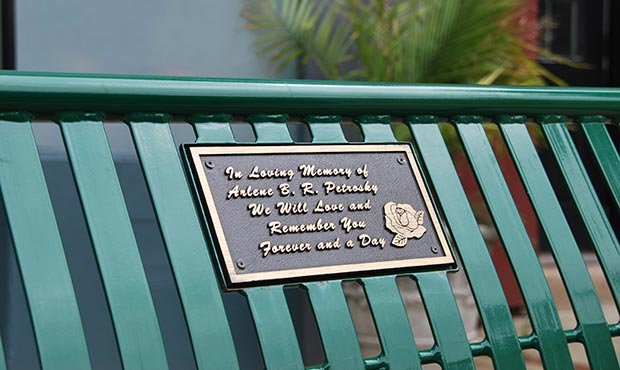 Arrange Publicity
After the products, price and donation forms are in place, it is time to spread the word. Send press releases to local newspapers, take advantage of social media posts and ads and feature it prominently on your website. You can also hand out flyers and brochures at community events. Another great way to promote the program is to first start with purchasing a sample bench or other donation product. Allow the community to physically see what their money would be going towards.
Consider Timeline
Understand that typical lead times in the site furniture industry range from 8 – 12 weeks. If you are planning any dedication or unveiling events, make sure you are ordering products well in advance to have them in place in time.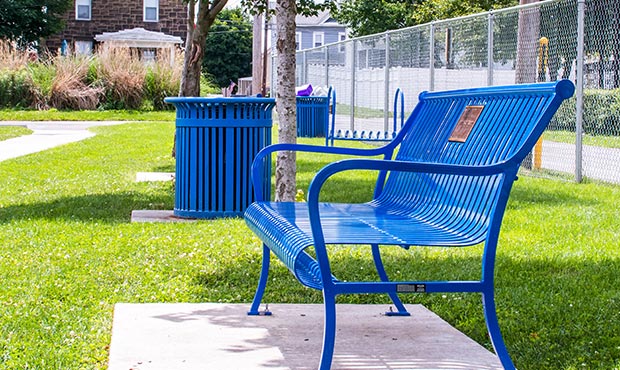 Installation
See the fruits of your labor when the first donations come in and you get to install the products. Start with high profile locations to keep the program visible and encourage donations to continue coming in.
With the right products and promotions, a sponsor-a-bench program can truly benefit your town or organization. We hope this blog helps to spur creative ideas for your fundraising and improvement efforts. Innovative ways to personalize, advertise and subsidize your streetscape or community project are as simple as an image, name or logo. Keystone Ridge Designs is ready to walk you every step of the way with custom cast bronze plaques, laser cut logos, or KeyshieldArt™ graphics on our quality line of site furnishings.