SITE FURNITURE STANDARDS
We pride ourselves on our patented designs, modern innovations and on-trend custom outdoor furniture solutions. That being said, our site furniture standards, our timeless classics, continue to be a popular choice for their ability to seamlessly complement a variety of landscapes while upholding an unmatched reputation for quality. The following site furniture favorites may seem familiar for their extensive applications in public spaces nationwide. Often imitated but never quite duplicated, these items from Keystone Ridge Designs are the stalwarts of the industry and what we like to call Exclusive By Design.TM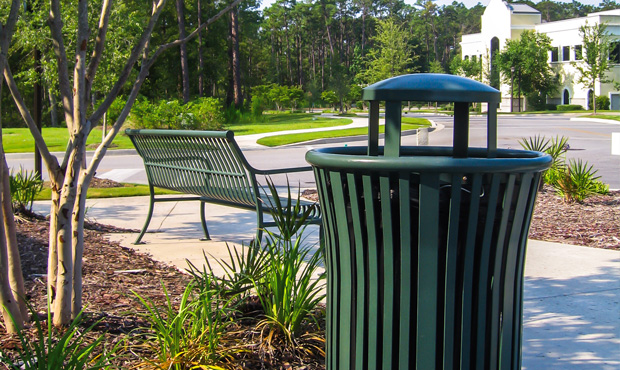 PULLMAN
The Pullman bench has been with us since our beginnings as a manufacturer in 1995. When you think of a park bench, the simple vertical slat pattern of the Pullman quickly comes to mind. This bench is differentiated from its counterparts by the gently curving lumbar support of the back, the rounded seat front for leg comfort and the steel cross bars that provide additional strength and stability. With manufacturing efficiencies that have been perfected over the past 25 years, this bench is offered at an economical price point to suit site furniture budgets.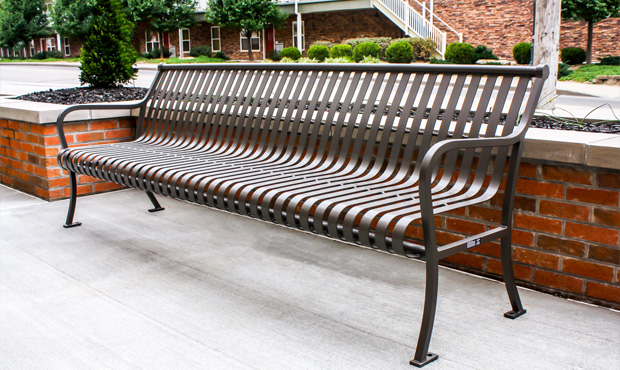 READING
Inspired by a traditional wooden garden bench, the Reading bench elevates the design with an alternating slat pattern and sturdy steel construction. With fully-welded seams, wide arms and our durable Keyshield® finish, the Reading is a popular choice for schools, senior living, healing gardens, community parks and historic streetscapes. This bench is most frequently chosen for memorial bench installations with a custom add-on cast bronze plaque.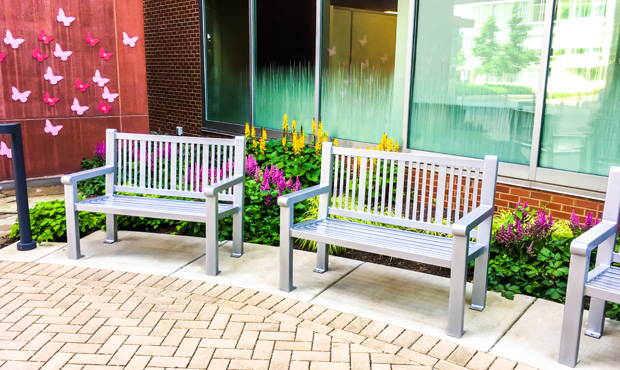 HARMONY
The aptly named Harmony litter receptacle harmoniously blends in with any public setting or landscape design. Litter receptacles need to be easily found and accessible but not detract from the overall aethetics of a property. The clean lines and minimalist appeal of the Harmony make it a common choice in facility management and urban design. The round tubing of the top ring combined with the mixed slat sizes create a unique take on a standard item.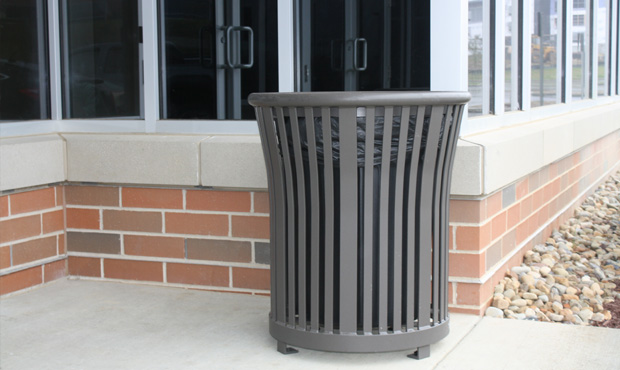 MIDTOWN
Close your eyes and picture a typical commercial trash can – what do you see? Likely it is something similar to our Midtown litter receptacle. This design is one of our top selling products and it proves that you can't go wrong with a classic. There are many comparable products on the market, but none with the design and quality features of our Midtown including full-weld seams, an industry-leading powder coat finish and solid steel construction. With the ability to convert into a door can, a recycling receptacle or a combined trash/recycle unit, the adaptability of the Midtown litter receptacle can meet the needs of any property.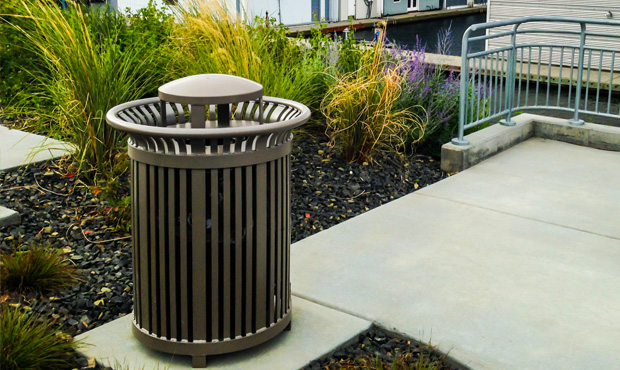 SONANCE
Call it the wave-style bike rack, or an inverted U, but to us when someone is looking for a simple, space-saving bike rack solution, we point them to our Sonance bike rack. It is a prevalent design seen at parks and businesses everywhere. Our commercial-grade steel tubing and Keyshield® powder coat finish distinguishes our Sonance rack as a durable bike parking solution for high-volume use. The ability to customize with inset logos and laser cut designs means that you can make this product stand out among others.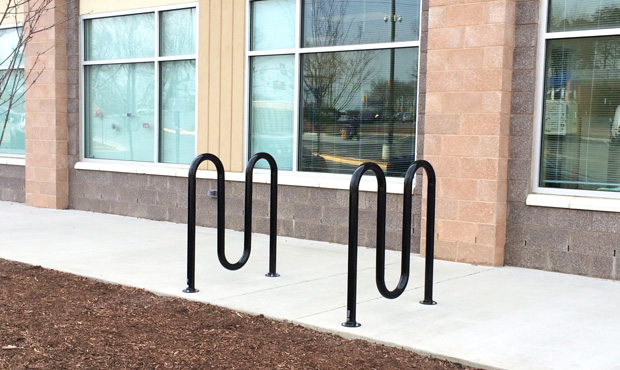 COURTYARD
This product is called the Courtyard for the obvious reason that it easily finds it's home in outdoor courtyards all across the country. The chair design emerged from the comfortable contours of the Pullman bench. The wide seat and heavy-duty construction make it both easy to sit in yet sturdy enough to stay in place. When looking to bring dining outdoors or furnish a public patio, the Courtyard table set is a go-to design for a timeless installation.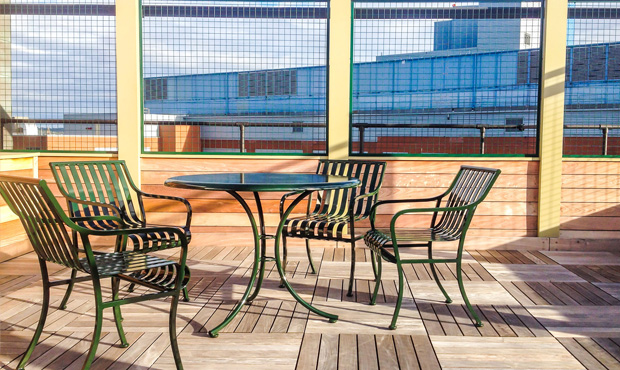 We recognized that some of our site furniture standards may be considered comparable or "equal" to other products out there. That is where Exclusive By DesignTM comes in. When you choose Keystone Ridge Designs, you are getting exclusive products designed with the quality and durability to surpass onsite expectations and provide a worthwhile investment in lasting site furniture.
These standard products are the workhorses of site furniture - the quality products that will get the job done, have long-term durability, offer the versatility to complement any setting and have proven themselves at commercial properties nationwide for almost three decades. No matter how standard the product designs may be, when it comes to Keystone Ridge Designs' quality manufacturing and design nuances, there is no equal.
*Please note, many of the above products are available through our Designs In Time quick-ship program. LEARN MORE