Site Furniture Customization 102
In our Site Furniture Customization 101 blog, we explained through infographics all the different ways that you can customize benches, litter receptacles, and table sets. We continue to be an industry leader in site furniture customization, so in response to popular requests, our Site Furniture Customization 102 blog showcases more examples of made-to-order manufacturing creativity and educates on various ways that outdoor furnishings can be personalized.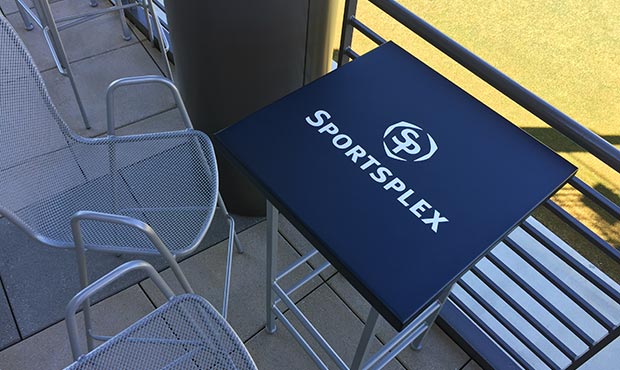 Custom Shapes
When it comes to our standard line of site furniture, what you see does not have to be what you get. Custom curves, cut out logos, blending two different designs, and other modifications are all possibilities. Perhaps one of these examples will strike a chord:
Guitar Bench - Memphis, TN
When a shopping center near Graceland wanted to represent a connection to the music of Elvis Presley through site seating, design plans led to a series of uniquely crafted and curved Pullman benches that formed the shape of a guitar from an aerial view.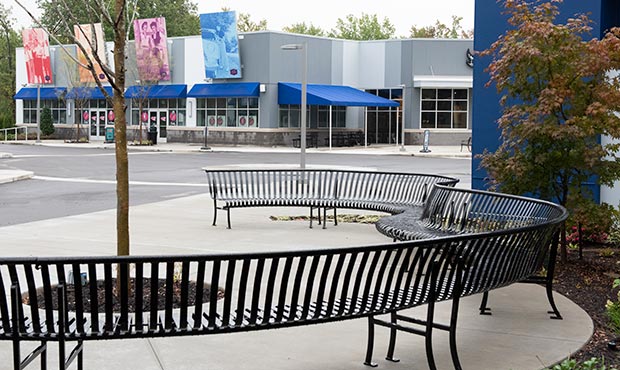 End Table Bench - Wooster, OH
Clients often use center arms to delineate space and deter vagrancy on a bench. The city of Wooster, OH took a more creative take on the concept by including a center table in the middle of our Reading bench. To match the branding they have on other furnishings throughout town, they included a laser cut of their logo on the table.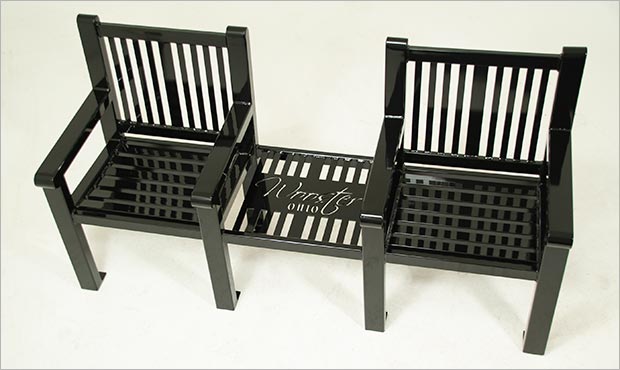 Combination Bench - Neptune Beach, FL
Inspired by more than one bench? Combine them! This shopping center not only wanted to showcase their name in their furniture but they also wanted to combine the back of a Reading bench with the arms of an Exeter. It was topped off with a center arm and custom white powder coat finish.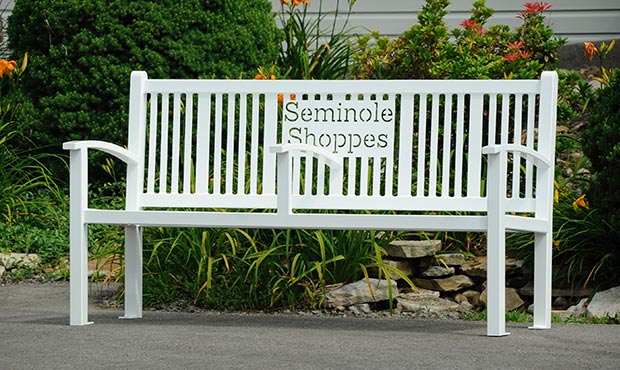 Custom Graphics and Imagery
With plaques, decals, and advanced powder coating technologies, our ability to add images and graphics to furnishings allows for colorful creations. Picture one of these ideas on your next project.
Tie-Dye Bench - Dyer, IN
When a church wanted to remember and honor a one-of-a-kind person with very specific symbolism, it was all creative minds and custom capabilities on deck. The result – a truly one-of-a-kind bench. Using our KeyshieldArt® process to fuse tie-dye imagery into our powder coating, this colorful Exeter bench modification makes a personal and meaningful statement. A cast bronze plaque was also included to add memorial text and a photo.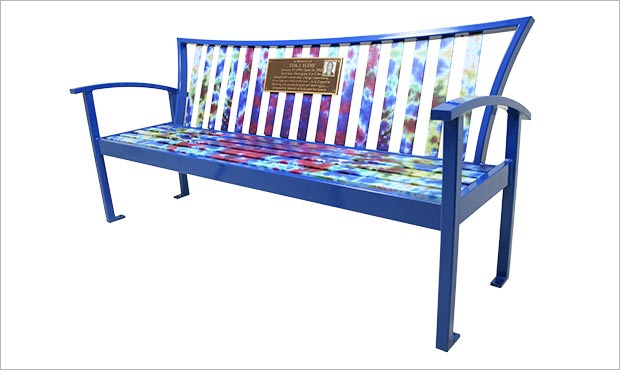 Bench Signage - Butler, PA
The same process that can turn slats into tie-dye can also turn a bench into signage or other forms of advertisement. Here our Penn bench was customized to promote a high school track and field program. The image on the back is a part of the powder coating, not an add-on decal, providing extreme durability for outdoor environments.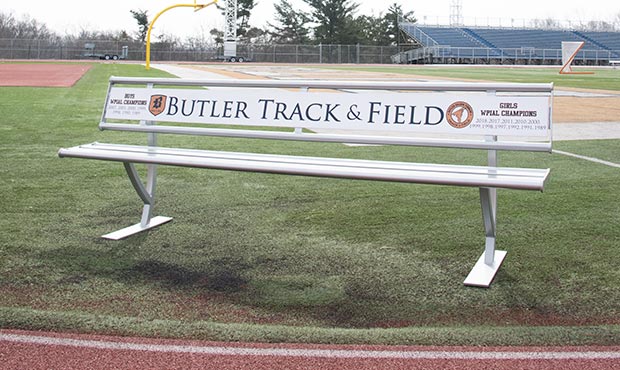 Custom Materials
Most of our products are made of steel, but true inspiration comes in a variety of forms and site furniture materials. These customizations have all the makings of true inspiration.
Table with Ipe Slats - Philadelphia, PA
The Penn curved table set is a popular option for courtyards and outdoor eating areas. To fit the modern architecture and landscape design of a children's healthcare facility, the seats of our Penn curved table were customized with Ipe slats which made a striking contrast to the sparkle silver powder coat.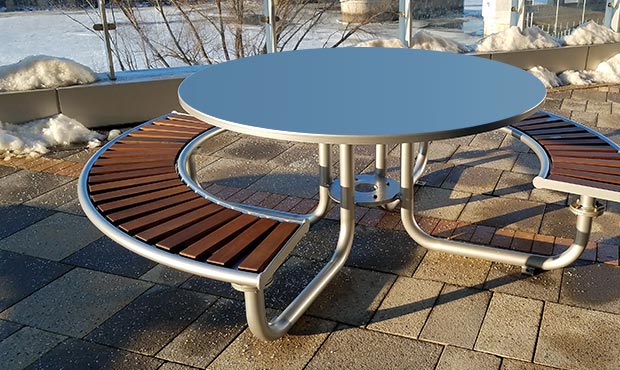 Wood-Grain Aluminum products - Walnut Creek, CA
The complete Creekview line of products was inspired by the ideas of our clients in Walnut Creek, CA. The customization of wood-grain aluminum slats is what differentiates the products, achieving the look of wood with the durability of powder coated aluminum slats. Taking customization even further, Walnut Creek came to us with an idea for a dual chair system that has arms rests on the outside and a narrow table in the middle for someone to put their phone or coffee down while resting in the chair. Our custom materials were combined with a custom design.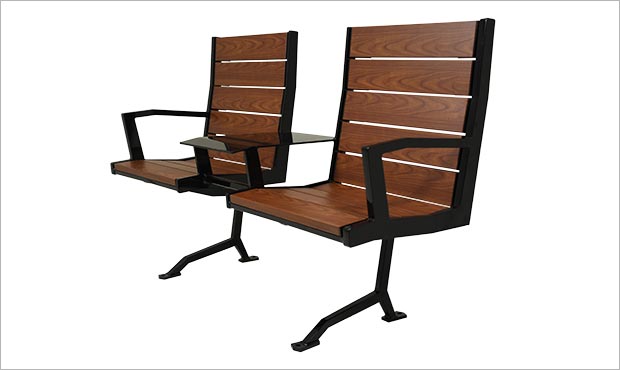 Custom Everything!
In case it hasn't been clear, we can do so much when it comes to customization and we welcome any ideas and manufacturing challenges. Did you know we've even done standalone signage? Inspired by our customers' requests, we've done wayfinding and branding signage for multiple clients including the Township of Franklin, NJ as shown: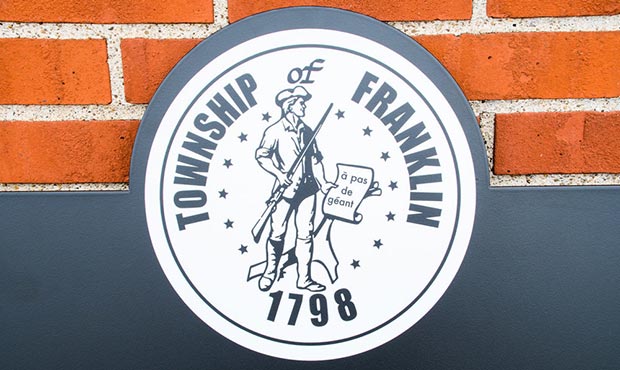 Essentially, what we do at Keystone Ridge Designs is solve problems with manufacturing expertise. Our custom capabilities allow us to provide innovative solutions to meet the needs of creative clients, evolving landscapes, and busy public spaces. Bring us your ideas and create space with us!