Project Highlight - The Tracks At Brea
July is National Park and Recreation Month, so before the month comes to an end, what better time to highlight a recent trail and open space project where Keystone Ridge Designs site furnishings are currently serving in a supporting role.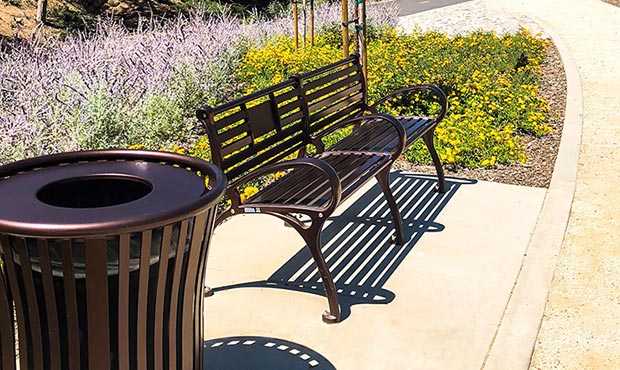 The Tracks at Brea Trail is a beautiful, multiple award-winning project that transformed an abandoned railroad corridor into a 50-acre linear park. Located in Brea, CA, this Rails-to-Trails project offers a four-mile long, multi-use trail that crosses the city from east to west and provides peaceful settings, landscaped trails, fitness opportunities, a glimpse of Brea history, and of course, Schenley benches.
The Planning
Starting with initial concepts in 2007, this project took years of strategic planning, public outreach, persistence and collaboration. With a task force of community volunteers and by partnering with numerous supportive organizations, the city was able to go from concept to the final completion of its six segments in 2018. Most important to the success of the project was the acquisition and implementation of a series of state and federal grants that ultimately funded a majority of the project. Grants totaling $17.5 million helped the project come to fruition.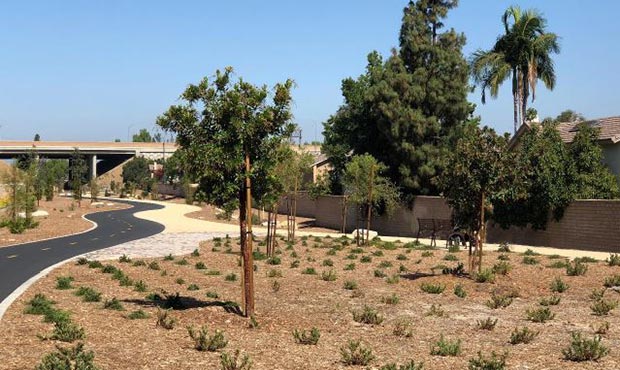 The Design
Landscape architecture and engineering firm, David Evans and Associates, Inc., developed a comprehensive citywide trail master plan that provided long-term design and trail implementation as funding became available.
Included in the design were plazas with seating, a restroom, parking, butterfly gardens, site furnishings, signage that highlights Brea's history, and strategically-placed fitness, bike repair and pet waste stations.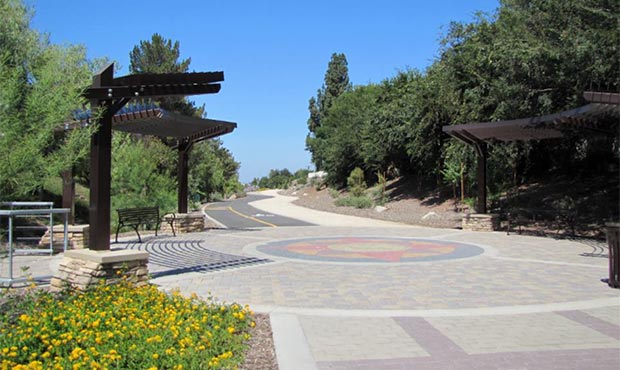 Keystone Ridge Designs site amenities were specified in our Copper Vein powder coat color. Along the trail you will find Harmony litter receptacles, Schenley benches with center arms, and Schenley tables that were custom designed specifically for this project. Spaces have been included on the Schenley benches to allow for future cast bronze plaque installations as memorials and honorees are requested. Each plaque includes the iconic Tracks at Brea logo.
"Collaborating with the City of Brea and Kim Rhodes of David Evans and Associates, Inc. was a great example of strategic vision and custom design coming together to create a beautiful and functional public space. The Keystone Ridge Designs products complement the natural environment and will serve the needs of the community for years to come."
- Brandon Steffanus
Keystone Ridge Designs Territory Manager
The Results
With several entry points, a two-way bike path, a separate pedestrian path and nine fitness stations, the Tracks at Brea trail has quickly become a popular destination for the Brea community and for people of all ages.
Since its opening, The Tracks at Brea has received multiple awards, including:
2017 ASCE Orange County, Bikeways & Trails Project of the Year
2018 ASLA Southern California, Honor Award
2018 APWA Southern California, B.E.S.T. Project Award (Recreation and Athletic Facilities)
2019 California Trails and Greenways Conference, Merit Award - Development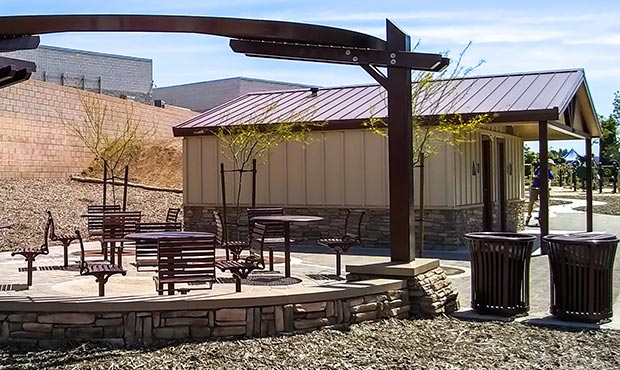 Now that the trail segments have almost all been constructed, the City hopes to connect the final route while continuing to add more amenities throughout the corridor.
Keystone Ridge Designs is honored to have been included into the plans of this noteworthy trail. As a project that truly embodies the mission of the parks and recreation industry, we appreciate how our park furnishings play their part in encouraging people to get out, get moving and enjoy nature!
Special recognition to Kim S. Rhodes of David Evans and Associates, Inc. for contributing to this blog.