Choosing The Best Commercial-Grade Umbrella
When looking to add elements of shade and weather protection to outdoor public spaces, one of the first considerations for landscape designers and property managers is umbrellas. With a variety of options and price ranges on the market, it can be hard to determine exactly what qualifies as a high-quality commercial-grade umbrella. In this guide, we will discuss the unique challenges that need to be addressed when selecting outdoor patio umbrellas and other shade solutions – Safety, Durability, Design, and Value.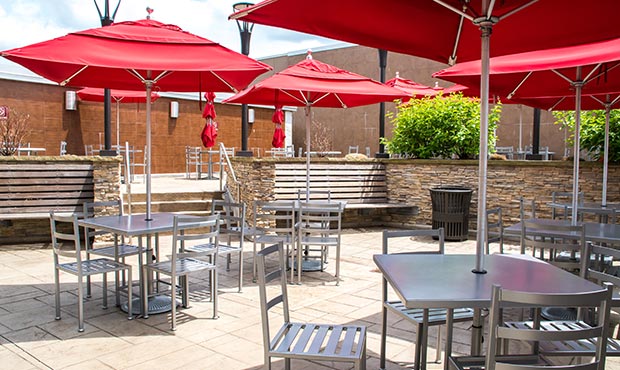 Safety
First and foremost, when purchasing market umbrellas, consider the safety of all pedestrians in the surrounding area of the installation. Without the right umbrella safety features or with improper anchoring, umbrellas can pose an extreme danger if the wind takes hold of it. Make sure the umbrella can easily be raised and lowered and if you know storms are approaching, always put the umbrella in the closed position.
Commercial umbrellas from Keystone Ridge Designs have a few additional features to help with stability and safety:
Double Vents – multiple umbrella canopy vents allow the air to escape in strong winds.
Rotating Canopy – this dissipates wind by rotating around the axis of the pole to release stress from the pole and hubs.
Heavy Base – if not being embedded directly into the ground, a heavy stand-alone base should be purchased to weigh down and secure an umbrella. When also paired with heavy-duty steel tables and table top locks, you ensure extra stability against high winds.
Durability
Beyond wind safety concerns, it's important to consider how the umbrella will hold up to regular wear and tear. You want to invest in a shade product that is manufactured with quality construction, the finest materials and attention to detail. The American-made craftsmanship of umbrellas from Keystone Ridge Designs include details such as:
Wood umbrellas are made from the hardest wood grown in the United States – Northern Ash.



The wood poles are reinforced with steel pipe and laminated to avoid warping.
Aluminum market umbrella poles are made of heavy marine grade seamless aluminum.
Marine grade Sunbrella fabric and UV protected thread are used for a durable and sun-fade resistant canopy.
Reinforced stress points in the canopy include double folded and triple stitched fabric that provide added strength against the elements.
Design
Once you ensure that you are selecting a durable commercial contract umbrella, consider the design and customization features that can support and enhance the brand or theme of your property:
Screenprint Logos – Showcase your logo or other graphics with a screenprinted canopy to create a branded umbrella.



Colors and Patterns – Choose a color or unique fabric pattern to accentuate your existing décor or support thematic elements.
Custom Shapes and Sizes – If you have something specific in mind outside of the standard product line, custom is always an option. Talk to Keystone Ridge Designs about creating a custom shade solution for your project.
Value
Achieving all of the important criteria to make a safe, long-lasting, high-quality umbrella obviously will not come at a bargain price. But remember, the most expensive product is the one that doesn't work. Avoid frequent replacements or onsite failure by choosing an umbrella that will withstand harsh weather and the daily abuse of busy public spaces.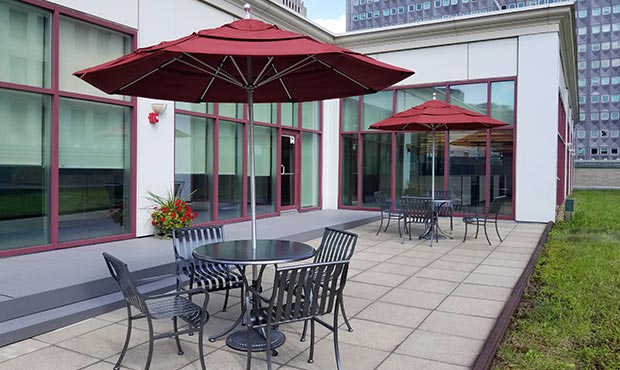 Whether your shade requirements are for an office courtyard, poolside resort, rooftop terrace, city plaza, shopping pavilion, or a restaurant patio – it is simple to find yourself made in the shade with made in the USA umbrellas from Keystone Ridge Designs.